This page is part of © FOTW Flags Of The World website
Bolivian educational institutions
Last modified: 2020-12-26 by rob raeside
Keywords: bolivia | university |
Links: FOTW homepage | search | disclaimer and copyright | write us | mirrors

---
See also:
---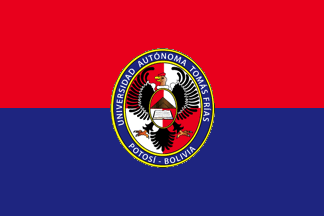 image by Ivan Sache, 14 July 2018
Universidad Autónoma Tomás Frías (UATF) was established in Potosí as an autonomous university on 8 October 1937, succeeding Universidad Potosina, which had been founded on 15 October 1892. The local Faculty of Law was initiated in 1876, then subordinated to the Chancellery of Chuquisaca.
http://www.uatf.edu.bo/
UATF website
UATF is named for the lawyer and statesman Tomás Frías (1804-1883). Frías was appointed President of the Constituent Assembly and President of the State Council established in 1871 after the fall of the dictator Mariano Melgarejo (1864-1871). After the assassination of General Agustín Morales in November 1872, Frías served as interim President of the Republic, commissioned to organize the presidential election. Once Adolfo Ballivián had been elected, he took back his charge of President of the State Council. When Ballivián died in February 1874, Frías was named President of the Republic for the second time. He had to face the Chilean pressure and the opposition of the army and several provinces, which culminated with uprisings in Cochabamba and La Paz. General Hilarión Daza, which he had appointed Minister of War, overthrew him on 4 May 1876, initiating a long period of political unrest in Bolivia. Frías exiled to Europe, where he defended the interests of Bolivia during the Pacific War. His commitment to the service of his homeland yielded him the nickname of "Bolivian Washington". Frías, however, never came back to Bolivia and died in poverty in Florence (Italy).

https://www.biografiasyvidas.com/biografia/f/frias_tomas.htm
Biografías y Vidas

The flag of UATF is horizontally divided red-blue with the university's emblem in the center.

Photos
http://www.uatf.edu.bo/web_universidad/bienvenida.php
https://www.vicepresidencia.gob.bo/IMG/jpg/dsc_0107ok-7.jpg

The red-white quartering of the emblem reproduces the flag of Potosí, while the eagle must be reminiscent of the arms of the town. The brown triangle, also featured on the town's arms, represents Cerro Rico (4,782 m), the "rich mountain" considered as "made of" silver that dominates the town.
---
Universidad Católica Boliviana "San Pablo"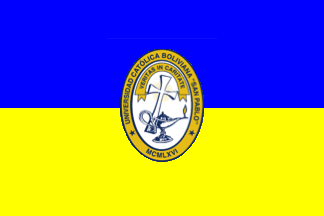 image by Ivan Sache, 14 July 2018

Universidad Católica Boliviana "San Pablo" (UCB) was established in 1966 by Supreme Decree No. 7,745, issued on 1 August 1966, confirming the foundation Decree issued on 5 July 1966 by the Bolivian Episcopal Conference. Law No. 1,545, issued on 21 March 1994, elevated UCB to an institution of public right, with academic and economic autonomy.

The foundation of UCB was pushed by the Comité Pro Universalized Católica, a group established in 1963; presided by Luis Adolfo Siles Salinas (1925-2005; President of the Republic for 5 months in 1969), the committee was supported by His Grace Carmine Rocco (1912-1982), Apostolic Nuncio to Bolivia (1961-1967).

UCB operates four Regional Academic Units in La Paz, Cochabamba, Santa Cruz and Tarija.
http://www.ucb.edu.bo/
UCB website

The flag of UCB is horizontally divided blue-yellow with the university's emblem in the center.

Photos
https://www.ucbtja.edu.bo/rector-loaiza-asume-el-reto-de-lograr-eficiencia-en-el-servicio-educativo-de-la-universidad-catolica-en-tarija/
https://www.ucbtja.edu.bo/rector-firma-convenio-con-asociacion-de-atletismo/
https://www.ucbtja.edu.bo/la-influencia-del-pasado-nos-permite-movernos-hacia-el-futuro/
https://www.coca-coladebolivia.com.bo/historias/comunidad-la-beca-forjando-futuro-cumplio-el-sueno-de-luz
http://www.elpaisonline.com/index.php/2013-01-15-14-16-26/sociedad/item/252137-jose-loayza-nuevo-rector-de-la-universidad-catolica

The coat of arms of UCB was designed by José Manuel Palenque, winner of a contest organized in 1974 by His Grace Genaro Prata Vulolo, Grand Chancellor of the university. The jury, composed of members of the University Council, selected the design among five proposals. The main element of the shield is composed of a cross and a lamp. The cross is placed at the focal point as the symbol of crucified Christ, and, therefore, Roman Catholic religion. The cross also represents the human being with open arms and hands, prepared to receive knowledge. The upper part of the cross, representing the head, is enlarged to represent open-mindedness. The base of the cross, also enlarged, represents feet standing on the ground, as a symbol of permanent analysis of real situations. The shining cross represents hope that men and women educated at UCB will be able to shine with their own light to transmit knowledge to others. The oil lamp represents the light of science and truth that should enlighten everyone. The cross and the lamp symbolize the dialogue between faith and science, which forms the founding principle of UCB. The oval shape was selected as most harmonious to inscribe the cross and the lamp. Blue is one of the two colors of UCB (blue and red), while yellow
recalls the flag of the Holy See. The two stars beneath the name of the university represent the two courses offered by the university at its foundation.

The motto, selected by Dr Pier Carlo Perotto and the Chancellor, reads "Truth in Love". This is an abbreviated form of "Veritatem facientes in charitate", "Proclaiming the Truth in Love" (Ephesians 4:15), which reflects St. Paul's conception of truth and love.
http://www.scielo.org.bo/pdf/rcc/n5/a14.pdf
J.M. Palenque. 1999. Los símbolos de la Universalized Católica Boliviana. Revista Ciencia y Cultura, 5, 104-106
Ivan Sache, 14 July 2018
---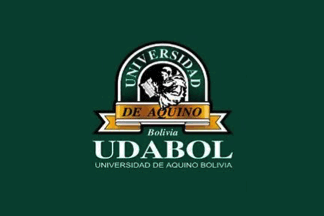 image by Ivan Sache, 16 July 2018
Universidad de Aquino Bolivia (UDABOL), established in 1995, was granted the full university status on 4 July 2001. UDABOL operates campuses in La Paz (1995), Oruro (1995), Cochabamba (1999), and Santa Cruz (2003).

UDABOL is named for St. Thomas Aquinas (1225-1274; canonized in 1323 by Pope John XXII), a Dominican friar considered as one of the greatest philosophers and theologians of the Roman Catholic church.

The flag of UDABOL is green with the university's emblem.

Photos
https://udabolbolivia.wordpress.com/2013/05/15/udabol-crea-escuela-de-negocios-sociales/
http://hoybolivia.com/Noticia.php?IdNoticia=109978
Ivan Sache, 16 July 2018
---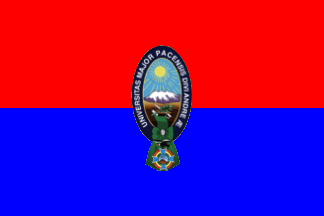 image by Ivan Sache, 16 July 2018
Universidad Mayor de San Andrés (UMSA), located in La Paz. is the main public and second oldest university in Bolivia. UMSA is composed of 13 Faculties.

UMSA was established on 25 October 1830 as Universidad Mayor de San Andrés, succeeding Colegio de Ciencias y Artes de La Paz. The new university was inaugurated on 30 November 1830, the birthday of its founder, Andrés de Santa Cruz (1792-1865). Santa Cruz was the son of a noble officer, Joseph de Santa Cruz y Villavicencio, and of Juana Basilia Calahumana, the daughter of the traditional chief ("caciquesa") of Huarina, therefore a direct descendant of the old sovereigns of Peru. One of the most famous officers of the patriotic armies, together with Bolívar, Santa Cruz served as the President of the Republic of Bolivia from 1829 to 1839. On 13 August 1831, the Constituent Assembly upgraded the title of the university to Universidad Mayor de San Andrés, which was ceremoniously inaugurated on 2 April 1832. UMSA was renamed to Universidad Mariscal Santa Cruz on 28 May 1927, but its original name was soon restored on 2 December 1927.

In the aftermath of the revolution that overthrew Hernando Siles' government, the new Statutes of UMSA, issued on 29 June 1930, proclaimed the autonomy of the university. In July 1936, Rector Héctor Ormachea Zalles (1903-1969) redacted two Decrees, which were signed by President Toro and eventually granted complete autonomy to all Bolivian universities, UMSA included. The rector also redacted the Articles of the Constitution adopted in 1938 and 1945 that protected the autonomy of the universities.

On 21 July 1946, UMSA contributed to the people's revolution that expelled the military dictatorship, being awarded with the Great Cross of the Order of the Condor, which was pinned to its standard during an official ceremony.
http://www.umsa.bo/
UMSA website

The flag of UMSA is horizontally divided red-blue with the university's emblem in the center.

Photos
http://www.lacatedra.umsa.bo/web/la-catedra/2/-/asset_publisher/f55S/content/facultad-de-arquitectura-recibio-a-rector-de-la-umsa
http://www.lacatedra.umsa.bo/web/la-catedra/2/-/asset_publisher/f55S/content/%e2%80%9cdemocracia-no-solo-son-elecciones-la-justicia-en-bolivia-es-una-quimera%e2%80%9d

The emblem of UMSA, similar to the third coat of arms of Bolivia, is made of an elliptical shield, whose border is inscribed with the Latin name of the university, "UNIVERSITAS MAJOR PACENSIS DIVI ANDREÆ". The shield is charged in the center with Mt. Illimani [6,438 m; the second highest peak in Bolivia and La Paz' major landmark] surmounted by a rising sun. In base is a book superimposed with a sword and a branch of olive crossed in saltire. The medal of the Order of the Condor is appended to the base of the shield.
https://www.rubenapaza.com/2012/08/logo-universidad-san-andres-umsa.html
Ruben Apaza, 13 August 2012

image by Ivan Sache, 16 July 2018

The flag is also used without the emblem.

Photos
http://universidadmayordesanandres.blogspot.com/2016/04/la-universidad-mayor-de-san-andres.html
http://imagenes.universia.net/gc/net/images/institution/37644/Universidad-Mayor-San-Andres1_Carrusel.jpg
Ivan Sache, 16 July 2018
---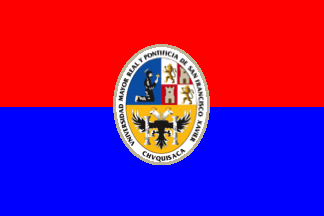 image by Ivan Sache, 16 July 2018
Universidad Mayor Real y Pontificia de San Francisco Xavier de Chuquisaca (USFX), the oldest Bolivian university and the second oldest South American university, was established in Sucre (then known as Chuquisaca) on 27 March 1624, as prescribed by a Bull released on 8 August 1623 by Pope Gregory XV (1621-1623) and a Royal Document signed on 2 February 1622 by King of Spain Philip IV (1621-1665). The local head of the Society of Jesus, Father Juan Frías de Herrán, was commissioned to found the university. The first classes were given in Scholastic Theology, Moral Theology, Philosophy, Latin, and Aimará language; in 1681, Archbishop Cristóbal de Castilla y Zamora (1677-1683) introduced classes of Canon Law.

USFX and Real Academia Carolina educated in the 17th and 18th centuries the elite of the colonial society. Several USFX alumni, known as the Charcas Doctors, were among the leaders of the Chuquisaca Revolution of 25 May 1809. Other participated to similar movements in La Paz, Quito, Tucumán, and Buenos Aires. In 1930, USFX was the first university in the country to be granted autonomy, a status which was confirmed by a national referendum. The first "autonomous" rector was the famous writer Jaime Mendoza (1874-1939). In 1982, USFX was a stronghold in the struggle for the return to democracy.

USFX is composed of 15 Faculties.
http://www.usfx.bo/
USFX website
The flag of USFX is prescribed by a Resolution approved on 8 July 1944 by the University Council:

Article 1. The flag of the university shall be composed of two horizontal stripes, one red and the other blue, with the university's coat of arms in the center.

Article 2. The flag shall be used in all official ceremonies at the university, together with the national flag.

The Preamble of the Resolution explains that red and blue were the respective colors of Seminario de San Cristóbal and Colegio de San Juan Bautista, the two institutions that predated USFX.
http://medidina.blogspot.com/2016/01/historia-y-simbolismo-de-la-universidad_82.html
Historia de la Medicina blog, 8 January 2016

Father Jorge Frías de Herrán already mentions a seal in the general regulations of the university issued in 1624:
The use of a particular seal is required to stamp the graduates' diplomas and other documents released by the university. This shall be a seal of relevant proportions, which shall contain the arms of the university, which shall also be applied to the main gate of the university, featuring in the upper part Jesus (IHS) and at the right hand the arms of Our Lord the King, and at left hand the arms of the patron saint of the university (the glorious Father St. Francis Xavier, Apostle of Indies), and in the lower part the arms of the town, in the best arrangement. The same design shall be drawn, painted and illuminated on the graduates' diplomas.

The seals in current use to stamp the diplomas is a modern rendition of the original coat of arms, with the following characteristics:
The upper part divided into two quarters, at right the arms of Castile (two towers with two lions rampant), at left St. Francis Xavier a cross in the hand. In the lower quarter a double-headed eagle between the Pillars of Hercules.
https://www.usfx.bo/principal/institucionalidad/escudo/
USFX website

image by Ivan Sache, 16 July 2018

The flag appears to be mostly used without the coat of arms.

Photos
http://imagenes.universia.net/gc//net/images/institution/37679/Universidad-Mayor3_Carrusel.jpg
https://lh3.googleusercontent.com/-dwEzYEVW0_4/UyjHyJ96i6I/AAAAAAAAACE/5QBAbKpkKvg/w506-h750/PerfilYou.jpg
http://expresiondigital2011.blogspot.com/2013/06/homenaje-postumo-de-la-universidad-de.html

Ivan Sache, 16 July 2018
---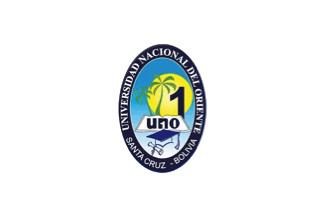 image by Ivan Sache, 20 July 2018

Universidad Nacional del Oriente (UNO) was established in Santa Cruz de la Sierra by Ministerial Resolution No. 203, issued on 22 June 1999. UNO operates three campuses: Santa Cruz, Montero and Tarija.
http://www.uno.edu.bo/
UNO website

The flag of UNO is white with the university's emblem.

Photos
http://www.diarionuevosur.com/universidad-nacional-del-oriente-inauguro-subsede-en-tarija/
Video
https://www.youtube.com/watch?v=MCVMyPOq-wM

Ivan Sache, 20 July 2018
---
Universidad Privada Domingo Savio
image by Ivan Sache, 17 July 2018
Universidad Privada Domingo Savio (UPDS) was established in 2000, succeeding Colegio Domingo Savio (1988) and Instituto Domingo Savio (1989). The status of full university was obtained in 2005. UPDS is managed by Corporación Educativa Domingo Savio, established in 1994.

Operating eight campuses: Santa Cruz, Tarija (2006), Potosí (2008), Cochabamba (2010), La Paz (2013), Trinidad (2015), Sucre (2015), and Oruro (2015). UPDS claims to be the biggest university network in Bolivia.
UPDS is composed of 4 Faculties: Law, Business, Social Sciences, and Engineering.

UPDS is named for St. Dominic Savio (1842-1857; canonized on 12 June 1954 by Pope Pius XII), a student of St. John Bosco, who popularized his piety in the book "Vita del giovanetto Savio Domenico, allievo dell'Oratorio di San Francesco di Sales" (1859).
http://www.upds.edu.bo/
UPDS website

The flag of UPDS is white with the university's emblem.

Photos
http://updstarija.blogspot.com/2015/10/acto-de-colacion-2015-sede-tarija.html
http://rotaryclubsantacruz.org/2017/11/fulieb-certifico-a-91-emprendedores/
http://2.bp.blogspot.com/-rCWWju2s3YA/TxV2a9wTaII/AAAAAAAAAUg/lBV7ZRute68/s400/upds.jpg
Ivan Sache, 17 July 2018
---

image by Ivan Sache, 20 July 2018

Universidad Pública de El Alto (UPEA) was established by Law No. 2,115, promulgated on 5 September 2000.

The flag of UPEA is horizontally divided red-blue.

Photos
http://enlaupea.blogspot.com/2012/09/estudiantes-de-la-upea-bloquean.html
http://www.elaltodigital.com/wp-content/uploads/2017/10/upea.jpg
Ivan Sache, 20 July 2018