This page is part of © FOTW Flags Of The World website
Brazilian Football Clubs
Last modified: 2019-04-06 by ian macdonald
Keywords: brazil | football | soccer |
Links: FOTW homepage | search | disclaimer and copyright | write us | mirrors

---
See also:
---
National Team
Unofficial Flag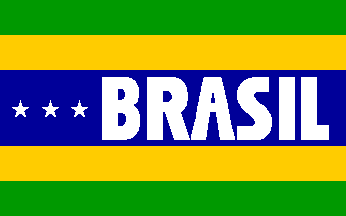 image by Jorge Candeias

In an attempt to raise the theme amongst us, I'm posting today a (not so good) Brazilian fan flag, from a photograph I found somewhere. The flag is horizontally divided green-yellow-blue-yellow-green in proportions 1:1:2:1:1, all in dark shades, with the blue stripe charged with a horizontal line of three white stars at the hoist and the word "BRASIL" in big letters in the fly. What would the stars mean? Three World Cups. (Are there now four?)
Jorge Candeias, 27 April 1998

The national team doesn't have a specific flag and there are no official team supporter flags.
Lucosta, 12 January 1999
---
Confederação Brasileira de Futebol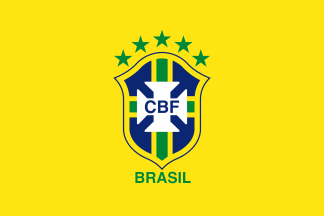 image by Eugene Ipavec, 17 June 2009
I found the official flag of the CBF (Confederação Brasileira de Futebol), Brazilian Football Confederation in English. The flag is on a yellow background and with the coat of arms (see http://en.wikipedia.org/wiki/File:CBF_logo.svg ) of the CFB.
Source: El Colombiano ( http://www.elcolombiano.com.co/ ) newspaper, page 3B published on June 6, 2009
See also the CBF (official website): http://www.cbf.com.br/ and http://en.wikipedia.org/wiki/Brazilian_Football_Confederation.
Esteban Rivera, 10 June 2009
Former flag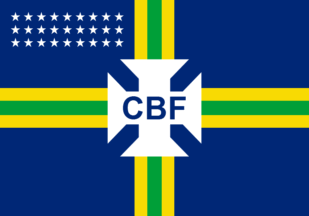 image by Tomislav Šipek, 24 March 2019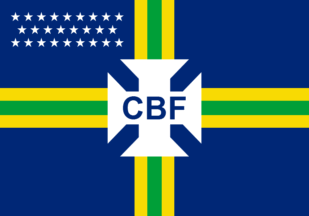 image by Tomislav Šipek, 24 March 2019

I am not 100% sure about the number of stars. Some colleagues, like Jose Luis Brugues, believe there should be 27 stars, representing the 26 states, plus the federal district. I find that impossible, as the stars are not distributed on three equal lines (9+9+9). The lines are distributed as in the USA canton, and, therefore, I find it more likely to make 26 stars (9+8+9). Also note that CBD is now CBF.
Jose Alegria Diaz

There should be 64 stars on the Blue Brazil National Team Flag. Each star represents a victory a title or trophy won.
Source: http://www.cbf.com.br/salao/
Alex da Silva, 21 January 2010

Note the reference to the name change from CBD to CBF, however the flag image it accompanies already has CBF. That, together with this information that the stars should be equal to the number of victories makes me wonder: How many designs of this flag would have existed?
Peter Hans van den Muijzenberg, 21 January 2010

Here are some photos showing the flag - it's not clear though how many stars on it.
http://www.cbf.com.br/fotos/pres1805_3.jpg
http://www.cbf.com.br/fotos/pres031208.jpg
http://www.cbf.com.br/fotos/rtt2108.jpg
http://www.bandeiraseuniformes.com.br/imagens/bi_cbf_g.jpg
Aleksandar Nemet, 21 January 2010

Image at http://www.cbf.com.br/fotos/pres1805_3.jpg shows three rows of stars. At first sight they would appear to be nine stars each, but top and bottom row seem to have wider spacing. 8+9+8= 25 stars, laid out to have straight edges? Also: We see the reverse, and the lettering CBF on the cross is in obverse there. Plus, the central cross is a straight, and very wide, cross paty, not a legged cross paty as we have it. The cross is somewhat transparent (whether by design or material, I don't know) and thus demonstrates quite clearly that the lines of the cross throughout continue without interruption, again different from the flag we have.

The image at http://www.cbf.com.br/fotos/rtt2108.jpg shows a part of the flag which clearly shows the stars in straight columns of three stars, with nine columns visible. If the three partly visible columns on either side have no unseen exceptions, this pattern would form three rows of at least nine stars; 27 stars.
Peter Hans van den Muijzenberg, 21 January 2010

There has been only one design of this flag. This flag is not one that people have seen. The only time it is flown is when the Brazilian National Team travels. It is the flag that flies at the team hotel and training compound. This flag just represents the national the CBF. When the team is away from the training facilities the Brazilian flag is used as a national rallying symbol.
Alexandre da Silva, 22 January 2010

The flag of Brazilian Football Confederation is blue with 27 stars (for 27 Brazilian football federations). I'm not sure for status of yellow flag, but probably, only for presenting 5 World Cup wins. For blue flag with 26 stars I only can say then this flag can be used between 1979-1990. Before 1979 name of CBF was CBD (Confederaçăo Brasileira de Desportos, Brazilian Confederation of Sports), and in 1990 is founded the latest football federation in Brazil.

https://www.cbf.com.br/cbf-tv/empty/presidente-marin-inaugura-nova-sede-da-cbf?page=9
http://www.fcf.com.br/2014/06/04/inaugurada-nova-sede-da-cbf/
http://verdaoweb.com.br/news.asp?nID=48239
Tomislav Šipek, 24 March 2019
---
Index of Brazilian Football Clubs
---
Football Club Flags Generally
It seems like some of these are inspired by Brazilian state flags [e.g., Corínthians and Bahia]. When it comes to sport clubs, I think there is a general tendency that there is a wide range of more or less official supporter flags. Supporter clubs might have their own set flags, e.g.
Elias Granqvist, 13 March 2002

I've noticed that many Brazilian clubs [e.g., Atlético Mineiro, Flamengo, and Naútico] like the horizontal-stripes-and-canton-with-badge design. There is also a real fondness for about two or three color combinations that show up over and over: black and white, green and white, and red and black. In addition, I think I've found four categories of Brazilian club flags that I can identify:


Joseph McMillan, 13 March 2002


A sports shop had on sale [at the time of the World Cup] Brazilian flags with 18 green stars in a circle inside the yellow lozenge, going around the outside of the blue sphere.
Ron Peters, 26 May 2006

It's very likely that this is a football fan flag, made to be flown during the world championship. Many countries have "football" variations of their national flags, and green stars on yellow are a common symbol in Brazilian national football, derived, I believe, from the symbol of the Confederação Brasileira de Futebol - see http://cbfnews.uol.com.br
Jorge Candeias, 2 June 2006

This is Brazil's 18th appearance in the World Cup.
Ned Smith, 2 June 2006
---
Pre-Game Pennant Exchanges
As a diehard football (soccer) fan, I remember a Brazilian custom of teams' exchanging small flags before matches. It used to be done by the teams' skippers in the center of the pitch just before the coin toss and kick off. They would hold the small flag with the left hand, shake hands with the right hand and then take the small flag from the opposing skipper. It was then given to someone to be taken away. I remember this was done for local derbys and interstate and international matches. In Portuguese these pennants are known as flâmulas. I think they had something related to the match written on them along with the team's logo or symbol.
Fernando, 7 August 2002
Flâmula is the Brazilian word. In Portugal these banners are called galhardetes, and the action Fernando describes is so noticeable and usual that it got into the everyday speech as an idiomatic sentence. We use the term troca de galhardetes (literally, "pennant exchange") as a way to describe a somewhat tense exchange of (sometimes double-edged) compliments between rivals.
Jorge Candeias, 8 August 2002
---
A note on names
Many Brazilian football clubs are named some variant of clube de regatas, or regatta club. This is because the clubs began as rowing clubs and only later took up football. That is also why the flags of Flamengo and Corinthians, among others, have crossed oars or anchors as part of their badges.