This page is part of © FOTW Flags Of The World website
Foz de Iguaçú, Paraná (Brazil)
Last modified: 2022-03-05 by ian macdonald
Keywords: parana | foz de iguacu |
Links: FOTW homepage | search | disclaimer and copyright | write us | mirrors

---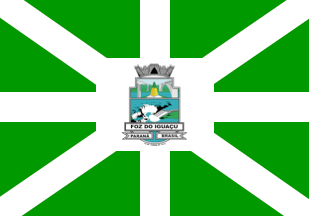 image by Ivan Sache, 2 February 2022
---
---
About the Flag of Foz do Iguaçú
The municipality of Foz de Iguaçu (257,971 inhabitants in 2021, therefore Paraná's 7th most populated municipality; 61,770 ha) is Paraná's easternmost municipality, located on the borders with Argentina and Paraguay.

Foz de Iguaçu was settled in 1881 by its first two inhabitants, the Portuguese Pedro Martins da Silva and the Spaniard Manuel Gonzáles. They were soon joined by the Goycochéa brothers, who initiated exploitation of yerba mate.
Engineer and Lieutenant José Joaquim Firmino surveyed Foz de Iguaçu in July 1889; he identified 324 inhabitants, mostly Paraguayans and Argentinians, but also Spaniards and English who exploited yerba mate and exported timberwood via river Paraná. On 22 November 1889, Lieutenant Antonio Batista da Costa Júnior and Sargent José Maria de Brito established the border military colony, which was tasked to offer plots to potential colonists.
In the early 20th century, Foz de Iguaçu had some 2,000 inhabitants, an hostel, four grocery stores, basic military barracks, a telegraph station and sugar mills. The district of Vila Iguassu was established in 1910 as part of the the municipality of Guarapuava, to be left by the army two years later. The municipality of Vila Iguaçu was established by Law No. 1,383 promulgated on 14 March 1914 and inaugurated on 10 June 1914. The municipality's name was changed to Foz de Iguaçu on 1918.

The bad road connecting Foz de Iguaçu to Curitiba was completed in 1920; the building of an asphalted road crossing Paraná from west to east was initiated in the 1950s. The section connecting Foz de Iguaçu to Paranaguá was inaugurated in 1969.
The Iguaçu National Park was pushed in 1916 by Alberto Santos-Dumont (1873-1932) in 1916; the famous airman convinced Afonso Alves de Camargo (1873-1956), President (~ Governor) of Paraná (1916-1920; 1928-1930), to expropriate the Uruguayan Jesus Val. Originally limited to 1,008 ha, the park area was increased in 1939 to 156,236 ha by President Getúlio Vargas. Subsequent Decrees issued in 1994 increased the area to 185,000 ha.
The Friendship International Bridge connecting Brazil to Paraguay was built in 1965, while road BR-277 connecting Foz de Iguaçu to Curitiba was inaugurated on 1969. Trade boomed, especially with the Paraguayan sister town of Puerto Presidente Strossner (today, Ciudad del Este). The building of the Itaipu Binational Dam by Brazil and Paraguay, initiated in the 1970s, caused a demographic boom. Population of the town increased from 28,000 in 1960 to 34,000 in 1970 and 136,000 in 1980.

https://foz.portaldacidade.com/
Foz de Iguaçu Portal

The Iguaçu falls are formed by the falls of river Iguaçu, which in Tupi-Guarani means "big water".
Eighteen kilometers before joining the Paraná, the Iguaçu overcomes an uneven terrain and plunges into falls of up to 80 meters in height, reaching a width of 2,780 meters. The geological formation dates back approximately 150 million years, but the formation of the geographic accident of the cataracts began approximately 200 thousand years ago.
The Iguaçu River measures 1,200 meters in width above the falls. Below, it narrows into a channel of up to 65 m. The total width of the falls in the Brazilian territory is approximately 800 m and on the Argentinean side 1,900 m. The height of the falls varies from 40 to 80 meters. Depending on the river flow, the number of falls varies, reaching a number greater than 100 in periods of average flow.
The river's average flow is around 1,500 m3 per second, ranging from 500 m3/s in times of drought to 8,500 m3/s in floods. The largest volume of water occurs between the months of October to March.
There are 19 main falls, five of them on the Brazilian side (Floriano, Deodoro and Benjamin Constant, Santa Maria and União) and the others on the Argentine side.

https://www.icmbio.gov.br/parnaiguacu/guia-do-visitante.html
Instituto Chico Mendes de Conservação da Biodiversidade

The flag and arms of Foz do Iguaçu were first prescribed by Municipal Law No. 502 promulgated on 31 December 1966.
1966 flag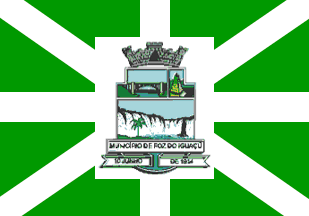 image by Ivan Sache, 2 February 2022 and Tomislav Todorovic, 17 February 2022
Article 1.
Flag.
Divided in eight green trapezoidal quarters formed by eight white stripes placed in the horizontal dimension, in bend and in bend sinister, starting from a central white rectangle inscribing the coat of arms.
The green field represents the natural resources so numerous in Foz do Iguaçú, in Brazil and in the state of Paraná, of which Foz do Iguaçú is a devoted daughter.
The coat of arms in the flag's center represents the municipal government, while the rectangle inscribing it represents the town proper, seat of the municipality.
The stripes symbolize the municipal power (municipal government) spreading to all parts of the territory. The eight trapezoidal quarters represent the diverse rural, commercial and industrial activities in the municipality.

Coat of arms.
The shield is shaped like a rectangle with a rounded-off base, the upper angles broken by two curves; it is surmounted by a mural crown argent with five towers, only three of them visible.
The shield's shape, except the broken upper angles, recalls that of the first shields introduced to Portugal by French influence (according to Peixoto de Faria), evoking here the Latin race, colonizer and main builder of the Brazilian race.
The mural crown that surmounts it, argent with five towers, only three of them visible, classifies the seat of a municipality.
Azure (blue) represents the sky's constant limpidity; it is also the heraldic symbol of beauty, sweetness and recreation, which are the town's attribute due to its geographical location and incomparable natural beauties that attract tourists from the whole world eager to see the stunning Iguaçu Falls. Azure, according to Peixoto de Faria, is also a symbol of nobleness, perseverance, zeal and loyalty, which are attributes of Foz de Iguaçu's people, who, through efficient labor, promote the greatness of the town.
In chief are represented two of the most important tourism attraction spots, highlighting international projection: the famous International Bridge, aka Friendship Bridge, spanning over river Paraná and connecting the motherland with neighboring Republic of Paraguay, with which are maintained the most cordial, friendly and direct links, and the Three Borders' Landmark erected by Marshal Cāndido Rondon on the Brazilian banks of the confluence of powerful rivers Paraná and Iguaçu, at the division with neighboring Republics of Paraguay and Argentina.
In the center of the shield are represented the main cascades part of world-famous Iguaçu Falls: from left to right, Floriano, Deodoro and Benjamin, in the center, the emotional Devil Gorge, and right, the cascades located in the Argentinian side.
In the central foreground, a palm grove representing Tarobá, the valiant warrior featured in the legend of Iguaçu Falls, sentenced by snake god M'Boy to watch his lover, Naipi, transformed in the big rocks over which the Iguaçu flows, without ever being allowed to kiss her.
The scroll superimposed to the falls' base is inscribed with the municipal toponym and date of inauguration, 10 June 1914.

https://leismunicipais.com.br/a/pr/f/foz-do-iguacu/lei-ordinaria/1966/51/502/lei-ordinaria-n-502-1966-adota-aos-simbolos-municipais-que-especificam
Leis Municipais database

This Law was abrogated by Municipal Law No. 2,394 promulgated on 28 May 2001, which slightly changed the design and description of the coat of arms. A newer bridge was added and the palm grove alluding to the old legend was dropped.

Article 1.
[..]
In chief are represented three of the most important tourism attraction spots, highlighting international projection:
a) The Tancredo Neves Bridge, aka Brotherhood Bridge, spanning over river Iguaçu and connecting the motherland with neighboring Republic of Argentina, with which are maintained the most cordial and friendly links.
b) The famous International Bridge, aka Friendship Bridge, spanning over river Paraná and connecting the motherland with neighboring Republic of Paraguay, with which are maintained the most cordial and friendly links. c) in the center of the two bridges, the Three Borders' Landmark erected by Marshal Cāndido Rondon on the Brazilian banks of the confluence of rivers Paraná and Iguaçu, at the division with neighboring Republics of Paraguay and Argentina.
In the center of the shield are represented the main cascades part of world-famous Iguaçu Falls and Iataipu Dam: from left to right, Floriano, Deodoro and Benjamin, in the center, the emotional Devil Gorge, and right, Itaipu Binational.
The scroll superimposed to the falls' base is inscribed with the municipal toponym and date of creation, 10 June 1914.

https://leismunicipais.com.br/a/pr/f/foz-do-iguacu/lei-ordinaria/2001/239/2394/lei-ordinaria-n-2394-2001-adota-os-simbolos-municipais-conforme-especifica-e-revoga-a-lei-n-502-66
Leis Municipais database

This Law was modified by Municipal Law No. 2,394 promulgated on 28 May 2001; which slightly changed the design and description of the coat of arms. Indeed, only the writing on the scroll was modified.

Article 1.
[...]
The scroll superimposed to the falls' base is inscribed with the toponyms "Foz de Iguaço", "Paraná" and "Brasil". Beneath, the date of creation of the municipality, 10 June 1914.

https://leismunicipais.com.br/a/pr/f/foz-do-iguacu/lei-ordinaria/2005/307/3073/lei-ordinaria-n-3073-2005-altera-a-lei-n-2394-de-28-de-maio-de-2001-que-adota-os-simbolos-municipais-conforme-especifica
Leis Municipais database

Photos
https://www.facebook.com/prefeituradefozoficial/photos/2419005151546325
https://www.facebook.com/prefeituradefozoficial/photos/4298584313588390
https://www.facebook.com/prefeituradefozoficial/photos/2520907331356106