This page is part of © FOTW Flags Of The World website
Sapiranga, Rio Grande do Sul (Brazil)
Last modified: 2020-08-08 by ian macdonald
Keywords: rio grande do sul | sapiranga |
Links: FOTW homepage | search | disclaimer and copyright | write us | mirrors

---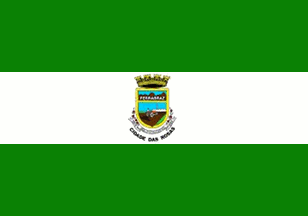 image by Ivan Sache, 5 August 2020
---
See also:
---
The municipality of Sapiranga (79,946 inhabitants in 2016; 13,803 ha) is located 60 km north-east of Porto Alegre. The municipality is composed of the districts of Sapiranga (seat), Campo Vicente and Picada Hartz, established by Municipal Law No. 34 promulgated on 29 July 1955.

Sapiranga was established on Fazenda Padre Eterno in 1845 by the German immigrants João Hofmeister and Pedro Müller on plots located near Ferrabrás hill.
The town, originally named Sapyranga, is named for "araçá-piranga", the Tupi-Guarani name of the tree Eugenia leitonii, once very common in the area.

Ferrabrás hill was the site of the Mucker's Battle (or Revolt), a violent religious and social conflict that opposed colonists from 1868 to 1874. Jacobina Mentz and João Jorge Mauer established a kind of sect in the colony, soon called "Mucker" (Mockers) by their opponents. Accused of attacks against other communities in the region, Jacobina and João were jailed in May 1873 in São Leopoldo; they were released after medical examinations in Porto Alegre. In June 1874, the Mucker's Battle resulted in the burning down of houses and shops while people were killed. Upon public pressure, the state government sent infantry troops commanded by Colonel Genuino Sampaio to pacify the area. During the first skirmish, fought on 28 June 1874, 39 soldiers and 6 insurgents were killed. On 18 July, 18 insurgents were slaughtered; Jacobina entrenched on Ferrabrás hill with some of her sons; during the assault, Sampaio was shot and died a few days later from an hemorrhage.
The final battle was fought on 2 August 1874, when Carlos Luppa and his brothers in arms were killed. The surviving insurgents were jailed or persecuted.
Originally considered as a fanatic, Jacobina became with time the iconic defender of a persecuted minority. To settle controversies, a Reconciliation Memorial was established in 2008 in Ferrabrás.

The municipality of Sapiranga was established by State Law No. 2,529 promulgated on 15 December 1954, separating from São Leopoldo, and inaugurated on 28 February 1955.

http://www.sapiranga.rs.gov.br/
Municipal website

Ivan Sache, 5 August 2020
---
Symbols
A green-white-green horizontal triband, with municipal coat of arms centred on the white stripe.
Official website at http://www.sapiranga.rs.gov.br
Dirk Schönberger, 15 April 2012
The flag of Sapiranga is prescribed by Municipal Law No. 916 promulgated on 8 April 1974.

Article 1.
The municipal flag is composed of three horizontal stripes, two of the flag green and the central, white; in the center, the coat of arms of the municipality prescribed by Municipal Law No. 473 promulgated on 22 September 1962.

Article 2.
The official dimensions of the flag are 1.13 m on 1.61, obeying the following rules.
a) The two flag green stripes shall be 38 cm in width.
b) The central whit stripe shall be 37 cm in width.
c) The coat of arms of the municipality placed in the flag's center shall be 50 cm in diameter.

https://leismunicipais.com.br/a/rs/s/sapiranga/lei-ordinaria/1974/92/916/lei-ordinaria-n-916-1974-oficializa-a-bandeira-municipal-e-da-outras-providencias
Leis Municipais database

The coat of arms of Sapiranga is prescribed by Municipal Law No. 473 promulgated on 22 September 1962.

Article 1.
The coat of arms of the municipality is composed of a shield superimposed to a scroll inscribed with the municipality's date of inauguration and name, surmounted by a castle and surrounded in lower part by two branches of roses represented as flowers. On top in the background, the Ferrabrás hill; in the center a factory representing industry; in base, a tractor with discs representing the municipality's agriculture.

https://leismunicipais.com.br/a/rs/s/sapiranga/lei-ordinaria/1962/48/473/lei-ordinaria-n-473-1962-oficializa-o-brasao-do-municipio
Leis Municipais database

The flag is used either with the coat of arms inscribed on a white disk outlined in black,br
Photos
https://www.facebook.com/PrefeituraSapiranga/photos/a.436383116431922/3097544576982416/?type=3&theater
https://www.facebook.com/PrefeituraSapiranga/photos/a.436383116431922/3698621600208041/?type=3&theater
https://www.facebook.com/PrefeituraSapiranga/photos/a.436383116431922/3389265001143704/?type=3&theater
https://www.facebook.com/PrefeituraSapiranga/photos/a.801133293290234/2207034202700129/?type=3&theater

oor with a much larger coat of arms placed directly over the stripes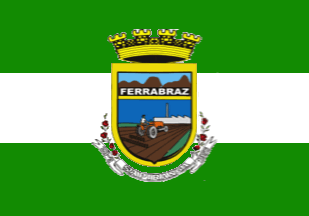 image by Ivan Sache, 5 August 2020

Photos
https://www.facebook.com/PrefeituraSapiranga/photos/a.436383116431922/3056292644440943/?type=3&theater
https://www.facebook.com/PrefeituraSapiranga/photos/a.436383116431922/2860294200707456/?type=3&theater
https://www.facebook.com/PrefeituraSapiranga/photos/a.436383116431922/2315059505230931/?type=3&theater
Ivan Sache, 5 August 2020
---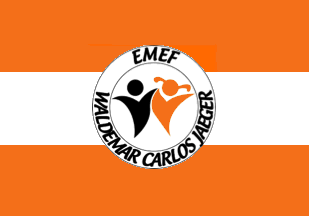 image by Ivan Sache, 5 August 2020
The flag of EMEF Waldemar Carlos Jaeger is horizontally divided orange-white-orange with the school's emblem in the center.

Photos
https://www.facebook.com/PrefeituraSapiranga/photos/a.436383116431922/3097543960315811/?type=3&theater
https://www.facebook.com/PrefeituraSapiranga/photos/a.436383116431922/2857809080955968/?type=3&theater
http://www.sapiranga.rs.gov.br/noticia/view/383/emef-waldemar-carlos-jaeger-vence-a-gincana-de-50-anos-do-cfc-valderez-de-sapiranga
Ivan Sache, 5 August 2020