This page is part of © FOTW Flags Of The World website
Vargeão, Santa Catarina (Brazil)
Last modified: 2021-12-11 by ian macdonald
Keywords: santa catarina | vargeão |
Links: FOTW homepage | search | disclaimer and copyright | write us | mirrors

---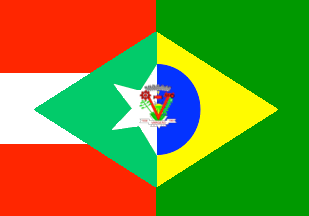 image by Ivan Sache, 8 November 2021
---
See also:
---
Municipality
The municipality of Vargećo (3,569 inhabitants in 2020; 16,645 ha) is located 520 km north-west of Florianópolis.

Vargećo was established in 1938 by colonists coming from Rio Grande do Sul on plots owned by the Colonizadora Angelo De Carli and delimited by land surveyor Tomįs Pitharka and local manager Luiz Antoniutti, both from Joaēaba. The place was named for a floodplain ("vįrzea").
The first colonists were Fortunato Danielli and his sons, Jacinto and Mamante. Their were soon joined by Isidoro Fiorini and his wife Helena, the first female settler in Vargećo. Clearing was completed by the Berté, Piovezani, Camilotti, Frozza, Basso, Pavan, Capelina, Assolini... families.
The district of Vargećo was established, within the municipality of Faxinal dos Guedes, by Municipal Law No. 24 promulgated on 16 February 1959, to be elevated a municipality by State Law No. 954 promulgated on 16 March 1964, to be inaugurated on 21 April 1964.

https://www.vargeao.sc.gov.br/
Municipal website
Vargećo is located inside the southern rim of the Vargećo Dome, a large circular depression described for the first time in 1978 during the 30th Brazilian Geology Congress.

Vargeão Dome is one of the few astroblemes found in the Brazilian territory. Located on the western part of Santa Catarina State, this conspicuous circular depression has a diameter of 12 km and depicts sharp topographic gradients of up to 150 meters between its borders and inner portions. The circular feature seems today represent the erosion remnants of the original impact crater, formed over volcanic rocks of the Serra Geral Formation (Jurassic-Cretaceous) by the collision of a celestial body. In its interior, this structure depicts a series of topographic elevations and depressions, arranged as concentric rings, probably formed by faulting associated to the crater formation process. The crater has a central uplift, comprising impact breccias and sandstones from the Pirambóia/Botucatu (Triassic/Jurassic) formations, which were vertically displaced by some 700 meters in comparison with their normal stratigraphic position in this portion of the Paraná Basin. Features due to impact metamorphism found at Vargeão include shatter cones in sandstones and basalts, impact breccias comprising fragments of basalts and sandstones and PDFs in quartz and plagioclase.

http://sigep.cprm.gov.br/sitio114/sitio114_impresso.pdf
Crósta, A.P., Kazzuo-Vieira, C., Choudhuri, A., Schrnak, A. 2005. Astroblema Domo de Vargeão, SC. Registro de impacto meteorítico sobre rochas vulcânicas da Bacia do Paraná. Sítios Geológicos e Paleontológicos do Brasil, 23-34.
Ivan Sache, 8 November 2021
---
Description of the Flag
A dimidiated design, using the base of the state flag (horizontal triband red-white-red, green lozenge, white star) and the base of the national flag (green field, yellow lozenge, blue disk), with the municipal shield over all in the centre.
Official website at http://www.vargeao.sc.gov.br
Dirk Schönberger, 22 August 2012

The flag of Vargećo is prescribed by Municipal Law No. 168 promulgated on 9 November 1973.

Article 2.
The flag shall be designed as follows.
I - Composition.
It shall be composed of a rectangle of 0.90 cm on 1.30 m, charged with a lozenge equidistant of the rectangle's edge, from 0.10 m and 0.12 m, respectively. Left to the lozenge until its vertical axis, three stripes of O.30 m placed parallel to its horizontal axis. A semi-circle and a semi-star superimposed with the municipal coat of arms prescribed by Law No. 167 promulgated on 31 August 1973.
II - Colors.
The rectangle, divided from left to right, shall include until the middle three stripes, two red and one white in the center; from the middle to the end, a dark green field. The lozenge shall be divided from left to right, sea green until the middle, then golden yellow. The semi-star shall be white and the semi-circle light blue. The colors of the coat of arms shall be green for yerba mate, the Brazilian pine and forests; yellow for the sun, the maize plant and the chalice; red for the "V", the tractor, symbolized industry and lettering; white for the hand, the star, the host and the symbol of the district on a blue background.

Article 3.
The municipality's official colors are red symbolizing community dynamism; white symbolizing peace and people's unity; green representing rich and promising forest tree species; yellow as the symbol of plant diversity and grains; blue as a symbol of the limpid sky and of admiration; and sea green as a symbol of water.

The coat of arms of Vargećo is prescribed by Municipal Law No. 167 promulgated on 31 August 1973.

Article 2.
The coat of arms has the following symbolic meaning.
I - Welling up from the star, which is the symbol of Santa Catarina state to which the municipality of Vargećo belongs and on which the state is identified by its initials, a scroll inscribed with the municipality's name and respective years of foundation and emancipation.
II - Above it, a "V" composed of divergent lines running from the center to the infinite, standing for "Vargećo", and also a perennial reward to the Creator for the gift of the potential found in the area.
III - In base of the "V", four yerba mate plants fully growing, faithfully highlighting the boom of an industry with promising future and one of the municipality's basic sources of income.
IV - Starting from the greening branches of yerba mate, on the "V"'s right side, a fertile maize plant, productive and promising, representing one of the main crops in the municipality supplied by a land that demands little and offers a lot.
VI - Surmounting the maize plant, a tractor symbolizing mechanized agriculture, new techniques and a new era for Vargećo's economy. Progress actually reached the fields, with the blessing of the Architect of the Universe, plenty will reign in the home of each hardworking farmer.
VII - On the "V"'s left side, starting from the yerba mate plants, a Brazilian pine, represented in a dynamic style, symbolizing industry, which is represented above it. The Brazilian pine evokes a flourishing period and is now threatened, but it is still abundant in the municipality and will be the main industrialization factor for many years to come.
VIII - Inside the "V", an extended area of mechanized cropping, which de facto indicates the possibility of complete mechanization of agriculture. In the background, forests symbolizing a rich, diverse, and fully exploitable resource. In the background, a huge, glowing sun rising over the horizon, whose splendor highlights people's warm confidence in the future and illuminates the community's darkest moments.
IX - Surmounting the "V", united, the symbols of agriculture and industry and the ends of the "V" limiting the arable land, and a cheerful handshake. The proper image of the union of people to reach common ideals, of the municipality and of its authorities, all to the service of the community's highest aspirations [...]
X - Above the hands, as a symbol of fraternity and fraternization, a chalice, a host and a cross, surrounded by rays symbolizing a spirit of vivid faith and highlighting the pacific and obedient character of people who find in the faith and Christian spirit of their origin force required to win all battles [...]
XI - Above, a crown representing the district of Vargećo, its emancipation and autonomy among the other communities of Santa Catarina and Brazil.

https://www.vargeao.sc.gov.br/cms/pagina/ver/codMapaItem/100865
Municipal website

Photos
https://www.facebook.com/municipiodevargeao/photos/1839571286093267
https://www.facebook.com/municipiodevargeao/photos/1894184020631993
Ivan Sache, 8 November 2021