This page is part of © FOTW Flags Of The World website
Tocantins (Brazil)
Last modified: 2022-05-21 by ian macdonald
Keywords: tocantins | sun |
Links: FOTW homepage | search | disclaimer and copyright | write us | mirrors

---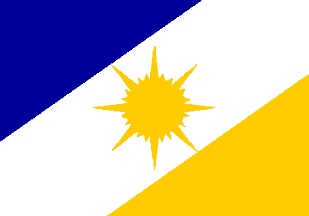 7:10 by André Pires Godinho
Adopted 17 November 1989

See also:

Other websites:
---
About the Flag of Tocantins
The following are the substantive parts of the state flag law, law no 094/89 of 17 November 1989, and the state's official interpretation as transcribed on www.brasilrepublica.hpg.ig.com.br:

Art. 2 - The flag of the State of Tocantins will have the following geometric description: A rectangle with the proportions of 20 units of length [fly] by 14 of width [hoist]. In the upper left and lower right corners, two right triangles with legs of 13 (thirteen) and 9.1 (nine and one-tenth) units, in the colors blue and yellow respectively. [To clarify, the triangles are 13 units on the fly and 9.1 units on the hoist.] The white bend [sinister; Portuguese original says "barra"] resulting from this division is charged with a stylized yellow sun with 8 large points and 16 smaller points, four and 2.3 units of radius [respectively].

The following "Justificatory Memorial" that apparently supported the original adoption of the flag (including the etymology of the word bandeira and noble sentiments about flags generally, which I omit) is quoted on the brasilrepublica page:

The proposed flag represented here carries the message of a land "where the sun rises for all." The sun, of golden yellow, sending forth its rays upon the future of our state, is placed on a white bend, symbol of peace, between the fields of blue and yellow, colors that express respectively the waters and the rich soil of Tocantins.

Joseph McMillan, 9 July 2002
---
Construction Sheet for the Tocantins State Flag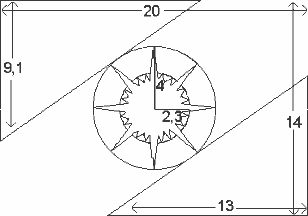 by André Pires Godinho
---
History of the State of Tocantins
In the nineteenth century, Joaquím Teotônio Segurado, head of the oligarchs, exercised autocratic control over the colonial society, installing in 1821 an autonomous government in São João das Palmas (called the Autonomous Government of Palmas). This could not be sustained, but the autonomist desire was not turned off, and finally the recent eighth Brazilian constitution established the State of Tocantins, responding to the petitions of a local movement headed by José Wilson Siqueira Campos, a political veteran. The flag is based on the colors used in the 19th century.
Jaume Ollé, 2 July 1996
---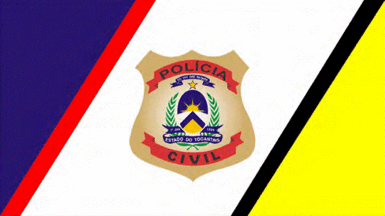 image by Valentin Poposki, 21 April 2022
The flag of the Civil Police of the State of Tocantins was adopted for use by the Administrative Instructions by the Secretary of Public Security of the State, published on 12.08.2016.

Annex III
Bandeira: retângulo nas dimensões de 1,90m (largura) x 1,20m (altura), nas cores azul escuro, vermelha, branca, preta e amarela; no centro, ocupando um espaço de cerca de uma terça parte de seu todo, o emblema da Polícia Civil com suas devidas cores.
[Translated: Flag: rectangle measuring 1.90m (width) x 1.20m (height), in dark blue, red, white, black and yellow; in the center, occupying a space of about a third of its whole, the emblem of the Civil Police with its proper colors.]

From the PDF file called "INSTRUÇÃO NORMATIVA SSP Nº 002, DE 12 DE AGOSTO DE 2016"
Valentin Poposki, 21 April 2022
The flag is prescribed by Normative Instruction No. 2 issued on 12 August 2016.

Appendix I.
The emblem of the Civil Police consists of:
I - A shield in golden yellow color.
II - In the center, the official coat of arms of the state of Tocantins;
III – In the upper part of the shield, above the coat of arms, a red scroll with the inscription "POLÍCIA", in black letters, Arial font.
IV - In the lower part of the shield, beneath the coat of arms, a red scroll with the inscription "CIVIL", in black letters, Arial font.

Appendix III.
I - Flag.
A rectangle measuring 1.90 m in length by 1.20 m in width, in dark blue, red, white, black and yellow colors. In the center, a space of about one third of the whole charged with the emblem of the Civil Police in full colors.
https://central3.to.gov.br/arquivo/299988/

The given dimensions are most probably erroneous, being rather 0.90 m by 1.25 m like for the flags of Civil Police in other states, and matching more or less the usual proportions 7:10; especially here, since the flag is modeled on the flag of Tocantins.
Ivan Sache, 23 April 2022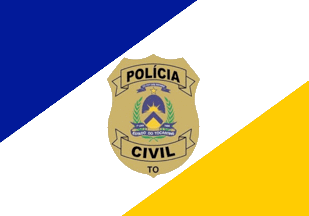 image located by Ivan Sache, 23 April 2022
Source: official gazette of Tocantins, https://central.to.gov.br/download/240357
The flag of the Civil Police of the State of Tocantins was changed on 16.12.2019. Document in PDF "PORTARIA SSP Nº 1190, DE 12 DE DEZEMBRO DE 2019"
Valentin Poposki, 21 April 2022
The flag is prescribed by Normative Instruction No. 3 issued on 22 November 2019 and published on 16 December 2019 in the official gazette of Tocantins No. 5,5050, pp. 50-56.

Appendix I.
The emblem of the Civil Police consists of:
I - A shield in golden yellow color.
II - In the center, the official coat of arms of the state of Tocantins;
III – In the upper part of the shield, above the coat of arms, a golden yellow scroll with the inscription "POLÍCIA", in black letters, Arial Black font.
IV - on the lower part of the shield, beneath the coat of arms, a golden yellow scroll with the inscription "CIVIL", in black letters, Arial Black font.

Appendix III.
I - Flag.
A rectangle measuring 1.90 m in length by 1.20 m in width, in blue, white and yellow colors. In the center, a space of about one third of the whole charged with the emblem of the Civil Police in full colors.
https://central.to.gov.br/download/240357

The given dimensions are most probably erroneous, being rather 0.90 m by 1.25 m like for the flags of Civil Police in other states, and matching more or less the usual proportions 7:10; especially here, since the flag is modeled on the flag of Tocantins.
Ivan Sache, 23 April 2022