This page is part of © FOTW Flags Of The World website
Miscellaneous flags of Quebec (Canada)
Québec
Last modified: 2016-04-30 by rob raeside
Keywords: quebec | canada | france | fleur de lys (4) | saguenay | cross: st george |
Links: FOTW homepage | search | disclaimer and copyright | write us | mirrors

---
See also:
---
Sûreté du Québec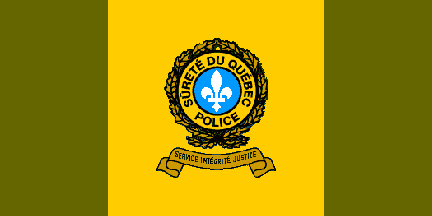 image by Luc-Vartan Baronian, 22 April 2005
Here is the flag of Quebec's provincial police force. Some cities have their own police force, but small towns and villages use the Sûreté du Québec (SQ). The SQ is also responsible for provincial highways and has a bigger effective for criminal surveillance (drugs, gangsters...). They also have a S.W.A.T. team.
Luc-Vartan Baronian, 13 March 1997
Unlike all pictures I have seen online of the SQ flag which have the central white fleur-de-lys directly on a blue field, the one on this link has a wide gold fimbriation around it. In addition to the fact that the fimbriation isn't really needed to help contrast, a few elements can be noticed from the limited view given when compared to the standard SQ flag: the font is much thicker, the colour contrast between the wreath and the field behind is much smaller. Also, while this might be a compression artifact, there appear to be gold fimbriation around the text too in a slightly different shade then then background. For comparison sake, see the flag behind the director of the service in this official portrait. It may just be a bad print job.
Marc Pasquin, 4 February 2016
---
New Arms - New Flag?
The Sûreté du Québec (the Quebec Provincial Police) was granted arms last year (checkered green and gold with a large silver fleur-de-lys centered).
Both supporters (caribou) of the arm's shield caries flags (in the same fashion as on the Canadian National COA). The dexter supporters has the Quebec provincial flag and the sinister one, the Sûreté du Québec flag.
Marc Pasquin, 19 May 2006
As far as I know, it's the first body within the Quebec government to be granted arms... The Sûreté du Québec is one of the few governmental bodies allowed to adopt its own identifying symbols. The depicted flag is 2:3, and not 1:2 as it is used.
Luc Baronian, 22 May 2006
---
Société des traversiers du Québec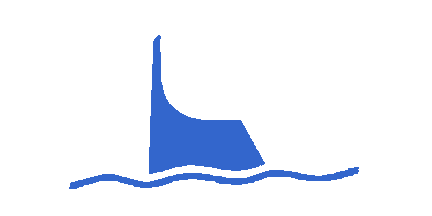 image by Luc-Vartan Baronian
This is the ensign flown on the ferries belonging to the Société des traversiers du Québec. White with pale blue logo. I first saw it in 1998 (I am uncertain of the proportions). Note that it is possible that this ensign is not used anymore. I could not find the logo on the current website of the society, and being a governmental society, I know that the Quebec government imposed the fleur-de-lis to nearly all of its departments and societies a few years ago and now forbids them to adopt their own logo, with only a few exceptions (Société des alcools du Québec, Sûreté du Québec, Loto-Québec, Télé-Québec, Hydro-Québec).
Luc Baronian, 14 June 2005
"Traversier" (from "traverser", to cross, to traverse) is yet another word you won't hear in France, except in "flûte traversière" (flute). For such a boat, we used the English words "ferry" and "ferry-boat". The French administration recommends the use of "bac", which is a correct translation for a ferry, but less and less used.
Ivan Sache, 15 June 2005
---
Government Roundel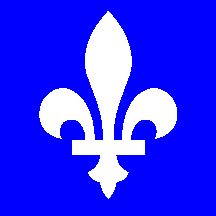 image by Dean McGee
This is the "roundel" used by the government of Quebec on airplanes, on the tail (if there isn't another emblem there already, such as the ambulance symbol), on the cockpit, with "Québec" in black, right to it. It is also used as a header for official letters, with the name of the ministry or office, next to it in black. Used officially since 1975, replacing the precedent emblem.
Luc-Vartan Baronian, 13 March 1997