This page is part of © FOTW Flags Of The World website
Liberal Democratic Party of Switzerland (FDP / PRD / PLR)
Last modified: 2016-03-19 by rob raeside
Keywords: liberal party | fdp | prd | plr |
Links: FOTW homepage | search | disclaimer and copyright | write us | mirrors

---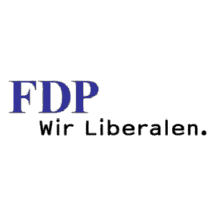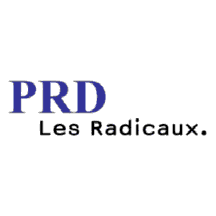 images by M. Schmöger, 26 November 2006
---
See also:
---
The current FDP/PLR is the result of the merger of the former FDP/PRD/PLR with the smaller LPS / PLS in 2009. This page describes flags from before the merger.
M. Schmöger, 9 January 2016
FDP (Freisinnig-Demokratische Partei Schweiz)
PRD (Parti radical-démocratique Suisse)
PLR (Partito liberale radicale svizzero)
(Liberal Democratic Party of Switzerland)

This party is one of the biggest parties in Switzerland and was particularly influential in the second half of the 19th and the first half of the 20th century. The party has a liberal program. Currently it has 36 seats in the 200-seat lower chamber of the Swiss Parliament (Nationalrat = National Council). Two FDP members are ministers in the federal government (Bundesrat = Federal Council).
The flag is square and shows the party abbreviation and additional text on a white field. In the German version the text is "Wir Liberalen" (We liberals) [1], in the French version it is "Les Radicaux" (The radicals) [2]. I don't know if Italian and Romansh versions exist as well.
[1] http://www.fdp.ch/platform/apps/shop/Detail.asp?Nr=1046
[2] http://www.prd.ch/platform/apps/shop/Detail.asp?Nr=1044
M. Schmöger, 26 November 2006
---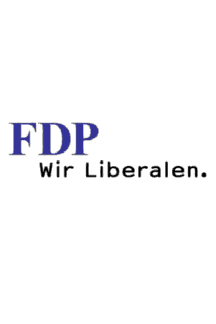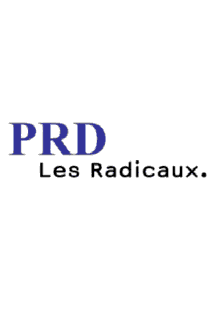 images by M. Schmöger, 26 November 2006
In addition to the flag there is also a table pennant (Tischwimpel), also in German and French versions [3][4].

[3] http://www.fdp.ch/platform/apps/shop/Detail.asp?Nr=1043
[4] http://www.prd.ch/platform/apps/shop/Detail.asp?Nr=1041
M. Schmöger, 26 November 2006
---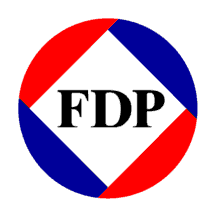 image by M. Schmöger, 29 November 2006
There are also two older flags of the FDP showing variants of the older logo. The logo was mainly composed of a circle of alternating red and blue colour with a white lozenge in the center; the party abbreviation "FDP" was either put in the center of the lozenge or beside the circle-lozenge.

The first flag variant shows the inscription "FDP" in the center (in black).

Sources:
http://fdp-ag.ch/platform/content/content/9510.jpg
http://www.fdp-gr.ch/bilder/s5.jpg
http://www.fdp-sh.ch/platform/content/element/17254/Bildschirme%20030.jpg
http://www.fdp-sh.ch/platform/content/element/17247/Bildschirme%20023.jpg
http://www.fdp-sh.ch/platform/content/element/17232/Bildschirme%20018.jpg
M. Schmöger, 29 November 2006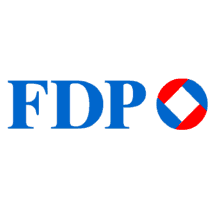 image by M. Schmöger, 29 November 2006
The second flag shows the inscription "FDP" at the hoist (in blue) and the circle-lozenge device in the fly.

Sources:
http://www.fdp-gr.ch/bilder/071105_9.JPG
http://www.fdp-gr.ch/bilder/071105_6.JPG
M. Schmöger, 29 November 2006
---