This page is part of © FOTW Flags Of The World website
Other 20th Century China flags
Last modified: 2020-07-31 by ian macdonald
Keywords: china | manchuoko | china empire | eastern mongolian independent republic |
Links: FOTW homepage | search | disclaimer and copyright | write us | mirrors

---
---
See also:
---
Empire of China, 1916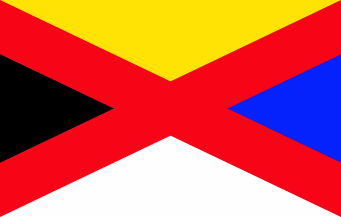 image by Kazutaka Nishiura, 23 February 2010
Source: picture of the flag from " Atlas of Flags in China" 2003.
Yuan Shi-kai set up a China Empire in 1916, which lasted only 81 days. From a black and white photograph, a flag was depicted that was adopted for this empire.
Michael Yuh-horng Wang, 13 January 1997
The saltire design shows that this was probably used during 1916, when Yuan Shih-Kai was Emperor of China.
Miles Li, 18 May 2002
The Empire of China flag used by Yuan Shikai for his usurpation to restore feudal Empire.
The red saltire flag on white, yellow, black and blue field.
The Empire of China (simplified Chinese: 中华帝国; traditional Chinese: 中華帝國; pinyin: Zhōnghuá Dìguó) was a short-lived attempt by statesman and general Yuan Shikai from late 1915 to early 1916 to reinstate monarchy in China. The attempt was ultimately a failure, but it set back the Chinese republican cause by many years and fractured China into a hodgepodge of squabbling warlord factions.
Nozomi Kariyasu, 04 December 2009
I have been reviewing the "Encyclopedia of modern China" ed. David Pong (Gale, 2009) which under the heading "National Flags and National Anthems" (vol.3, pp.6-8) includes a reference you may find of interest. It refer to a website which, being in Chinese, I have not consulted.
Between 22/10/1915 and 22/3/1916, when Yuan Shikai was trying to make himself Emperor, a new flag was announced, in the five colours of the first Republican flag, but arranged as a red saltire with the four triangles between in yellow, blue, white and black. They do not say in what order these appeared.
Kenneth Fraser, 08 October 2010
---
Fengtian Clique (1922)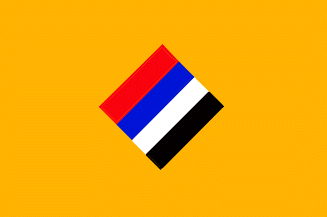 image by Jaume Ollé, 03 February 1999

Adopted in 1922 by Chang Tso-lin when he proclaimed the autonomy of Manchuria.
Jaume Ollé, 03 February 1999

It's the flag of Fengtian Clique, led by Zhang Zuolin (Chang Tso-lin in Wade-Giles).
Akira Oyo, 18 April 2014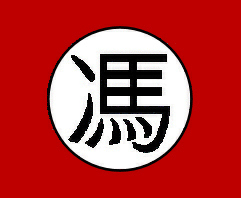 image by Jaume Ollé, 03 February 1999
Flag used by the Guominjun (Kuominchun) clique, 1924-1930.
The symbol in the middle means "Feng", surname of its leader, Feng Yuxiang. I've based the drawing from a black & white photo and the color on the armbands of the army.
Jean-Marc Merklin, 3 March 2019
---
南诏 - Nan Chao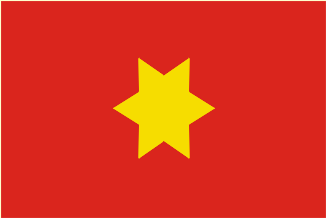 image by Jaume Ollé
It was an ancient Tai kingdom in southern China centered around present-day Yunnan. http://en.wikipedia.org/wiki/Nan_Chao
There is nothing known of the eventual flags of those kingdoms, conquered by the Mongols (Kublai Khan) in 1253 and becoming part of the Chinese Empire, effectively under the Manchu rule in 1650.
After the Franco-Chinese war of 1884-85 the Nan Zhao region found itself in the French zone of influence and unhindered by the weak Manchu government enjoyed a far-reaching degree of autonomy until 1927 when the Chinese Nationalist Army of Chiang Kai-shek entered its territory. Their arrogant and careless actions provoked the Tais (Chuang ) into secession.
The rebel leaders declared the independence from China, appealed for, and received the indirect French help from Tonkin, and resisted Nationalist attacks until 1929, but the local warlords still maintained virtual independence in the chaotic China. The communist Chinese, faced with rebellion of the Chuangs in 1950, split their territory between several provinces to quell the dissent.
The flag of the independent Nan Zhao of 1927-29 is featured in James B. Minahan book "Nations Without States" and described as the flag of the "national movement": "red field bearing a centered yellow, six-pointed star".
Image of that flag attached below is the work of Jaume Ollé y Casals.
Chrystian Kretowicz, 22 July 2009
This flag is almost identical to the second flag of Sinkiang under the rule of the warlord Cheng-Chi-Tsai (does it looks like a proper Chinese name ?) as reported by Franciae Vexilla.
Now, that flag and the one of Nan Zhao differ slightly in the shape of the star, so it might be just a coincidence in the similarity of these flags ?
Or, one of the reports is wrong ? Isn't it a good question to ponder upon ? Any comments on the subject would be greatly appreciated.
If the Chinese website is to be trusted there is a difference in the stars appearing on flags of: Nan Zhao and the 1942-44 flag of Turkestan Soviet Republic (second flag of Sinkiang under Sheng Shicai (or Sheng Shih-ts'ai - 盛世才) (that's the proper name of the gentleman who was top honcho there: http://en.wikipedia.org/wiki/Sheng_Shicai)
This flag looks like that http://blog.pcpop.com/picture/0002481970-1.html
The problem with this website is that most, but not all, flags were taken from FOTW, but, anyway, it is something to consider, IMVHO.
Chrystian Kretowicz, 23 July 2009
Ah.. the fun of transliterating... if we are using modern romanisations for his name, perhaps we should say Xinjiang, rather than Sinkiang?
As for the flags, it seems we have a source for a Sinkiang/Xinjiang red flag with 6-pointed yellow star oriented in one direction and a Nan Zhao red flag with yellow star in different orientation. I'm no expert on Chinese vexillology, but without knowing the ultimate sources for such information, it wouldn't surprise me if several orientations of the star were found in both cases.
Again, without knowing how widely used the flags were, it is hard to say whether there is any link. It is a reasonably obvious combination of symbols in that part of the world, so it could be a complete coincidence.
Jonathan Dixon, 24 July 2009
As the spelling is concerned, I think both terms are valid IMVHO. Xinjiang being the modern, reformed transliteration and Sinkiang being a traditional and historical English name of the region. Even the wikipedia page intermingles both forms on the same page.
Chrystian Kretowicz, 24 July 2009
This is a serious misunderstand and mix-up of southwestern Chinese history.
First, after 1912, so-called "Nan Zhao region" in China was ruled under the warlords, Guangxi Clique https://en.wikipedia.org/wiki/Guangxi_Clique and Yunnan Clique https://en.wikipedia.org/wiki/Yunnan_clique, and it was the main area of the KMT Government before "Northern Expedition https://en.wikipedia.org/wiki/Northern_Expedition ".
Second, in 1927, the Chinese Nationalist Army of Chiang Kai-shek had been attacking the Peking Government (also known as Beiyang Government) since mid-1926, but not entered or attacked this area.
Third, in 1950, the rebellion Communist China faced with was of the KMT Army, but not of the Chuangs.
Moreover, the book sourced is commented as "many mistakes" (see: http://www.amazon.com/Nations-without-States-Contemporary-Historiography/dp/0313283540 and http://www.amazon.com/Nations-without-States-Contemporary-Historiography/dp/0313283540 ).
Thus, this flag probably never existed in so-called "Nan Zhao region" in China and was created with a rumor.
Akira Oyo, 21 April 2014
---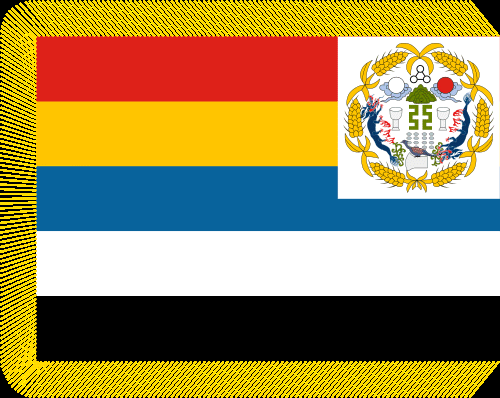 image by Eric Yang Soong, 01 June 2014
ROC Beiyang Government adopted a flag of Generalissimo on Sep 26 1927 by Generalissimo Order No 263. The five striped flag has a 十二 章12 designs in a canton with apricot yellow fringe.
Actually the flag was designed for Zhang Zuolin Generalissimo.
The 12 designs are basically used for Chinese Emperorís cloth to indicate his authority which includes: moon, sun, mountain, dragon, star, fire, ax, waterweeds, white rice, pheasant, ceremonial vessel, the letter 亞 representing sharpness.
Here's some information translated from the document description:
- Ratio: 5:3
- Fringe: Color: Apricot yellow (杏黄色); Width: 13.3 cm (4 Chinese inches - 四寸)
- Canton field: Color: White. (白色空地) Length: 58 cm x 58 cm, square (一方横直各一尺七寸五分)
- 12 designs (十二章) Embroidered, with its original color pattern, double sided.
- Wheat ring (嘉禾): Color: Golden yellow (金黄色)
- Flag sleeve: Made with yellow silk. (黄绸)
- Flag pole: Color: Vermilion (red, 朱红色) Length: 250 cm Pole diameter: 7 cm
- Flag pole head: Made in a 17cm bronze spear, with a 23cm red ribbon decoration.

English translation of the official Chinese written document from Nozomi Kariyasu
Nozomi Kariyasu, 01 June 2014
This flag was showed with the staff on the right in the official document.
Akira Oyo, 01 June 2014