This page is part of © FOTW Flags Of The World website
Costa Rica - Education Institutes Flags
Last modified: 2021-02-20 by rob raeside
Keywords: costa rica | education institues | university |
Links: FOTW homepage | search | disclaimer and copyright | write us | mirrors

---
---
See also:
Other sites:
---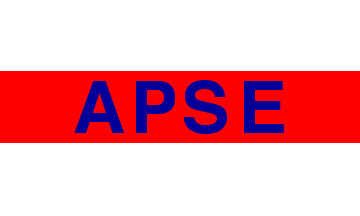 image by Ivan Sache, 06 November 2011
APSE ("Asociación de Profesores de Segunda Enseñenza", Union of Secondary Education Teachers) was founded on 15 July 1955 in San José, succeeding "Maestros Unidos" (United Teachers), established on 7 August 1936 and replaced on 23 October 1942 by "Asociación Nacional de Educadores" (ANDE, National Teachers' Union). The union has more than 23,000 members organized in 32 regional sections.
The today's flag of APSE is shown, graphically, on the union's website, as horizontally divided white-red--white with the blue letters "APSE" on the red stripe. - APSE website

image by Ivan Sache, 06 November 2011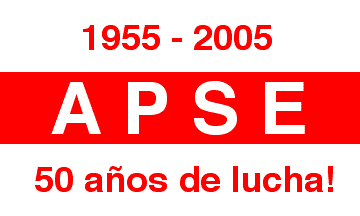 image by Ivan Sache, 06 November 2011
The flags used in street demonstrations include different writing variants of the white-red-white pattern:
- flag with "apse" written in cursive letters - Protest blog, 27 April 2008
- Cover of the magazine "APSE informa", No. 26 (June-July 2006)
- flag without writing (maybe with writing on one side of the flag only) - "Al Día", 17 August 2010 and "Inside Costa Rica", 25 February 2009
- 50th anniversary flag, with "APSE" in capital white letters and "1955 - 2005" / "50 años de lucha!" (50 years of struggle) in red letters in the respective white stripes - Cover of the magazine "APSE informa", May-June 2005
Ivan Sache, 06 November 2011
---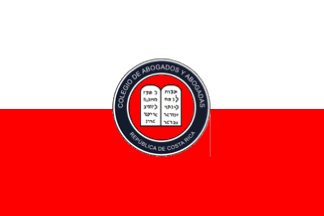 image by Ivan Sache, 10 January 2021
The Colegio de Abogados y Abogadas de Costa Rica (Costa Rica Bar Professional College) was established by Decree No. 24 issued on 6 August 1881. The board was elected on 12 August and the college was inaugurated on 21 August. During his address, the newly elected president, Eusebio Figueroa Oreamuno, vehemently called General Guardia to re-establish the constitutional regime, to no avail.
Eusebio Figueroa Oreamuno (1827-1883) played a key role in the consolidation of democracy in Costa Rica. He exerted several prominent public charges such as director of the official gazette and of the national print, rector of Universidad de Santo Tomás, president of the Supreme Court of Justice, Vice President of the Constituent Assembly (1869) and interim President of the Republic. He was killed in a duel by León Fernández Bonilla (1840-1885, who was murdered by Antonio Figueroa Espinach, Eusebio's son).

https://cambiopolitico.com/eusebio-figueroa-fundador-del-colegio-de-abogados/39216
Cambio Político, 3 June 2013

The flag of the Colegio de Abogados y Abogadas de Costa Rica is horizontally divided white-red with the college's emblem in the center.

Photo
https://crc891.com/colegio-de-abogados-de-costa-rica-ofrece-servicios-a-la-defensoria-de-los-habitantes
Ivan Sache, 10 January 2021
---
Colegio Monterrey was founded in 1956 in San José. A Christian Evangelic college, Colegio Monterey was accredited in 2006 by the ICAA (International Christian Accrediting Association), which has it seats in Tulsa, Oklahoma, USA. For more information see Colegio Monterrey website.
The flag of Colegio Monterrey is white with a red crown outlined in blue and charged with a blue Greek cross. The name of the college is written in blue capital letters below the emblem.
From the colegio web site: "The white background symbolizes the peace that goes beyond human understanding for those who follow the Lord's teachings - our King - who is represented by a crown in the middle of the flag."
Source: <www.colegiomonterrey.ed.cr>.
Ivan Sache, 9 February 2008
---

image by Ivan Sache, 21 July 2014
In a photo at <www.ucr.ac.cr>, there is a sort of gonfalon, white with coat of arms, apparently representing "Liceo de Costa Rica".
Jan Mertens, 3 January 2009
Liceo de Costa Rica was established on 6 February 1887 during the administration of President of the Republic Bernardo Soto Alfaro (1854-1931; in office, 1886-1888) who, along with his Minister of Education Mauro Fernandez, were responsible for instilling the values of education among the populace. The government appointed three Swiss teachers, Louis Schönau (Director; Philosophy and Pedagogy), William Philippin (Geography, History, and French), and Paul Biolley (Life Sciences, Latin and Greek) as the main teachers. The Cuban-Spanish Hildebrando Martí taught Spanish, while the famous civil engineer Odilón Jiménez taught mathematics. Civic Education and Political Economics were taught by José Astúa Aguilar. Appointed Secretary of the institute, Tranquilino Chacón also taught Accounting and Calligraphy. Próspero Calderón taught Drawing, while Jesús Nuñez taught Singing and José Moreno taught Sports. The institute was transferred in 1902 to buildings originally intended as a jail-house, which were registered in 1981 as Architectural, Historical and Cultural Heritage of San José.
Among the famous ex-alumni of Liceo de Costa Rica are five Presidents of the Republic: Otilio Ulate Blanco (1891-1973; in office, 1949-1953), Mario Echandi Jiménez (1915-2011; in office, 1958-1962), Francisco Orlich Bolmarcich (1907-1969; in office, 1962-1966), José Joaquín Trejos Fernández (1916-2010; in office, 1966-1970), and Daniel Oduber Quirós (1921-1991; in office, 1974-1978).
http://www.liceocostarica.com/ - Institute's website
http://news.co.cr/distinguished-liceo-de-costa-rica-quietly-celebrated-125-anniversary/4769/ - Costa Rica News, 12 April 2012

The flag of Liceo de Costa Rica is horizontally divided red-white-red.
Photos
http://m.facebook.com/notes/v%c3%a9rtice/acto-c%C3%ADvico-del-12-de-octubre-en-nuestro-liceo/249812701735718/
http://www.elpais.cr/frontend/noticia_detalle/1/85524
http://news.co.cr/distinguished-liceo-de-costa-rica-quietly-celebrated-125-anniversary/4769/
Ivan Sache, 21 July 2014
---
Instituto Tecnológico de Costa Rica (TEC / ITCR) is a national, autonomous institute of higher education dedicated to teaching, research and application of technology and related sciences to the development of Costa Rica. TEC was established by Law No. 4,777 enacted on 10 June 1971, on the model of TEC Monterrey (Mexico).
TEC has its central seat in Cartago and its regional seat in San Carlos, academic centers in Alajuela, Limón and San José, and technology transfer centers in San Carlos and Zapote.
https://www.tec.ac.cr, TEC website
The flag of TEC is blue with the institute's emblem, in white.

Photos
https://www.tec.ac.cr/unidades/rectoria
https://www.tec.ac.cr/rectores-tec-julio-calvo-alvarado
https://commons.wikimedia.org/wiki/File:Alejandro_Cruz.jpg?uselang=es
https://www.uned.ac.cr/acontecer/a-diario
https://archivo.crhoy.com/76-de-la-planilla-del-tec-gana-menos-de-%c2%a215-millones/nacionales/
Ivan Sache, 9 January 2019
---

image by Ivan Sache, 9 July 2014
Colegio Madre del Divino Pastor was established in Goicoechea by the Congregation of the Capuchin Sisters of the Mother of the Divine Pastor, a congregation founded on 27 May 1850 in Ripoll (Catalonia, Spain) by Father José Tous y Soler (1811-1871; beatified on 25 April 2010 by Benedict XVI). Invited to Costa Rica by Father Santiago Núñez Vargas, the congregation arrived in Goicoechea on 11 July 1953. Colegio Nuestra Señora de Guadalupe was officially approved on 12 March 1954 by the Higher Council of Education; located at the eastern side of the Guadalupe parish church, the institute was the first parish school established in Costa Rica. In November 1955, the parish withdrew from the institute's management; accordingly, the nuns established Colegio de la Divina Pastora, which was inaugurated on 20 February 1958. The cornerstone of the new institute's building was set on 30 May 1964. The institute was renamed Colegio Madre del Divino Pastor in 1973.

The flag of the institute is horizontally divided blue-pink-coffee brown. Blue and pink are the colours of Mary's clothes. Coffee brown is the colour of the Franciscan cloak.
http://cmdp.jimdo.com/nosotros/s%C3%ADmbolos-institucionales/ - Institute's website
Ivan Sache, 9 July 2014
---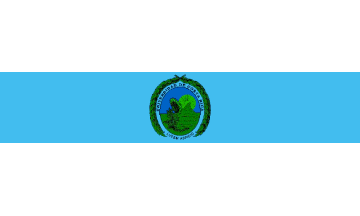 image by Blas Delgado Ortiz, 28 February 2002
The flag of Universidad de Costa Rica can be seen at <www.ucr.ac.cr>.
Dov Gutterman, 21 January 2002
The Universidad de Costa Rica (University of Costa Rica) originates in the Casa de Enseñanza de Santo Tomás (St. Thomas Education House), founded in 1841 and transformed in 1843 into the Universidad de Santo Tomás (St. Thomas University). Some 45 years later, the university was closed for political, economic and academic reasons, but the Faculty of Law, Agronomy, Fine Arts and Pharmacy kept on existing independently. The Universidad de Costa Rica was founded, as the descendant of the Universidad de Santo Tomás, by Law of the Republic #362, voted on 26 August 1940. The university was inaugurated in March 1941.
The university has today a central seat in San José, the capital of Costa Rica, and five regional seats: Occidente (Western), founded in April 1968 in San Ramón de Alajuela; Atlántico (Atlantic), founded on 22 August 1971 in Turrialba; Guanacaste, founded in January 1972 in Liberia; Limón, founded in April 1975 in Puerto Limón; and Pacífico (Pacific), founded in August 1975 in Puntarenas. The university is divided in five Departments (Arts and Literature, Basic Sciences, Social Sciences, Engineering and Health) encompassing several Faculties, themsleves subdivided in Schools.
The flag of the Universidad de Costa Rica was prescribed in Article 6 of the first Decree of the University Council, issued on 7 January 1941. The flag was horizontally divided white - celeste blue - white, therefore similar to the national flag used in Costa Rica in 1843, when the Universidad de Santo Tomás was founded.
The shield of the Universidad de Costa Rica was prescribed in the same Decree. The shield is oval, showing on a light blue field, in the background a mountain with the sun half-rising over it and in the foreground a sunflower with the flower turned to the sun. The motto "LUCEM ASPICIO" (The Quest of the Sun) is written on the orle below the shield. UNIVERSIDAD DE COSTA RICA is written on the orle wbaove the shield. The shield is surrounded by two laurel branches joining above the shield. This shield was already used by the Universidad de Santo Tomás.
The flag and shield of the Universidad de Costa Rica were eventually specified during the extraordinary session #4512 of the University Council, held on 20 December 1999. The flag shall be made of three equal horizontal stripes, celeste blue, white and celeste blue, with the shield of the university in the middle. The dimensions of the flag shall match the dimensions of the national flag of Costa Rica, as prescribed by the Ministry of Foreign Affairs; that is 1.2 X 2 m.
Source: <www.ucr.ac.cr>.
Ivan Sache, 7 February 2008
In a photo in a commemorative service for former rector, the emblem is placed on white disk.
Jan Mertens, 3 January 2009
---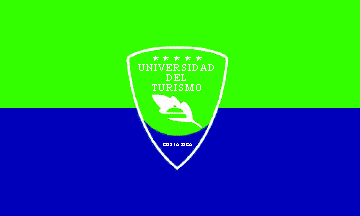 image by Ivan Sache, 06 November 2011
"Universidad del Turismo" (UTUR) was approved on 17 June 1996 during Session No. 302 of the "Consejo Nacional de Enseñanza Superior Universitaria Privada" (CONESUP - National Council for Private Higher University Education). Located in San José, UTUR is the first university in Central America dedicated to tourism industry, offering grades in three sectors, Hotel Management, Food and Beverage Management, and Ecotourism Management.
The flag of UTUR is shown, graphically, on the university's website, as horizontally divided green-blue with the emblem of the university in the middle.
The emblem of UTUR is a convex triangular shield, green with a blue point. The green field is charged with a white emblem surmounted with the writing "UNIVERSIDAD / DEL / TOURISMO" in white letters and five white stars. "COSTA RICA" is written in white letters in the blue field of the shield.
Green and blue must be associated to tourism, representing the forests and the sea, I have not found any description of the emblem. respectively. I see a white leaf more or less shaped like a geographic map of Costa Rica, with the green element recalling either a desk ring or a dish bell, the green dot placed at the geographic location of the university.
Source: http://www.utur.cr/es/nosotros.aspx
Ivan Sache, 06 November 2011
---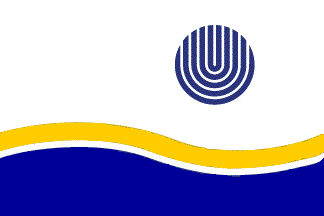 image by Ivan Sache, 30 July 2011
"Universidad Estatal a Distancia" (UNED) was created by Law No. 6,044, adopted on 22 February 1977 by the Legislative Assembly and published on 12 March 1977 in the State official gazette, No. 50. UNED is "specialized in education using the means of social communication" (Article 1), that is, in distance education and e-learning. In reference to other such universities worldwide, the name of UNED can, tentatively, be translated as "State Open University". UNED manages a network of 44 "Centros Universitarios" scattered all over the country.
Source: http://www.uned.ac.cr/Reglamento/documents/LEYDECREACION.pdf - Law No. 6,044

The flag of UNED is prescribed by Agreement No. 492, adopted on 27 September 1983 by the University Council.
"As an institutional symbol, the flag of the University shall be flown together with the flag of Costa Rica in all the premises housing programs and activities related to the institution. The institutional flag shall be made of a white rectangle with two horizontal wavy stripes located in the lower part of the flag and running from side to side. These stripes shall be blue Reflex blue (lower stripe) and yellow 124c (upper stripe). They shall be separated by a small, white stripe. The logo of the University [without writing], in its colour version, shall be placed in the upper right corner of the flag.
The design of the flag and the elements that constitute it are specified in graphic form as follows: [colour drawing]" http://www.uned.ac.cr/mercadeo/bandera.shtml
The logo of UNED was designed by the watercolourist Roberto Cambronero, commissioned by Oscar Aguilar Bulgarelli, founding member and first Executive Vice Director of UNED. Interviewed in March 2004, Bulgarelli explained that the basic concept of the logo is a letter "U" represented as a wave travelling in two directions, upwards and outwards in different levels, therefore forming a disc including five concentric "U". The wave has no limit, emphasizing that higher education has been spreading since the creation of UNED all over the national territory and, through distance education, over all the sectors that could not have direct access to education. The logo shows the movement of Hertzian waves, recalling that the creation of UNED occurred with the set up of SINART ["Sistema Nacional de Radio y Televisión" - Radio and Television National System] as a complementary organ to the work developed by UNED. The upwards projection of the waves symbolizes the surpassing of mind by the means of knowledge and education. Accordingly, UNED promotes the increase of the mind of the individuals, of the institution, and of the Costa Rica society.
Cambronero explained that this concept emerged from investigations on the Hertzian waves, since he had been commissioned to design a symbol that would identify both UNED and SINART, which was achieved in 1977. He got the idea from the similarity between the "U" of "University" and the waves. The original emblem of UNED was a vertical rectangle, with in the upper part the "isologotype" of UNED [that is the wavy disk] and in the lower part the letters "UNED". The colors were yellow, for heath and joy, and dark coffee brown, for tradition. The logo was changed in 2007 for the celebration of the 30th
anniversary of UNED, with the blue and white wavy disk surmounting the acronym and name of UNED.
Source: http://www.uned.ac.cr/mercadeo/historia.shtml
Enrique Villalobos, Head of the PR Office of UNED in 1983, recalls that the original flag proposal was slightly different, including a yellow sun, the silhouette of blue mountains and a white sky. The idea was to represent the emergence of a new university as a new sun irradiating culture and education. Blue, white and yellow, kept in the final version of the flag, are the institutional colors of UNED.
Source: http://web.uned.ac.cr/acontecer/index.php/hablemos-de-rrpp/54-rrpp/1038-el-origen-y-uso-de-la-bandera-institucional-de-la-uned.html
Ivan Sache, 30 July 2011