This page is part of © FOTW Flags Of The World website
Communist Party of Germany (Germany)
kommunistische partei deutschlands, kpd, 1919-1933
Last modified: 2012-09-15 by pete loeser
Keywords: communist party of germany | kommunistische partei deutschlands | kpd | communist |
Links: FOTW homepage | search | disclaimer and copyright | write us | mirrors

---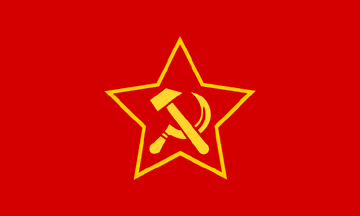 Image by Jens Pattke
[Editorial Note: The Communist Party of Germany (KPD) continued to use the flags of the Spartacus (Spartacist) League, designed in 1818, until 1956 when the KPD was banned]
On this page:
See also:
---
Introduction: Communist Party of Germany (KPD) 1919-1956
(formerly known as the Spartacist League (SKB) 1916-1919)
From the German Communist Party (DKP) website (only in German, Spanish and Portuguese): "El DKP se reconstruyo nuevamente en el año 1968 en la RFA porque el Partido Comunista de Alemania - KPD - se ilegalizo en el año 1956 hasta el dia de hoy...El DKP se sienta en la tradición del KPD, fundado por Rosa Luxemburg y Karl Liebknecht...". (The DKP was founded in 1968 in West Germany, because the KPD, founded by Rosa Luxemburg and Karl Liebnecht...had been banned in 1956...).
Santiago Dotor, 2 March 2000
[Editorial Note: also see the German Communist Party (DKP) page on FOTW]
The Socialist Unity Party of Germany..., the ruling party of the former German Democratic Republic..., was founded 1946 by a forced unification of the KPD and SPD in the Soviet Occupation Zone of Germany. In 1989, after the fall of the Mauer [the Berlin Wall], it renamed itself first the SED-PDS, and since February of 1990 shortened to PDS.
Marcus Schmöger, 14 August 2000
At the end of the World War I, the Spartacus League renamed itself the Communist Party of Germany (KPD - Kommunistische Partei Deutschlands), and joined the Comintern (Communist International) in 1919. Although the KPD was never officially banned during the the Third Reich, the NSDAP so completely hindered the parties actions that it was banned "de facto" after 1933. After Germany's liberation (or defeat?) in 1945, new party flags were created.
Jens Pattke, 23 March 2012
---
League of Red Front Fighters (Red Front)
Roter Frontkämpferbund/RFB

3:5 Image by Santiago Dotor
[Editorial Note: The RFB was not a separate political party, but was the militia arm of the KPD.]
There does not seem to have been any strict rules in regard to the Ortsgruppen flags of the Roter Frontkämpferbund (RFB, League of Red Front Fighters), the communist paramilitary organisation in the Weimar Republic. I have seen several different variants and here are two examples (most are similarto one of these):
Red banner with a centered yellow fist. Ortsgruppe (City) name below in yellow. "RFB" in yellow above. Variants include "Rot Front", "R.F.B.", "Roter Frontkämpfer Bund" or "R.F.B. Ortsgruppe".
Red banner with a red fist in a black circular field with a black ring around it. Text as above but in black.
The Abteilungen seem to have used variant no. 2, but without any text. The vehicle flag was a red triangular banner with a red fist in a black circular field. The standard communist plain red banner was, of course, also used.
Source: Roter Frontkämpferbund 1924-1929, published by Armeemuseum der DDR (Army Museum of the German Democratic Republic).
Marcus Wendel, 20 Sep 2000

Some years ago I wrote some short information about the banners used by the Roter Frontkämpferbund (RFB) (the communist paramilitary organisation in the Weimar Republic) for FOTW and now I've posted some examples of those banners on the Flag Forum.
Marcus Wendel, 13 Feb 2008
---