This page is part of © FOTW Flags Of The World website
Danish Minority in South Schleswig (Germany)
sydslesvig, schleswig-holstein
Last modified: 2019-07-30 by pete loeser
Keywords: danish minority | sydslesvig |
Links: FOTW homepage | search | disclaimer and copyright | write us | mirrors

---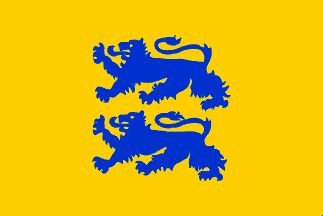 2:3 Image by Jan Oskar Engene
Flag first used ca. 1949-1950
On this page:
See also:
---
Danish Minority in South Schleswig
Sydslesvig, Schleswig-Holstein
Sydslesvig, Schleswig-Holstein, (South Schleswig - Sønderjylland) is part of the Euro-Region Sønderjylland/Schleswig and is home to a Danish minority (50,000 Danes and 8,000 Frisians). Proper representation and full cultural autonomy is guaranteed by the constitutions of Schleswig-Holstein and of the Federal Republic of Germany. On most occasions the Danish population displays the Dannebrog and they do have very distinctive symbols of their own.
Chris Kretowicz, 16 May 2001
The arms of Schleswig (in Danish Slesvig), blazoned Or two Lions passant Azure, is present in the greater state arms of Denmark [see Ralf Hartemink's International Civic Arms website] as well as in the arms of the German state of Schleswig-Holstein. According to Henningsen 2000 the Danes in the German part of Schleswig have been using a Schleswig banner of arms [i.e. a yellow flag with two blue lions passant] when they have not been able to use the Danish national flag.
Sønderjylland is Danish for South Jutland, and is another name for North Schleswig, i.e. the Danish part of Schleswig [which was handed over from Germany to Denmark after the 1920 plebiscite following the First World War].
Elias Granqvist, 17 May 2001
Based on the Henningsen 2000 article - Lars N. Henningsen, Sydslesvigs hjemstavnsflag (The home region flag of South Schleswig, in Nordisk Flaggkontakt no. 32, 2001, pp. 17-22 and 33†- here are some more details about this flag used among the Danish population in South Schleswig.
After World War Two representatives of the Danish minority in South Schleswig wanted permission to fly the Dannebrog, like they had used to before the war. However, in 1946 an application to the British occupation authorities was rejected. In fact, the use of any flag outdoors was banned during the first post-war years. As the ban on the use of the Dannebrog outdoors left the Danish movement without any symbols to gather around, a process started that led to the development of a new symbol based on the arms of Schleswig: two blue lions against a yellow background. In 1949-1950 this process resulted in the creation of the lion flag.
With the Bonn-Copenhagen declaration of 1955, the ban on the outdoor use of the Danish flag was lifted. However, the lion flag continued to be used and the flag is still used by the Danes in South Schleswig. In particular, the lion flag is associated with the South Schleswig Society (Sydslesvigsk Forening - SSF), the main organization for the Danish minority in South Schleswig.
Jan Oskar Engene, 19 May 2001
Note that the lions in the image at this website are crowned. In the flag they are not. The crowned lions are used in the logo of the most important Danish organization in Schleswig, the Sydslesvigsk Forening, usually in blue against a white background.
Jan Oskar Engene, 31 Jul 2001
---
Danish Minority Flag Variant
Speculative Car Sticker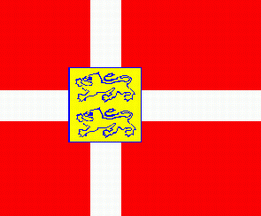 5:7 Speculative image by Klaus-Michael Schneider, 21 Mar 2009
I have seen a unknown flag displaying the Danish colours with a ratio of 5:7 with the cross shifted to the hoist. Upon its centre a yellow square fimbriated blue is superimposed. Within the square are two yellow statant lions fimbriated blue, a modification of the coat-of-arms of the Duchy of Schleswig.
I made a snapshot of this as a car sticker on 15 August 2007. This sticker is very common in Hamburg and Schleswig-Holstein. It is said to be used by the Danish School Association for South Schleswig. But unfortunately I couldn't confirm the existence of that sticker as an actual flag. I also must admit, that I removed a blue inscription "Sydslesvig"in the lower fly on my image.
Klaus-Michael Schneider, 21 Mar 2009
---