This page is part of © FOTW Flags Of The World website
Ducal Standards 1826-1918 (Saxe-Meiningen, Germany)
Herzogsstandarten
Last modified: 2017-11-11 by klaus-michael schneider
Keywords: saxe-meiningen |
Links: FOTW homepage | search | disclaimer and copyright | write us | mirrors

---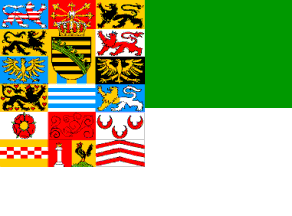 20:27 | 5 m × 6.75 m;

image by Theo van der Zalm and Santiago Dotor
Flag adopted ca. 1826, abolished 1918

---
---
See also:
---
Other sites:
---
Greater Standard of the Duke 1826-1918 (Große Herzogsstandarte)
Duke's Great Standard: Horizontal bicolor green-white with great[er] arms of Saxe-Meiningen as canton, occupying approximately 3/4 of height. In use until 1918.
Norman Martin, March 1998

Ströhl 1897 shows a standard (5 m × 6.75 m) with all the quarters of the shield from the greater arms of the duchy. Around the crowned shield of Saxony proper are arranged:
the landgraviate of Thuringia (a striped lion),
Kleves,
margravate of Meissen (a black lion),
Jülich/Gulik (another black lion),
Berg (a red lion),
the palatinate of Saxony (q gold eagle),
Landsberg (two blue pallets behind the Saxon shield),
the palatinate of Thuringia (another gold eagle),
Orlamünde (a black lion among red hearts),
Eisenberg (three bars),
Pleissen (a gold and silver lion)
Altenburg (a rose)
an unused field [?],
the county of Brehna (three stilized forms of uncertain origin),
Ravensberg (a chequered fess),
Römhild (a column),
Henneberg (a hen) and
Ravensberg (three chevrons).
This standard is also shown in Neubecker 1933, ill. 226, as Große Herzogsstandarte.
Theo van der Zalm, 15 June 2001

Ströhl 1897 claims this standard was the largest of all the contemporary German sovereigns standards at 5 m × 6.75 m. It gives the dimensions of the armorial canton as 3.86 m × 3.35 m. The first four rows of quarters measure 3.86 × 4/6 = 2.573... m high, so they do not match the height of the top (green) stripe (2.5 m).
Santiago Dotor, 4 July 2002

---
Lesser Standard of the Duke c.1900-1918 (Kleine Herzogsstandarte)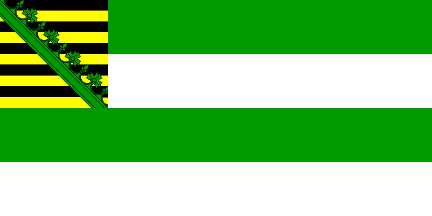 1:2

image by Alvan Fisher and Mark Sensen, modified by Santiago Dotor
Flag adopted after 1897, abolished 1918

Neubecker 1933 gives also a 'lesser standard' (Kleine Herzogsstandarte) four stripes of green and white with in the canton the ancient arms of the duchie of (Upper) Saxony, also used by the other branches of the house of Wettin in Thuringia, blazon: Barry of ten Sable and Or, a crancelin ('Rautenkranz') bendwise Vert.
Theo van der Zalm, 15 June 2001

Neubecker 1933 shows the crancelin (Rautenkranz) on the canton as a curved one. This standard is very similar to the late 19th century standard of the Duke of Saxe-Coburg-Gotha, differing basically in the arrangement of the stripes on the Saxon armorial canton, which starts with a yellow one in the Saxe-Coburg-Gotha one, following the Duke's personal arms, but unlike all other contemporary Saxon arms and flags which showed the black stripe first. Also the ratio appears to be different (ca. 1:2 for the Saxe-Meiningen one, ca. 5:7 for the Saxe-Coburg-Gotha one). Anyway there was possibly no opportunity for confusion, since the lesser standard of the Duke of Saxe-Meiningen was probably adopted after Duke Charles Edward of Saxe-Coburg-Gotha adopted a new one (a square banner of the Saxon arms with a canton showing his arms as British prince) in 1900 or 1902.
Santiago Dotor, 4 July 2002
---