This page is part of © FOTW Flags Of The World website
Ahrenkiel (German Shipping Companies)
Last modified: 2017-11-11 by klaus-michael schneider
Keywords: ahrenkiel | ahrenkiel & clausen | hamburg castle | mackerel(3) |
Links: FOTW homepage | search | disclaimer and copyright | write us | mirrors

---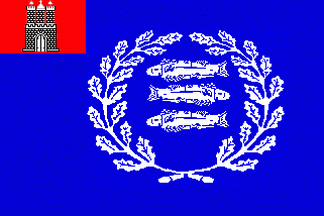 image sent by Klaus-Michael Schneider, 19 Aug 2008
Christian F. Ahrenkiel, Hamburg, flag See also:
---
Introduction
As suggested by Klaus-Michael Schneider there is no connection between Ahrenkiel and Michael Jebsen apart from being born in Apenrade. That they have both used a variation of the town Coat of Arms on their flag is just another coincidence and perhaps they were not the only ones to do so. According to the Jebsen & Jessen website, the Arms dating from 1421 had the fish changing direction several times, sometimes just one, other times all three. However in 1920 the Åbenrå Council decided to have all their fish swimming to the left [hoist] and, according to another source, prohibited that version being used by anyone else.
Presumably before that it was open season for anyone to use.
Jarig Bakker mentions that the flag with the canton was shown by Wolter in "See und Seefahrt" for Christian F. Ahrenkiel-Ahrenkiel & Bena, Hamburg. The answer from Lloyds is that up until 1971 Ahrenkiel also operated from the same address in the partnership of Ahrenkiel & Bene [note spelling].
The flag with the light blue field and canton (see also top of page) etc for Ahrenkiel & Clausen. Hans Jürgen Ahrenkiel, father of Christian F., and his partner Claussen started this shipping company in 1910 and owned three vessels all of which were lost after WW1. Hans J. died in 1923.
The flag for Christian F. Ahrenkiel. Apparently the leaves were originally hop-leaves eventually replaced by oak-leaves (Jebsen & Jessen website).
The three companies using the mackerels and wreath all give similar "romantic" reasons for the middle fish facing the opposite way. My guess is that they all used the prevailing version used by the council of the time.
Neale Rosanoski, 6 Jul 2009
---
Ahrenkiel and Clausen, Apenrade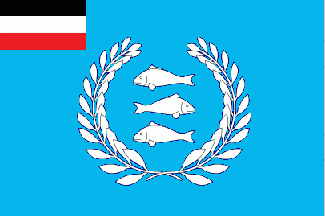 image by Klaus-Michael Schneider, 19 Aug 2008

Looking at the website of the skippers tomb in Aabenraa, I also found the tombstone of Mr.Jebsen.
I was however puzzled, when I yesterday saw a flag of M. Jebsen, looking exactly like the flag without canton, painted by Jorge Candeias on 13 May 2004. I was even more puzzled, when I also found another one of Ahrenkiel & Clausen, also located in Apenrade, with a different canton and not as dark as the others. That cannot be an incident! I have written to the company to get more information and I hope I can give it to you next week.
I don't know the ratios. The two current flags however will probably have ratio 3:5.
The company was established by Christian F. AHRENKIEL , who was born in 1904, in Hamburg in 1950 and is again located at "An der Alster 45" since last year.
Ahrenkiel and Clausen, Apenrade: It is a celestial blue flag with the Ahrenkiel-Logo in its centre. The canton is a black over white over red horizontal tricolour, like the merchant ensign of German Empire.
Source: Lloyds: House Flags and Funnels, Version December 1912, p.103, flag no.1401
Klaus-Michael Schneider, 19 Aug 2008
---
Christian F. Ahrenkiel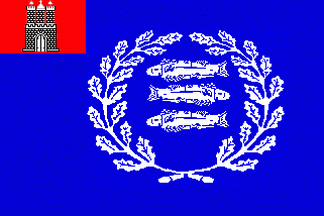 image sent by Klaus-Michael Schneider, 19 Aug 2008

Christian F. Ahrenkiel, Hamburg, flag#1
It is a blue flag with the white Ahrenkiel-Logo in ist centre. The wreath however is not made from laurel but from oak-leaves. The canton is a red field with a white, masoned "Hamburg-gate" in its centre limited on both sides by a line.
Source: I spotted this flag on top of the companies building in December 2007.
The same version is depicted in:
Carsten Prange: "Auf zur Reise durch Hamburgs Geschichte – A journey through Hamburg's history" (bilingual), Hamburg 1990, ISBN 3-920384-35-0.
Klaus-Michael Schneider, 19 Aug 2008
---
back to A-companies main page click here