This page is part of © FOTW Flags Of The World website
Emder Schlepp-Betrieb (German Shipping Company)
Last modified: 2019-08-12 by

klaus-michael schneider
Keywords: emder schlepp | ems schlepper | wessels |
Links: FOTW homepage | search | disclaimer and copyright | write us | mirrors

---
image by , See also:
---
Emder Schlepp-Betrieb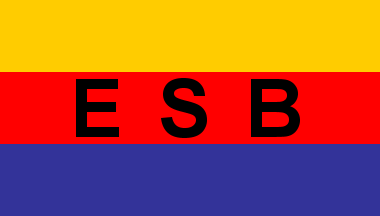 image by Eugene Ipavec, 3 Aug 2008

Emder Schlepp-Betrieb or ESB, situated at Emden; the name means "Emden Towage Company", represented here.
We see a horizontally divided house flag yellow-red-blue with black initials "ESB" in the centre stripe. (Tugspotters obsolete link)
Company website, English version available (ignoring the other two flags, for now): As explained in the "Who we are" section, ESB was founded in 1859 when Peter W. Wessels assisted a becalmed ship with his cutter.
(According to MarCollect, Wessels and a further firm, ESAG, merged in 1994 to form ESB, still a Wessels family business, more later.)

Nowadays the company operates five tugs active in Emden harbour and in coastal waters: moreover it cooperates with similar German and foreign firms. ESB also offers "assistance during launches, pontoon-transports and conveyance of newbuildings as well as passenger and cargo transports and every different work on hydraulic construction sites".

As you can see, ESB flag is derived from that of the home town: simply replacing the arms with initials (it should be remembered that Emden is a North Sea port not far from the Dutch-German border).
Image adapted from German eBay. This was no. 290068839459 (end 12 Jan 2007) put up by "shipflag", approximate dimensions given as 15 cm x 24cm.
Jan Mertens, 3 Aug 2008
Ems-Schlepper A.G.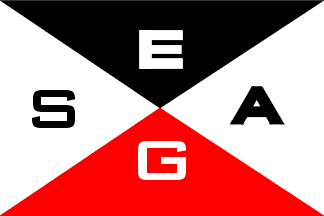 image by Jarig Bakker, 4 Sep 2005

Ems-Schlepper A.G., Emden - divided per saltire black (with white "E") - white ("A")- red ("G")- white ("S").
Source: Brown's Flags and Funnels Shipping Companies of the World, compiled by J.L. Loughran, Glasgow, 1995 [lgr95]
Jarig Bakker, 4 Sep 2005

ESAG was the other partner in the ESB merger which took place in 1994 (MarCollect info). See also the ESB homepage, the flag on the left.
AS "Ems-Schlepper A.G." means "[River] Ems Towage Co., Ltd" it is easy to see where the intials come from. As in P.W. Wessel's case, this firm is still listed in a number of directories (under the old address, it seems). According to MarCollect, the company was founded in 1924 by, among others, Bugsier, WTAG, and Lehnkering; nine tugs were operated in 1975.
Jan Mertens, 5 Aug 2008
---
P.W. Wessels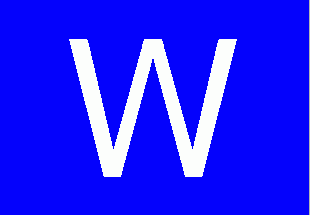 image sent by Jan Mertens, 4 Aug 2008

Emden tug operators Wessels and ESAG merged to form ESB. This is "Emder Bugsier- u. Bergungsgeschäft P. W. Wessels Wwe" i.e. "Emden Towage and Salvage Co. P.W. Wessels (Widow)". Although the merger took place in 1994 this firm is still found in various directories which point, logically, to ESB. Page showing the old name and flag: "Towage " Shipping Company", ESB address. More of a surprise is the fact that P.W. Wessels is still listed as a member of VDR, the German shipping operators" association, along with the house flag. And said house flag we already encountered on the ESB site, blue with a large white initial "W" (no serifs). There are photos on the "net showing tugs with funnels of this design but which do not, as far as I can see, fly the ESB flag at the same time. ("Fritzen II" mentioned in the ESB message has the Wessels Offshore Schleep funnel and seems to fly the ESB flag however.).
Jan Mertens, 4 Aug 2008

"Emder Bugsier- u. Bergungsgeschäft P. W. Wessels Wwe" - the white "W" on blue ground - is shown in the 1928 Flaggenbuch II, part 1, no. 57 on (original)", p. 9
This is not 1859 of course but the earliest example I was able to find so far.
Jan Mertens, 20 Aug 2008
---
back to back to X-companies main page click click here