This page is part of © FOTW Flags Of The World website
Estonia - Coat of Arms
Last modified: 2022-01-03 by

zachary harden
Keywords: estonia | lion | leopard |
Links: FOTW homepage | search | disclaimer and copyright | write us | mirrors

---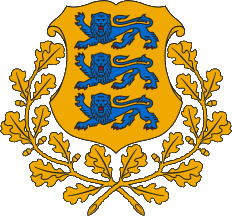 image by Zachary Harden, 03 January 2021
---
---
See also:
---
The colors of the great and small coat of arms are blue (PANTONE 285 C) and golden.
The Great and Small State Coats of Arms of the Republic of Estonia were confirmed by the Riigikogu by a Lawadopted on June 19, 1925, which entered into force on the territory of the Republic of Estonia on July 21, 1925.
According to the description in that Law, the coat of arms can be in two shapes, a large coat of arms or a small coat of arms. The large national coat of arms has three blue lions (or according to some interpretations, leopards) on a shield with a gold base. The shield is surrounded on three sides by a wreath of golden oak leaves. The smaller coat of arms lacks this.
Upon the passing of the Law, proposals were made in the Riigikogu on possible interpretations of the images on the coat of arms. A consensus was reached on the suggestions offered by Leopold Raudkepp:
One of the lions symbolizes the courage of the fight for freedom in ancient times. The second stands for the courage in the uprisings in Harjumaa in 1343. The third represents the courage of the Estonian fight for freedom between 1918-1920.
The wreath of oak leaves stands for the perseverance and strength of Estonia and the evergreen traditions of freedom.
The golden-yellow shield with three blue lions was used for the first time as the corporate seal of the association of Tartu and Viruvassals in 1284. Later it became the coat of arms of Estonian chivalry, and was used also past its loss of status in 1920, during the first period of independence of the Republic of Estonia. The coat of arms of Estonian chivalry also served as the coat of arms of the Province (Guberniya) of Estonia from 1721-1917.
The three lions (leopards) also appear on the City Arms of Tallinn, whose origin is noted to be in connection with the battle between the Danes and Estonians in 1219 below Tallinn (lions also appear on the Danish coat of arms).
Until the creation of the Republic of Estonia, the coat of arms did not exist as a national emblem. Working out of a design for the coat of arms began immediately after the end of the German occupation in 1918, and it spanned many years.
On many occasions competitions were advertised for arms designs, but no original work by any artist won sufficient approval. Other snags were caused by the opportunity to adapt and utilize the already existing coat of arms of the Province of Estonia. As the result of many long discussions, the scales finally tilted in favor of the coat of arms with the renderings of the three lions (leopards).
This coat of arms of the Republic of Estonia was in use until the beginning of the Soviet occupation on June 21, 1940.
The rendering on the coat of arms returned to the public in connection with the national amnesty started in 1988. For the first time since a hiatus that lasted decades, the coat of arms adorned by three lions of the city of Tallinn was used as a historical element in the Old Town Days of 1988. The City Arms of Tallinn was reinstated in the same year.
On May 8, 1990, the Supreme Soviet of the Estonian SSR passed a law on the emblems of Estonia. Pursuant to it, the designation "Estonian Soviet Socialist Republic" was declared invalid and the use of the Estonian SSR's coat of arms, flag, and anthem as national symbols was terminated. The third point of the Law provides Article ~ of the 1938 Constitution of the Republic of Estonia, according to which the national colors of Estonia shall be blue, black and white, and that the shape of the national flag and national coat of arms shall be defined by law.
On August 7, 1990, the Supreme Council of the Republic of Estonia decided to adopt the national flag and national coat of arms that were official for the Republic of Estonia until August 1940.
On October 16, 1990, the Supreme Council of the Republic of Estonia passed a Law on the use of the national flag and national coat of arms, which states that the national Arms can take two shapes - a large coat of arms and a small one. The large coat of arms shall have three blue lions rendered as leopards with silver eyes and red tongues, facing to the right yet gazing at the viewer, on a golden baroque shield. The shield shall be surrounded on three sides by a garland of two intertwined golden oak branches. The small coat of arms of the Republic of Estonia has the same figures, but is without the oak branches. The 1990 description of the Arms is much more specific than the 1925 version.
The Law regarding the confirmation of the graphic specifications for the national flag and coat of arms was passed on July 7, 1992.The Law was confirmed with definitions of the images appearing on the small and large national coats of arms in conformance with the international color palette PANTONE 1. The blue tone on the coat of arms is 285C. Colors of the triad: C 91% CYAN (blue), M 43% MAGENTA, Y 0% YELLOW, B 0% BLACK (editor adds: this mean R=23, G=145, B=255).
Toomas Molder
From: http://ew80.www.ee/eng/natsymbols.html:
The Estonian coat of arms comes in two formats, a large one which shows three blue lions, passant gardant, on a golden shield framed on each side by gilded branch of the oak tree with the stems of the branches crossing at the base of the shield. The small shield is identical except for the gilded branches. The design of the shield originates from the XII century, when the Danish King Valdemar II presented the City of Tallinn (Reval) with a coat of arms similar to that of the state of Denmark, showing three lions. A similar motif was transposed to the coat of arms of the Province of Estonia, which was adopted by Catherine II, Empress of Russia, on the 4th of October, 1788.The Parliament (Riigikogu) of the Republic of Estonia adopted the state coat of arms on the 19th of June, 1925. After the forcible annexation of Estonia by the Soviet Union in 1940, this coat of arms was banned. The use of the historic coat of arms as the state coat of arms of the Republic of Estonia was re-adopted on the 7th of August, 1990. The Law on State Coat of Arms was passed on the 6th of April, 1993.
Jorge Candias, 26 October 1998
A question that bothers me is the colour of the tongues of the Estonian leopards - are they red as shown above or are they blue as the rest of the leopard - the legal texts quoted does not mention red at all. A minor questions here is the colour of the eyes - white?
Željko Heimer, 20 August 2001
The Estonian government site has at <http://www.rk.ee/symb/rvvappe.html> red tongues. There are legal texts, but only in Estonian. Ralf Hartemink at <http://www.ngw.nl/int/est/estonia.htm> has white eyes and red tongues.
Jarig Bakker, 20 August 2001
---