This page is part of © FOTW Flags Of The World website
Swedish People's Party of Finland
Svenska folkpartiet i Finland/Suomen ruotsalainen kansanpuolue
Last modified: 2021-08-25 by

christopher oehler
Keywords: swedish people's party of finland | finland |
Links: FOTW homepage | search | disclaimer and copyright | write us | mirrors

---

image by M. Schmöger, 02 May 2015
---
See also:
---
The SFP is the main party of the Swedish-speaking minority in Finland. Founded in 1906, it is a centrist and liberal party, member of the Liberal International and the ALDE. It consistently reaches about 10 seats in the 200-seat parliament of Finland, thus currently being the seventh-largest party with nine seats.
A flag used in 1982 is sourced only by a black-and-white photograph [1], so I am not sure about the colours. It is a hanging flag (ratio about 10:7) with three indentations at the bottom. The background of he flag is darker, the party abbreviation (SFP) is shown in a lighter colour in somewhat cubic letters. The "F" is very much elongated, so that the whole inscription forms a Scandinavian cross (rotated, though).
The current symbol combines a stylized ladybeetle (in red and black) with the party abbreviation in Swedish and Finnish, both in light blue, on a white field. The flag used is a beach flag with the symbol rotated [2,3,4].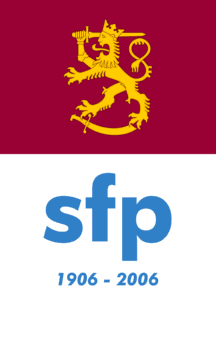 image by M. Schmöger, 02 May 2015
As the party was founded in 1906, there was a centenary to celebrate in 2006. The flag devised for this was a table banner [5] that showed in base the inscription "sfp" in lower-case letters over the smaller inscription "1906-2006", all in light blue on white; in chief there was a purple field with the golden Finnish lion from the coat-of-arms.
Sources:
[1] http://areena-v3.yle.fi/static/mk/images/previews/1d/1d780f0b6ae44776ba279d584cbf06be/49971_preview_620.jpg
[2] http://sverigesradio.se/sida/images/83/3502829_2048_1152.jpg
[3] http://www.sfpivanda.fi/wp-content/uploads/2014/05/korvsoppa3.jpg
[4] http://www.sfpivanda.fi/wp-content/uploads/2014/05/korvsoppa1.jpg
[5] standar2.jpg (image disappeared from WWW, since I had downloaded it)
M. Schmöger, 02 May 2015
Considering that the party represents the Swedish-speaking people, and comparing the shades of gray with those of Finnish national flag, which is also shown in the photo, the first idea to suggest itself is that the flag is in Swedish national colors - yellow charges on blue field.
Tomislav Todorović, 03 May 2015
This was my first idea as well, but we do not know for sure. It is also possible that it's yellow on red, like the flag of the Swedish minority in Finland.
M. Schmöger, 03 May 2015
Still in some use in 2012, apparently.
http://www.aldeparty.eu/en/news/carl-haglund-takes-reins-svenska-folkpartiet
Peter Hans van den Muijzenberg, 03 May 2015
I have a photo in full color and the flag is red with stylized yellow letters.
Jaume Ollé, 08 May 2015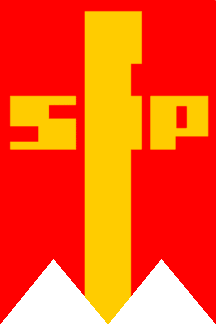 image by M. Schmöger, 10 May 2015
In the meantime, I have found a catalogue of SFP's medals and decorations, where there is a photograph of a table banner with two tongues and tassles that is used as a decoration.
The text in the catalogue translates to:
"miniature banner with silver plaque. Instituted in 1959. Granted to party members who have made particularly noteworthy and longstanding efforts in party work on at least county level. Can also be granted to a member association or other entity within the party or organization outside the party."
This is basically the same flag as the large version reported earlier by me, and confirmed by others. So, tentatively, this flag (in the large and the miniature version) can be dated back to at least 1959.
Source: http://www.sfp.fi/sites/default/files/Dokument/sfp-foertjaensttecken.pdf
M. Schmöger, 10 May 2015