This page is part of © FOTW Flags Of The World website
Adsav ! (Political party, Brittany, France)
Last modified: 2016-12-03 by ivan sache
Keywords: adsav ! | kadarn |
Links: FOTW homepage | search | disclaimer and copyright | write us | mirrors

---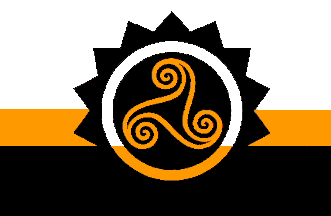 Flag of Adsav ! - Image by Philippe Rault, 27 April 2016
---
See also:
---
Presentation of Adsav !
Adsav ! (in Breton, Rebirth) is a Breton extreme-rightist, independentist party. Self-styled Parti du Peuple Breton (PPB; in Breton, Strollad Pobl Vreizh), Adsav ! has for main goal the establishment of an independent Breton state.< br< Adsav !, "as a nationalist party, aims at protecting the Breton identity and defending the interests of the Breton people". The party claims to be "different from the other Breton parties". It was restructured in 2014 following a dramatic decrease of its membership, caused by the competition with other ultra-nationalist local groups and by the progress of the Front National in Brittany. Some 150 people attended the last congress of the movement, organized on 19 March 2016 in Moncontour.
Adsav ! has been recently involved in street demonstrations against Islam, immigration and the establishment of refugees in Brittany. Two of these demonstrations went out of hand and ended in violence (Pontivy, 14 November 2015; Quimper, 23 January 2016).
Ivan Sache, 27 April 2016
---
Flag of Adsav !
The flag of Adsav ! (in Breton, Tarzh an Deiz, Dawn) is horizontally divided white-orange-black (3:1:2) (photo, photo, photo, photo, photo, photo). In the middle of the flag is placed an orange triskelion surrounded by a white ring, countercoloured in orange when crossing the black stripe, itself surrounded by a black sun.
The flag, designed by Philippe Rault, member of Adsav ! and of the Breton Vexillological Society, was adopted in 2001. Originally labelled "Flag of the liberation of Brittany", the flag was proposed by its designer to the Parti pour l'Organisation d'une Bretagne Libre (POBL); the Board of the party, however, rejected the proposal, arguing that the POBL had no need for a flag. Adsav ! subsequently emerged as a splinter of the POBL and eventually adopted the flag as its own.
According to its designer, the flag is based on the old emblem of the Parti National Breton (PNB), an orange triskelion placed on a black disk bordered in white, transformed into a Celtic sun rising over the horizon, inspired by the flag of Greenland.
Black and white are the colours of Brittany. Black also represents the dark part of Brittany under the "French domination", while white symbolizes the shining future of independence.
Orange represents liberation, progressively covering black.
The Celtic sun symbolizes the new dawn for Brittany, while the nine rays represent the nine traditional Breton countries.
The triskelion represents the Celtic civilization.
[Party's blog (achived); P. Rault. Étude vexillographique pour un parti national breton. Ar Banniel [arb], No. 13, Winter 2000]
Ivan Sache, 27 April 2016
---
Kadarn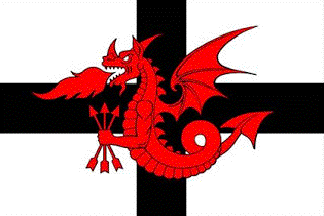 Flag of Kadarn - Image by Philippe Rault, 30 April 2016

Kadarn (Breton, Valiant), the youth branch of Adsav !, was founded in 2008.
The flag of Kadarn (photo, photo, photo), in Breton, Aerouant ruz (Red Dragon), is white with a black cross and a red winged dragon all over, holding three arrows in the forepaw.
The red dragon refers to "Merlin's dream", while the three arrows are a symbol of "unity, force and of the three functions of the traditional European society".
[Drapeaux de Bretagne et d'ailleurs]

In the Alliterative Morte Arthure, Arthur dreams of a dragon defeating a bear in battle; some of his philosophers explain that Arthur himself is the dragon, and the bear represents the tyrants that torment Arthur's people or, perhaps, a giant. The dream foretells Arthur's successful fight against the Giant of Mont St. Michel (155-157). A similar dream appears in Geoffrey of Monmouth, the Vulgate Merlin, and Malory's Morte d'Arthur, where Arthur dreams of a bear flying through the air. This bear then battles a dragon and is defeated. The dream is interpreted by Arthur's philosophers as representing Arthur's victory over the giant of Mont St. Michel (Monmouth 182-3; L-G 1.403; Malory 1.196-7). (In Caxton's edition, the animal is a boar rather than a bear.)
[Kara L. McShane. The Camelot Project]

The three functions of the Proto-Indo-European society were defined by the philologist Georges Dumézil (1898-1986) as the function of sovereignty (sacral), the military function (martial), and the function of productivity (economic) . Dumézil has been criticized by some scholars who accused him to be in favour of French and Italian fascism; he answered that "fascist and nazi conceptions of a hierarchical society have never been part of my intuition nor of my conduct".
On the flag, the arrows are quite similar to the three arrows used by the Spanish Phalanx, which is, most probably, not a mere coincidence.

Ivan Sache, 30 April 2016