This page is part of © FOTW Flags Of The World website
Neauphle-le-Château (Municipality, Yvelines, France)
Last modified: 2022-03-05 by ivan sache
Keywords: neauphle-le-château |
Links: FOTW homepage | search | disclaimer and copyright | write us | mirrors

---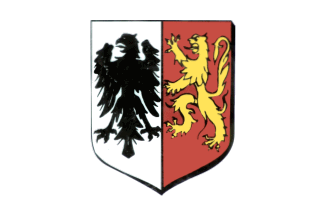 Flag of Neauphle-le-Château - Image by Olivier Touzeau, 8 September 2021
---
See also:
---
Presentation of Neauphle-le-Château
The municipality of Neauphle-le-Château (3,385 inhabitants in 2019; 215 ha; municipal websiteVersailles.
Neauphle emerged as a feudal domain ruled by a local family in the 11th century. Simon I de Neauphle, mentioned in 1052, was a descendant of the Gometz, lords of Versailles and Bazainville. Simon II, excommunicated for adultery in 1092 by Yves, Bishop of Chartres, victoriously defended Neauphle in 1097 against king of England William Rufus. Simon III (d. c. 1150), Constable of France, built in 1118 the parish church of Neauphle and the Cistercian abbey of Vaux-de-Cernay, in the Chevreuse valley. His successors would enrich the abbey and use it as their necropolis. Simon III also rebuilt the castle of Neauphle, which had been ruined in 1125 by King Louis VI the Fat. Simon IV (d. 1220), also Constable of France, went to the Holy Land in 1202 with Simon IV de Montfort, as a repentance for having killed his local rival, Simon de Maurepas. The last member of the lineage, Simon VI, died in 1250 without heirs.
The burghers of Neauphle obtained in 1997 the establishment of a weekly market; reorganized by an Ordinance signed by Charles VI on 19 December 1403, it was among the five most important markets in Île-de-France. A famous fair organized every year on Saints' Day existed until the 1960s.
The lords of Neauphle were succeeded by the lords of Chevreuse, who would rule the town for four generations, and then by the lords of Aigreville for another three generations. The castle was destroyed by the English in 1442, leaving only ruins that would be kept until the French Revolution.
On 1445, the Aigreville transferred Neauphle to François II, Duke of Brittany, which suppressed the local autonomy; the bailiwick of Neauphle-Montfort, however, kept some authority on the town. In 1532, King of France François I separated Neauphle from the county of Montfort and incorporated it to the royal domain. Lacking funds during the war against the Holy League, the crown sold in 1581 Neauphle to François de Meuneau, lord of Villiers-Cul-de-Sac (now, Villiers-Saint-Frédéric), who sold it the next year to Pomponne de Bellièvre, lord of Grignon and Chancellor of France. On 14 April 1693, Louis XIV swapped Neauphle, which had been returned to the crown, for Marly-Bourg with Louis Phélypeaux, Count of Pontchartrain, Chancellor of France.
In 1755, the Count of Maurepas moved the royal road to Brittany away from Neauphle to serve his castle in Pontchartrain. Neauphle, however, remained the first post on the roads to Laigle and Argentan. In the 18th century, the town had more than 30 inns and hotels. The town developed out of its walls, incorporating the hamlets of Le Sablon and La Micholle, separated from Villiers, La Gouttière, separated from Neauphle-le-Vieux, and Villancy, separated from Plaisir in 1845.
A distillery was established in Neauphle-le-Château in 1827 by Jean-Baptiste Lapostolle, a distiller of fine fruit liqueur; in 1876, his granddaughter, Julia, married Louis-Alexandre Marnier, who founded the Marnier-Lapostolle company. In 1880, Marnier combined refined French cognac with a rare variety of bitter orange from the Caribbean. Originally named Curaçao Marnier, the liqueur was renamed to Grand Marnier by César Ritz, founder of the Ritz Hotel in Paris, as "A Grand Name for a Grand Liqueur!". The Cordon Rouge bottle with the red ribbon and the wax seal was trademarked in 1892. The brand was acquired in 2016 by Campari.
Marnier-Lapostolle, employing 400 workers in Neauphle and Gaillon, is France's first exporter of liqueur.
[Corporate website]
The writer Marguerite Duras (1914-1996) purchased in 1958 a house in Neauphle-le-Château after having sold the rights of cinematographic adaptation of her autobiographic, anticolonialist book Un barrage contre la Pacifique (1950). She said "No need to go to Calcutta, Melbourne or Vancouver, everything is in the Yvelines, in Neauphle" and "All the women featured in my books have lived in the house at Neauphle". In the house, she wrote the novels Le ravissement de Lol V. Stein (1964) and Le vice-consul (1966), and shot several movies, namely Nathalie Grangier (1972), starring Jeanne Moreau and Gérard Depardieu.
[ Yvelines-Info, 4 April 2018]
Expelled from Iraq, Ayatollah Khomeini (1902-1989) took refuge in France on 6 October 1978. He settled in exile in Neauphle-le-Château four days later until his return to Iran on 1 February 1979. This is commemorated by Neauphle-le-Château Street in Tehran.
During his exile, Khomeini did not live in Neauphle but in the neighboring town of Jouars-Pontchartrain. However, he came everyday to an orchard located in Neauphle where he prayed under an apple-tree or a tent, depending on the weather conditions. There he attracted journalists from the whole world and met representatives from the Iranian opposition to Chah Mohammad Reza Pahlavi. Pilgrims came from all over Europe to visit him. Now abandoned, the orchard is signalled by a plaque saying "The name of Neauphle-le-Château is recorded forever in the history of the Franco-Iranian relationships. The Iranian people will forever remember the hospitality of the French people and welcome granted to Imam Khomeini, the supreme guide and founder of the Islamic Republic of Iran". Due to the controversial heritage of the imam, the municipality of Neauphle refused to erect an official commemorative stele, and does not take part to the pilgrim organized every year by the embassy of Iran.
[La Croix, 1 February 2019]
Olivier Touzeau & Ivan Sache, 5 March 2022
---
Flag of Neauphle-le-Château
The flag of Neauphle-le-Château (photo) is white with the municipal coat of arms, "Per pale, 1. Argent an eagle sable, 2. Gules a lion or".
The lion with a forked tail on a seal used in 1118 by Simon III de Neauphle. The eagle was featured with the lion for the first time in a seal used by the Provosthip of Neauphle in 1385. It is the heraldic animal proper to the Chevreuse family, featured on the oldest preserved seal of Gui de Chevreuse, lord of Neauphle after his marriage in 1249 with Marie de Neauphle, heiress of the domain.
[Municipal website]
Olivier Touzeau & Ivan Sache, 5 March 2022