This page is part of © FOTW Flags Of The World website
British shipping companies (I)
Last modified: 2019-05-15 by rob raeside
Keywords: i&i | issc | triskelion |
Links: FOTW homepage | search | disclaimer and copyright | write us | mirrors

---
See also:
---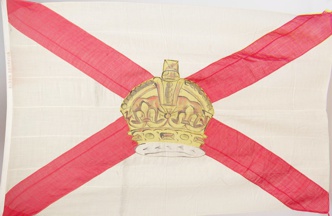 image located by Peter Hans van den Muijzenberg, 24 April 2019
White, a red saltire, charged with a crown.
Source: https://collections.rmg.co.uk/collections/objects/217.html
Peter Hans van den Muijzenberg, 24 April 2019
---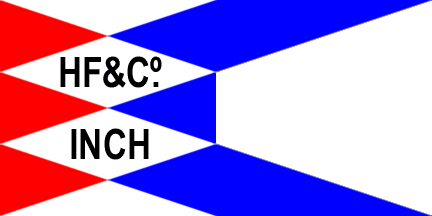 image by António Martins, 09 Oct 2006

Postcard [o9oXXb] (7th pc., 1st row, 2nd flag) shows for Inch Line a ~2:3 forked flag with two "tongues" taking up the upper and bottom thirds of the fly edge separated by a middle section with edge parallel to the hoist, in a chess pattern of horizontally stretched lozenges, of which are fully visible two blue lozenges (making up the "tongues"), one half blue one (the middle of the fly), two white complete ones, two white half lozenges (top and bottom), and two red half ones. On the upper white lozenge it is written in black capitals "HF&Cº" and in the lower one "INCH".
António Martins, 09 Oct 2006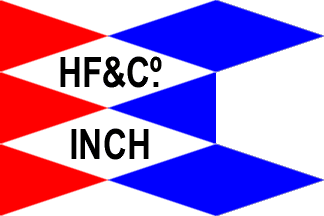 image by António Martins, 09 Oct 2006

I cannot decide which of these two geometrically simple designs is the most accurate - perhaps none of these but a less simple design, with the inner edges of the "tongues" non parallel to the lozenges' sides.
António Martins, 09 Oct 2006

Inch Line. UK. Hamilton, Fraser & Co. of Liverpool [the HF&Co.) operated ships under the Inch Shipping Co. Ltd. with Lloyds 1904 specifying Inch Shipping Co. and Inchmaree S.S. Co. under this flag. They also operated as Rover Shipping Co. Ltd. placing "ROVER" in place of "INCH". The last Hamilton, Fraser ship was sold in 1909. None of the sources I have come across show the tapered version but they do vary with the length of the tails and the depth of the central section as measured by the squared fly portion - some have it about 1/3 but Lloyds 1904 show it as about half the depth.
Neale Rosanoski, 19 September 2009
---
Indo-China Steam Navigation Co. Ltd.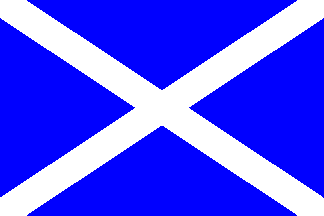 image by Ivan Sache, 6 March 2004

Indo-China Steam Navigation Co. Ltd. Based Hong Kong. Flag is a group one of owners Jardine, Matheson & Co. and in 1985 the company changed name to Jardine Ship Management Ltd.
Neale Rosanoski, 31 May 2004
---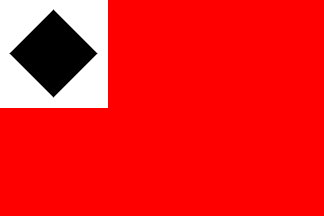 image by António Martins-Tuválkin
The flag is red with a small white canton, probably square, containing a black diamond not touching the canton's edges.
Jan Mertens, 5 May 2005
This firm, officially the 'Liverpool and Philadelphia Steamship Company', was founded in 1850 by William Inman and two Richardson brothers (for whom he had started working a few years earlier); from 1854 on, Inman was the sole proprietor. Convinced that passenger satisfaction was a major factor in a highly competitive market, Inman was not above travelling steerage to study conditions during voyages. On the technical side, the firm was very progressive and favoured twin screw- driven ships, so much so that Cunard, a fierce competitor, abandoned paddle steamers.
During the years 1854-56, all ships were active in the Crimean War effort; one year later, a change in name to 'Liverpool, New York and Philadelphia Steamship Company' reflected expansion. From 1875 on, the firm – then called 'Inman Steamship Co. Ltd' – cooperated with the White Star Line. Financial difficulties led to voluntary liquidation late 1886 and at that occasion the International Navigation Co. (US), owners of the American Line (US) and the Red Star Line (BE), bought their assets. A company called 'Inman & International Steamship Co.' operated the ships under the British flag but this changed in 1892 when the US Mail contract necessitated flying the US flag. The I&I episode had its moments of glory when the 'City of Paris' and 'City of New York' each briefly captured the Blue Ribband. By 1893, all ships sailed for the American Line.

Sources:
http://www.gregormacgregor.com/Tod&Macgregor/inman_line.htm
http://www.theshipslist.com/ships/lines/inman.html
http://www.greatoceanliners.net/cityofnewyork.html ('City of New York', one of the finest ships ever)
http://www.greatships.net/newyork.html
http://inman.surnameweb.org/sketches/dictnary10.htm (biography of William Inman)
Inman house flag on this picture: http://www.tradecards.com/scrapbook/transportation/045.32.html
Picture showing the I & I flag, here: http://www.greatships.net/scans/CC-NY01.jpg: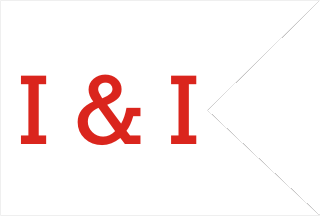 image by Rob Raeside
The flag is a white swallowtail bearing the firm's initials in red.
Jan Mertens, 13 May 2005
---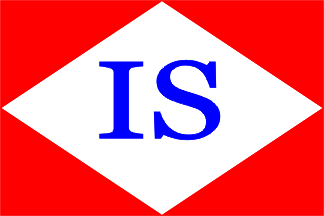 image by Jarig Bakker, 15 February 2006
International Shipbrokers Ltd., London - red flag, white diamond, blue "IS".
Source: Loughran (1995)
Jarig Bakker, 15 February 2006
---

image by Ivan Sache, 93 April 2008
Lloyds Book of House Flags and Funnels (1912) shows the house flag of "The Iquitos Steamship Co., Ltd. (Booth Line)" (#215, p. 47), a company based in Liverpool, as white with a red cross in the middle.

The history of the company, as reported on the "TheShipsList" website, explains the origin of the house flag:
"Founded in the 1866 as Alfred Booth & Co to operate services to Northern Brazil and the Amazon. In 1881 the Booth Steamship Co. was formed. In 1901 the Booth and Singlehurst's Red Cross Line were amalgamated into a single company and named Booth Steamship Co. (1901) Ltd. At the same time, to tidy up the tug and barge operations on the River Amazon, Booth & Co. was formed and these small units transferred to this company. In 1911 the Iquitos SS Co. and its fleet was absorbed by Booth Steamship Co. In 1946 the Booth Line was sold to the Vestey Group of companies and in 1975 all the group's ships were pooled under Blue Star Ship Management Ltd and the Booth Line ceased to exist as a seperate entity."

The Booth Line operated routes between Europe (Liverpool, Porto, Lisbon, Hamburg, Antwerp, Le Havre, London), South America (Brazil -
Manaos, Para) and North America (Galveston, New York).
http://www.theshipslist.com/ships/lines/booth.html
Ivan Sache, 9 April 2008
---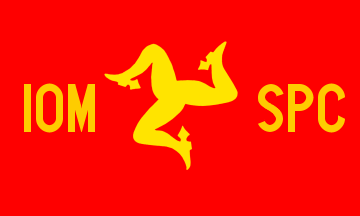 image by Eugene Ipavec, 10 April 2009
Triskelion is yellow, as are the letters, or: Red, with IOM, Three Legs, SPC (no o) in Yellow.
Jarig Bakker, 18 October 2003
An extensive history is at http://www.isle-of-man.com/manxnotebook/fulltext/sp1904/index.htm
Phil Nelson, 19 October 2003
Isle of Man Steam Packet Co. Sources do not agree on what the flag is but whether this means that there have been any changes is unknown. An 1885 source shows white letters but otherwise everyone seems to agree that they and the emblem of Man are yellow. Whether the "o" appears after the "C" seems to be equally split but the most important point is which way the Man emblem is placed. Again sources vary as to whether the kneeling knee faces fly or hoist. The Brown series were firmly in the latter camp until 1978 but since then they have it being to fly. From the only photo of a flag that I have come across, although details are not clear, I suspect that it is [now at least] in line with the Island flag with that knee being towards hoist [see gb~i112b.gif attached] but the format is only a guess. The company's logo shows spurs but whether such small detail is included on the flag is uncertain although the Stewart series indicate that it does. The fleet commodore flies a swallow-tailed version.
Neale Rosanoski, 31 May 2004
A few Flickr photos permits me to add more about the IOMSPC. The following item shows the house flag, very detailed (see Neale's remarks on
position of legs, spurs, etc.): http://www.flickr.com/photos/23283012@N03/3349684934/in/set-72157615006011665/ Pic made by "benmychree2002", uploaded on 12 Mar 2009.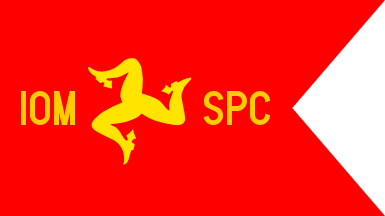 image by Eugene Ipavec, 10 April 2009
Neale mentions the fleet commodore's flag, a swallowtail. Here it is, same source: http://www.flickr.com/photos/23283012@N03/3349685090/in/set-72157615006011665/.
A useful bibliographic reference: Michel Lupant, 'Flags, coats of arms and badges of the Isle of Man' – First edition, November 1996, A4 format. Ills.br>31-34 on pp. 18-19, all b/w, concern the IOMSPC.
Jan Mertens, 9 April 2009
The triskelion on the commodore's swallowtail is 10% smaller.
Eugene Ipavec, 10 April 2009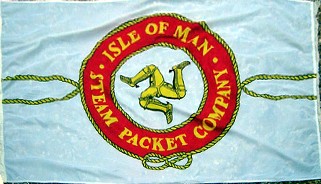 image located by Jan Mertens, 9 April 2009
White field, red rim bearing yellow name "ISLE OF MAN" (top) and ""STEAM PACKET COMPANY" (bottom) separated by yellow dots; enclosing the triskelion in yellow; the rim surrounded by a yellow rope, with a FIAV-like knot below and trailing off horizontally, twice on each side, away from the emblem or seal.
Source: http://www.flickr.com/photos/23283012@N03/3346582919/in/set-72157615006011665/
The circular emblem is shown by Lupant (1996), ill. 33. The legs and rope, including the horizontal ends trailing off, are shown in ill. 34 with large letters "ISLE OF MAN" above and "(dot) STEAM PACKET COMPANY (dot)" in smaller letters below. Comments: "The seal of the Company (fig 33) uses the trinicaria in yellow on a white disc, inside a red circle edged yellow with yellow letters. It is used on papers, publicity, timetables, napkins, country code for cars, on stickers… (fig 34)." Both illustrations, in b/w, appear on p. 19 of above book.
Jan Mertens, 10 April 2009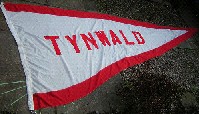 image located by Jan Mertens, 12 April 2009
Flickr's IOMSPC photos has a photo made by "benmychree2002" uploaded 12 Mar 2009. White pennant, bordered red (except near the staff), bearing ship's name in red letters without serifs "TYNWALD". I suppose this was the pennant flown either on 'Tynwald 5' operated 1947-1974 or - more probably - on 'Tynwald 6' operated 1986-1990, see these pages:
http://www.kneen.com/Manx%20life%20line.htm
http://www.simplonpc.co.uk/IOM_Tynwald5_1947.html
http://www.simplonpc.co.uk/IOMSP6.html
The name of course refers to the Isle of Man's ancient – and current – parliament.
Jan Mertens, 12 April 2009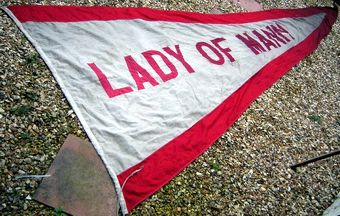 image located by Jan Mertens, 19 April 2009
Displayed on Flickr, a photo made by "benmychree2002" (uploaded 11 Mar 2009) who adds, helpfully: "Lady of Mann name pennant complete with seagull crap and smell of oil and diesel. Measures 15' x 5'". White pennant, bordered red (except near the staff), bearing ship's name in red letters without serifs "LADY OF MANN".

A Simplon Postcards page partly dedicated to this ship, active since 1976 (last one mentioned): "The first 'Lady of Mann' flew a similar pennant, see colour photo near the end of this page: http://www.simplonpc.co.uk/IOM_LadyofMann1930.html."

Here – see especially the colour photos – we find a number of other IOMSPC name pennants: http://www.kneen.com/Manx%20life%20line.htm, e.g. 'Ben-my-Chree 5', 'Manxman 2', 'Monas Isle 5', and 'King Orry 4'.
Jan Mertens, 19 April 2008
Far from home, an IOMSPC name pennant (onomast) is kept in the State Library of Tasmania (AU): http://eheritage.statelibrary.tas.gov.au/resources/detail.aspx?KEYWORDS=flag&ID=GTH_PS0957. Caption of this item: "Isle of Man ferry company pennant flag. It is a red and white flag with 'Mona's Isle' sewn on in red letters." The red edges ought to meet at the point of this pennant which is out of sight. No serifs. As the item looks rather new, I suppose it flew on 'Mona's Isle (6)' operated 1984-85: http://www.simplonpc.co.uk/FE3.html#anchor178872, or possibly 'Mona's Isle (5)' operated 1951-80 - a similar pennant is seen on some photos: http://www.simplonpc.co.uk/IOM_Monas_Isle5_1951.html.
Jan Mertens, 17 May 2009
---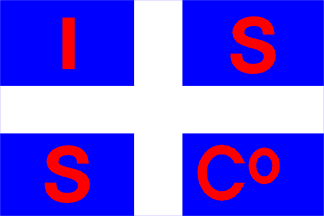 image by Jarig Bakker, 10 December 2005
Isles of Scilly Steamship Co., Ltd., St. Mary's - blue flag, white cross; in all quarters red "ISSCo".
Source: Loughran (1995)
Jarig Bakker, 10 December 2005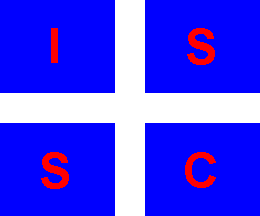 image by André Coutanche, 22 September 2000
The house flag of the Isles of Scilly Steamship Company which appeared as a logo on their website and which I have drawn with a guess at a reasonable ratio. This image differs from the one in Loughran (1995) in ratio, but also in having just "C" in the lower fly rather than "Co".
André Coutanche, 22 September 2000
---
Italo Britannica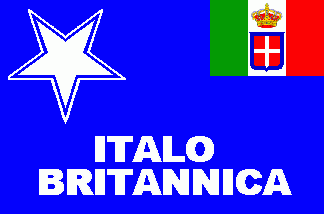 image by Klaus-Michael Schneider, 14 May 2012

It is a blue flag with the Italian flag in the upper fly corner. In the upper hoist corner is a white, cotized 5-point star pointing to the bottom. In the lower half is a centred white inscription in capitals: "ITALO"(1st line) "BRITANNICA"(2nd line) Source: [el1897 - Elbe Flag Chart 1897 – part 9; "Gratis Beilage zu Deicken und Behrmann's Neuen Monatsheften Neue Ausgabe Sommer 1897"]
Klaus-Michael Schneider, 14 May 2012
---
British Shipping lines: continued