This page is part of © FOTW Flags Of The World website
British shipping companies (X-Z)
Last modified: 2016-03-19 by rob raeside
Keywords: yb | z | zltd |
Links: FOTW homepage | search | disclaimer and copyright | write us | mirrors

---
See also:
---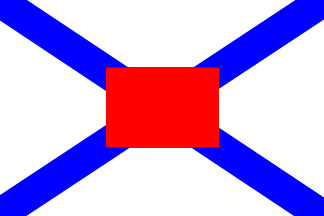 image by Ivan Sache, 30 March 2008
Lloyds Book of House Flags and Funnels (1912) shows the house flag of "F. Yeoman" (#136, p. 43), a company based in West Hartlepool, as
white with a blue saltire and a red rectangle in the middle.
The next flag (#137) in Lloyd's is similar, but with a red saltire and a blue rectangle, as the house flag of "Joseph E. Murrell & Son", also registered in West Hartlepool. There is indeed a "Murrell and Yeoman" company mentioned in West Hartlepool.
Ivan Sache, 30 March 2008
---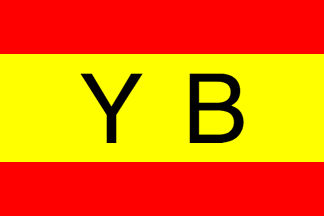 by Ivan Sache
The National Maritime Museum in London keeps an enamelled badge (http://collections.rmg.co.uk/collections.html/collectionsDetail.cfm?ID=JEW0300), acquired on a cruise to the Canaries in 1928, decorated with the house flag of the Yeoward Line. It is the badge of SS Avoceta, built in 1923 and sunk by a submarine in 1941. The flag is horizontally divided red-yellow-red, with the letters Y.B. in gold.

The company still exists today as Yeoward (Shipping) Ltd, a member of the Yeoward group in Liverpool, and is registered as ship agents and forwarding agents. There is also a Yeoward Boatyards in Salcombe, South Devon, specialized in supply, maintenance, repair and dry storage of motor boats. On the company website, a flag similar to the one pictured on the badge is shown, but with black letters. It is highly probable that the original house flag also had black letters, which were enamelled in gold for aesthetical purpose. The original name of the company seems to have been Yeoward Bros and Bonny, which may explain the Y and B letters on the flag.

A book was dedicated to the history of the Yeoward Line: Theodore W.S. Barry. Sunward by Yeoward. Granta Editions, 1994.
Ivan Sache, 26 February 2004
Yeoward Line originated in 1898 as Yeoward Brothers then in 1920 they formed Yeoward Line Ltd. for their ship owning which ceased around the mid 1950s. All sources agree that the yellow band was wider than the red ones whilst Talbot-Booth states that there were actual variations as to whether the letters had dots after them, no dots at all or a hyphen between them.
Neale Rosanoski, 7 February 2005
There seems to be no agreement as to how the letters are written: www.mysticseaport.org shows the flag with dots, no hyphen. On their timetable, the company shows "hovering dots". Merseyside Views shows no dots. The funnel on the Ships List shows just a letter Y.
Jan Mertens, 7 February 2005
---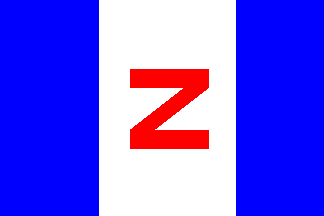 by Jarig Bakker, based on the website of the National Maritime Museum.
From the website of the National Maritime Museum, the house flag of Zillah Shipping Co. Ltd, Liverpool. A blue, white blue tricolour with a red 'Z' in the centre. The flag is made of a wool and synthetic fibre bunting. It has a cotton hoist and is machine sewn. A rope and toggle is attached.

The company originally comprised the fleet of William A. Savage & Co. Ltd of Liverpool. After being bought by Coast lines in 1949, a new company was set up under the name of Zillah Shipping Co. Ltd and Savage's 15 steam coasters were transferred to it. The steamers were replaced by motorships between 1954 and 1958. The company was sold outright to Coast Lines in 1967 and its fleet was sold or absorbed."
Jarig Bakker, 4 September 2004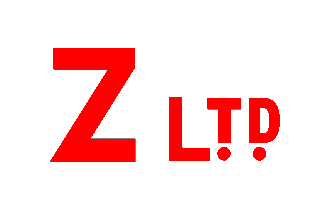 by Jarig Bakker
Brown (1951) has for Zillah Shipping & Carrying Co., Ltd., Liverpool a houseflag with a white field charged with letters ZLTD in varying sizes and dots under the T and D.
Jarig Bakker, 4 September 2004
I may be wrong about some of the details as it is many years since I read the original article from which I now quote, but William A Savage, the original founder of the Zillah Line, came from a very prominent Nonconformist (i e, not affiliated with the Church of England) family in the Liverpool area; I can no longer recall to which denomination they belonged - Baptist, Methodist, Quaker, Congregationalist, etc. Most of the members of this denomination tended not only to intermarry with one another but also to give their children Biblical forenames, usually drawn from the Old Testament. William's parents were unusual in that they named him after the reigning sovereign (William IV), although his middle name was Biblical. Zillah was William's mother's name.
Ron Lahav, 5 September 2004