This page is part of © FOTW Flags Of The World website
Asafo company flags with Union Jack canton (Fante people, Ghana)
Last modified: 2014-06-14 by ian macdonald
Keywords: border (multicolor) | canton: union jack | nºi | crocodile (black) | dragon | nº2 | trumpet | megaphone | chick | anvil | cat (black) | chequy 16×9 | chequy (white-blue) | monkey | trees: 2 | tree (purple) |
Links: FOTW homepage | search | disclaimer and copyright | write us | mirrors

---
See also:
---
image by António Martins-Tuválkin, 6 April 2006
From http://www.adire.clara.net/asafo1.htm (visited in 2005.08.11; now they have there another one), one more Asafo company flag. Adire African Textiles company labeled it ASF181 and was selling it for US$985 in 2005.

It is 84 × 129 cm typical Asafo flag: Plain red background with images, with dark blue and white rectangle tiled border in all free edges, and UJ canton. The Adire page suggests this flag was made in the 19th century.

On the flag's main area, a parade row marching by a lake (or puddle, or hole?) of five men facing the fly: (from the front) a flag bearer, a soldier and three bell (or gong?) players. All five are depicted as clothless white contours and wearing hats: black for the flag bearer, grey for the middle bellman and dark yellow for the others.

The bells are dark blue with double-looped handles and their playsticks are light pink. The soldier holds a dark greyish blue rifle upwards and wears a belt of five visible black triangles pointing up. The flag, itself a frankaa, what makes this an uniquely interesting item for us, is dark yellow with a greyish lion and a dark blue canton with a white cross over all. The lake is a featureless dark blue oval in the foreground.

The UJ canton is square with a white cross over the dark blue background and two white-red-white chevrons pointing to the center, standing for St. Patrick and St. Andrew crosses; no St. George cross.
António Martins-Tuválkin, 6 April 2006
---
"Crocodiles and moon" company flag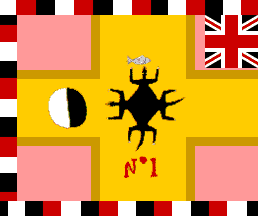 image by António Martins, 11 August 2005 |

This one from the on line version of Adler & Barnard's book [adb92]. This book (and website) links this Fante flag to the Akan proverb «Bellies mixed, crocodiles mixed, even though we have one stomach we fight over food, because food is for the mouth as much as for the stomach», and add that this is a metaphor arguing for community cooperation. The image on line is sinister-hoisted, and there is no indication about the other side. Unfortunately this is often in asafo flag depictions, which hides away valuable vexillological information.
The flag is pink with a very wide golden yellow cross throughout, with a tan fimbriation. On the center of the cross, two black crocodiles (?), seen from above, crossed over each other: facing respectively top and fly, the former holding a small silver fish on its mouth. On the fly-side arm of the cross, a large disc divided vertically in white and black (white flywards), standing for the Moon. On the bottom arm of the cross "NºI" in red.
Square union jack canton, taking almost all the upper hoist pink panel, with black background (or just very dark blue?) and large St. George cross in dark red. This flag includes the usual wide border made of large squares of contrasting colors on all three free sides, consisting of dark red, white and black squares in this order, from the top hoist.
António Martins, 12 August 2005
---
"Dragon and announcer" company flag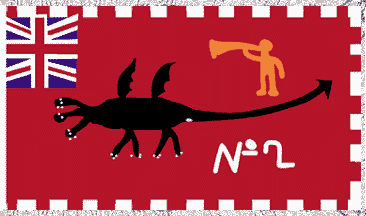 image by Ivan Sarajčić, 06 January 2000 | (96×165 cm)

This dragon is a remarkable formal representation of the proverb: «He can fly and penetrate the earth, he can go wherever he wants to go.» Wings and arrow-pointed tail point at his exceptional capabilities. As a total figure the Dragon has been turned towards the left; the way in which wings and legs are related look like two figures, who travel in the opposite direction than the Dragon. So: a-a watch it!: the Dragon can travel in any direction!
Jarig Bakker, 06 January 2000, quoting [gru95]

The text from [gru95] fails to mention the inscription "Nº2" and also the orange human figure holding a megaphone/trumpet.
António Martins, 03 June 2004
---
"Dragon, chicken and cat" company flag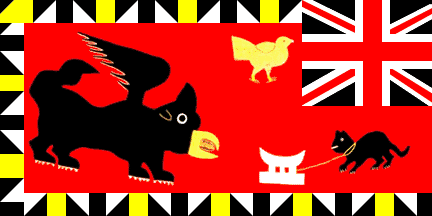 image by António Martins, 25 May 2005 |

At the website of the Herbert F. Johnson Museum of Art, Cornell University, Ithaca, US-NY, this flag is shown in detail and labeled as «Asafo flag; Ghana, 20th century; Textile» and dimensions are given: 81×165 cm (donated to the collection by Joan Barist in 1995).
It shows a more or less typical Asafo flag, with an union jack canton, sinister hoisted. The background is mainly red, depicting a large black dragon in profile, with a yellow eagle beak. Above and ahead of it, near the canton, a yellow chick, also facing the hoist, and below the canton a black cat on a yellow leash tied to a white anvil (?).
Wide bordure all around, except for the canton and hoist side, made of a repeated pattern of squares: diagonal white over black, yellow, diagonal black over white, black (this patterns, in other colors, is used in other Asafo flags); this regularity misfits in the corners. UJ fairly well depicted, but with black instead of blue. Whitish fringe all around the three free edges (not depicted above), and a whitish sleeve for handheld "pole".
António Martins, 25 May 2005
---
"Game of Checkers" company flag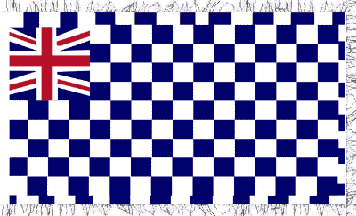 image by Ivan Sarajčić, 06 January 2000 | (73×136 cm)

An abstract flag with a Union Jack in the canton. The border contains narrow Black and White fields, which makes the static patterns moving somehow. The chessboard is a secret code for a scene in which two opponents play a strategic board game. Like the African Oware-game the Game of Checkers is a metaphor for war. Images of checkers-players are known in the Asafo iconography. The way the Union Jack is made points at the same maker as flags 23-25 and 72.
Jarig Bakker, 06 January 2000, quoting [gru95]
---
"Monkey and trees" company flag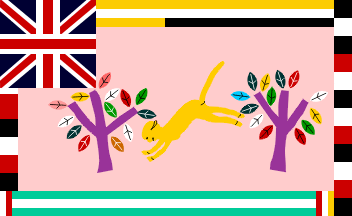 image by António Martins, 09 June 2005

This is a nice one, though the border could be "purtier": From a collector's web site, where it is shown along with other three Asafo flags and no apparent context.

Light pink background with a yellow monkey (or it is a leopard or a caracal?) leaping from upper fly to lower hoist, between two trees. The animal's body is plain yellow, with hands and feet in a darker shade and ankles, wrists, eye, mouth, ears and vent lined in black. The trees consist of a purple trunk and three thick branches from which emerge 13 multicolored leaves, with black or white nerves.

The border does not cover the canton, as usual, but it exists along the hoist (below the canton). It is made of disparate pieces of stripped cloth, not forming a clear pattern (with is unusual for similar flags): The top consists of a yellow stripe (parallel to the flag edge), then white, then bicolored black (near the hoist) and yellow. The bottom is similarly stripped in light blue and white, with narrow vertical stripes in red, yellow and white, filling the gaps. The vertical edges are bordered with red, white and black.

Square union jack canton, with cross and saltire of almost identical widths, white fimbriation of the horizontal crossbar overlapping the red vertical crossbar.

António Martins, 09 June 2005
---
"Netters and doves" company flag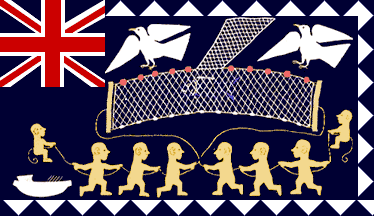 image by António Martins, 30 May 2005

At the website of The Detroit Institute of Arts, this flag is labeled as «Asafo Flag; 1863; Appliqued and embroidered cloth; ×182.9; Fante; African; Founders Society Purchase, Acquisitions Fund Accession Number 1983.17».

Unlike most Asafo company flags, which are quite garish, this one uses white and ivory elements on a dark blue background. It depicts a fishing scene, with two teams of netters hauling a tide driftnet where a large fish (tuna?), outlined in light blue, was caught. Each team includes four people pulling a rope, the ones at the tails in smaller size and placed above. At the hoist bottom, a small ship is shown; on the top of the flag, two large white doves.

The canton is filled with a squarish union jack fairly well depicted. A border on all free sides, as usual not enclosing the canton, is made of white triangles pointing out side and touching each other.

António Martins, 30 May 2005

Fishes are a metaphor for enemies, which can be defeated without any trouble. Accordingly flags like this were considered to be extremely insulting, and showing them often led to bloody battles.
Jarig Bakker, 30 May 2005
---
"Road Close" company flag
This flag is hard to describe, but here goes: a colourful fringed flag with a Union Jack in the canton. Part of the border is fringed with an unusual green and white geometrical pattern. There is a large human? figure below the Union Jack, gesturing? at a gate? with a padlock? Behind the gate is another figure by a car. Above the gate in a black field are the words in white capitals "ROAD CLOSE".
David Cohen, 21 June 1998
---
"Scales of the dead" company flag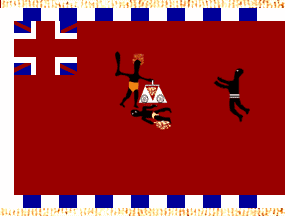 image by Ivan Sarajčić, 04 January 2000 | (81×129 cm)

Weighing always implies comparison. When the Sahohen puts a fallen warrior on a scale, he evokes revenge, for «no head weighs as much like the one on the scales: the losses on your own side always weigh the heaviest.» The whole background of this flag was restored with the same tissue as the old silk, which had been used until it was worn out.
Jarig Bakker, 04 January 2000, quoting [gru95]

The warrior on the left holds the scales in his left hand; the scales consist of thin white lines: top a horizontal line, from which depend two pyramides, left and right, which both and in disks with three concentric circles. Between the pyramids are small yellow objects. The bottom foot of the fallen warrior is on top of some yellow objects.
Thanh-Tâm Lê, 04 January 2000
---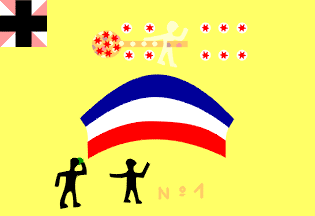 image by António Martins, 10 August 2007
As of April 2006, Adire listed this flag as ASF220 and priced it at US$945. It also says «© Duncan Clarke, Version 3/16/2006», which is the authorship of the photo; as usual, no word about location or date of the purchase nor the name of its maker. According to this page this "dates from circa 1930s-50s" and is a "fine flag showing two men exclaiming at a rainbow beneath an array of stars. Among the stars is a man with a large ladle like shape, perhaps representing a constellation" and it is in "excellent condition." Measurements are 56×40' = 144×101 cm.

It is a typical Asafo company flag with a pale yellow background showing the usual stylized rainbow with three stripes, blue over white over red. Under it, set off to the hoist, two men in black outlines, the fly side one pointing up at the rainbow and the hoist side one holding a green round object to his head. Still under the rainbow, further to the fly, the inscription "Nş1" in pale buff. Above the rainbow a third human figure in very pale greyish yellow outline holding what seems to me a large bag with a long neck. This third man, which faces the fly, is surrounded by stars: six in two rows in front of him and four more, also in two rows, above and below the sack neck, behind him; seven more stars are shown inside the bag. These are red six-pointed slightly thin stars and those on the sky are inside a white disc. The sack is patterned with very pale greyish yellow, pink and greyish salmon discs.

On the canton an extremely stylized Union Jack, consisting of a square white and pink gyronny of eight right triangle areas, charged with a black cross throughout whose arm width is one third of the canton's side. Very small white fringe on all four sides.
António Martins-Tuválkin, 10 August 2007
---
"Sun and crab on star" company flag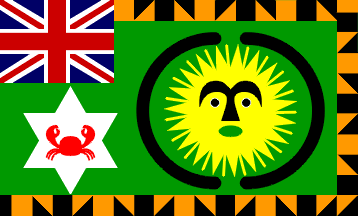 image by António Martins, 12 August 2005

This one from the on line version of Adler & Barnard's book [adb92], who managed to find a link to this flag in the proverb «If all the rain falls and all the stars appear and shine, but the crab does not come out, no lagoon can empty its waters into the sea.»

An excellent Asafo flag, colorful yet not garish, halfway between naive and elegant: Green cloth with a large yellow sun on the main area, complete with facial features (strong nose and brows, in black, white-edged black eyes, green oval mouth) and 38 rays, alternating thick and thin, and enclosed between two black semi-circular arches (just like a pair of round brackets). On hoist side, below the (fairly well-depicted) union jack canton, a large white six-pointed star with a red crab on it. Border on all three free sides, consisting of alternating black and orange squares: black, diagonally orange and black, orange, diagonally black and orange.

António Martins, 12 August 2005
---
"Three gong-gongs" company flag
image by Ivan Sarajčić, 07 January 2000 | (104×136 cm)

Three gong-gongs as symbol for the state of alarm of the company is combined on this flag with the image of a Posuban-shrine, from which a rainbow ascends. This rainbow is a symbol for death, for like the rainbow folds itself around someone's neck, so is death the fate which threatens us all. The company underlines with this symbol the deadly danger it presents to its enemies.
Jarig Bakker, 07 January 2000, quoting [gru95]
---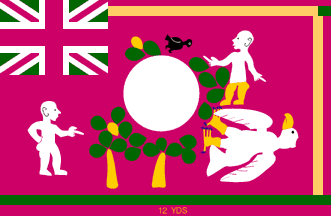 image by António Martins, 23 October 2008
Based on http://www.adire.btinternet.co.uk/imagesBT, from the well known http://www.adire.clara.net/asafogallery.htm, the Adire African Textiles website's Asafo Frankaa Gallery (and yet another link!).

This one was Adire African Textiles item ref. ASF259, which seems to have been sold in the meanwhile (was for sale two years ago). The detail page is archived at http://web.archive.org/web/20061022105642/http://www.adire.clara.net/asafogallery.htm but the linked page http://web.archive.org/web/20061018033625/www.adire.clara.net/asafo11.htm pertains to ASF247.
It is a typical Asafo company flag with reddish purple (or purplish red?) background showing a stylized pond or well (a white disc) around which gather two men and two birds and near which two trees grow. Both men are shown in profile, with the typical ear and eye details in black on white skin — one is at the lower hoist, pointing at the pond from across the trees and the other man is at top hoist, donning dark yellow trousers, pointing in opposite directions to both birds. These are as different as can be: near the lake at flag top a small black bird depicted sideways, while at bottom fly a very large eagle-like bird, white with dark yellow beak and feet, and dark blue claws, also depicted sideways. Two trees (palms?), with large dark green leaves and dark yellow trunks, grow near the pond at the lower hoist, and more leaves are scattered around it, as also what seems to be a loose branch or a small tree at the upper hoist side.

On the canton a fairly well-depicted Union Jack, ~2:3 with horizontal and vertical symmetry ("symmetrical saltire" erroneous depiction), St. Pat's saltire much thinner that St. George's cross, background colors used for these crosses (instead of red) and background in dark green (instead of blue). Instead of the usual border, an orle-like stripe along the three free edges of the flag, with background colors visible between its outer edge and the flag edge, the horizontal segments extending to the flag edge; bottom orle stripe in dark green, fly and top orle stripes in pale yellow, top orle stripe tip at the fly also in dark green.

Small white fringe on all free sides and white sleeve at the hoist (not depicted).
António Martins-Tuválkin, 23 October 2008
---
"Two bottle fillers" company flag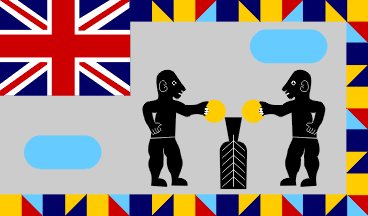 image by António Martins, 03 June 2005

An interesting one, from a collector's web site, where is is shown along with other three Asafo flags and no apparent context.

Fairily typical Asafo company flag, with a very detailed and correct union jack canton and the usual border made of large squares of contrasting colors, this time UJ red (dark) and UJ blue (very dark), plus golden yellow and bright very light blue, with some of the squares diagonally divided. As usual, the border does not cover the canton nor the hoist.

The background is very light grey or some such color — it contrasts against the white parts of the canton (thus it is not white), but is very light and hueless. The central element is symmetrical, featuring two men in profile facing left and right a bottle, placed centrally, in which there is some kind of rack, or some branching ornamentation. These two men, colored black, with prominent pointy noses and large ears, bald and apparently unclad, hold each a golden yellow yellow disc (a sponge?) above the bottle with one hand, the other on the hip.

Above the human figure on the hoist side and below the canton, two bright light blue "ovals" (not ellipsis, rather two discs joined by parallel tangents), which I presume to be clouds or puddles. White fringe around all the three free edges and canvas sleeve along the hoist.

António Martins, 03 Jun 2005
---
"Women warriors" company flag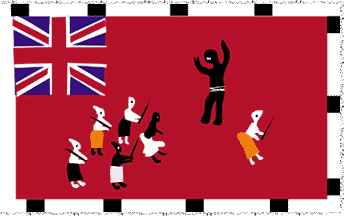 image by Ivan Sarajčić, 06 January 2000 | (88×145 cm)

A big man evades frightened a group of armed women. The scene illustrates the power of a company by the revelation of force of its weakest members: the women: «When even our women have been prepared for war, what are our men capable of?» This theme is not uncommon; it is to be found equally on flags and Posuban-shrines. Stylistically this flag is related to those from the workshop of Ekotsi; there are some differences in the proportioning and the Union Jack has been depicted differently.
Jarig Bakker, 04 January 2000, quoting [gru95]