This page is part of © FOTW Flags Of The World website
Haifa (Israel)
Municipality of Haifa, Iriyat Kheifa
Last modified: 2023-01-28 by martin karner
Keywords: haifa | kheifa | iriyat kheifa | text: english | text: hebrew (blue) | text: arabic | coat of arms (ship: white) | ship |
Links: FOTW homepage | search | disclaimer and copyright | write us | mirrors

---

image by Ivan Sarajcic |
Coat-of-arms adopted c.1935,
confirmed 16th April 1959


---
See:
---
See also:
---
Description
Haifa (pronounced in Hebrew: Kheifa) is the only town in Israel that has a real coat-of-arms, registered at the College of Arms in London in the early 1930's during the British Mandate period. Haifa is also the only town in Israel to have a mural crown above the shield. I once went to the Haifa city archive to look for more information on the coat-of-arms. The only thing that I found was a resolution from the very first years after Independence regarding the background colour of the city flag (changing from red to blue/azure, but I am not sure). Which indicates that the flag is probably official. I lived in Haifa for many years and I also remember only this [blue] colour on the flag.
Nahum Shereshevsky, 16 April 1999
Coat-of-arms (blue-white-red) on azure bedsheet. Originally the English name was in the middle of the coat-of-arms, but it was changed (sometime in the 60's) after Israel's independence and the Hebrew name was moved to the center. I cannot tell how official is the flag, however, it has been used as such for at least the last 40 years or so. Haifa is the third largest city in Israel and the capital of Haifa District. It is situated in the north part of Israel, on the slopes of Mount Carmel and on the shore of the Mediterranean Sea. It is Israel's main harbour. Pop. 250,000.
Dov Gutterman, 20 June 1999
I visited Haifa city archive once looking for information on the coat-of-arms. The only thing they could say about the emblem was that its first appearance on documents was around 1935. I guess that the College of Arms in London should have more info since the emblem is registered there, but is it accessible?
As for the meaning - as with the Jerusalem emblem, all you need is some background and common sense - we see a ship and lighthouses (or wave breakers), we know that Haifa is an important port city - hence the ship symbolizes commerce, and the other elements - the port. The booklet on the Jerusalem one mentioned that this emblem was designed by Esther Berlin-Yoel, who owned a graphics studio in Haifa. In 1942 she sent a proposal for an emblem for Jerusalem to the City Mayor.
Nahum Shereshevsky, 26 June 1999
The municipal emblem was published in the official gazette (Rashumot), YP 663, 16 April 1959.
Dov Gutterman, 4 September 2001
Haifa is known since the 1st Century B.C.. The origin of the name is unknown Until the Mandate era it was quite a small town and second to Akko. Only the British decision to make Haifa their main port and their northern capital, gave it a major boost. Today Haifa is the third largest city in Israel. Haifa is also known for being the religious center for the Baha'i and their "Golden Dome" shrine became a known symbol of Haifa.
At <www.haifa.muni.il> there is an essay about the origin and design of the emblem with images of proposals. Here is the essence of it::
The Designer was Mrs. Esther Berlin-Yo'el. She design few proposals and a committee made of the mayor Hasan Shukry, Ing. Scrivner, head of the Railroad office, Architect Henry Kandell of the Mandate Department of Health and the artist Herman Shtruk, choose the winning design which was adopted by the city council on 22 June 1936.
Explanations was given by the next mayor of Haifa Shabtai Levi on the opening ceremony of the new city hall on June 1942: "In this emblem painted the old fort of Haifa which was situated on this site for hundreds of years and exist until 1880. The fort as a mark for war and defense disappeared meanwhile, and you can see that in our emblem it is cut through by an olive branch, because we believe in peace. Instead of a fort as a characteristic line of Haifa, the port, intendant for maritime movements in peace time, is painted. Therefore you find on our emblem the two lighthouses at the port entrance of the port and a passenger ship."
Many thinks the this is a crown on top of the emblem but it isn't. It is the old fort of Haifa (El-Burj = The fort) that was destroyed and the city hall stand in its place.
After the independence war, the inscription was changed by moving the Hebrew one to the center instead of the former English one.
Haifa emblem appear on a stamp that was issued on 14 March 1966 as well on stamps (here and here) issued 13 April 1952.
Dov Gutterman, 20 April 2005
---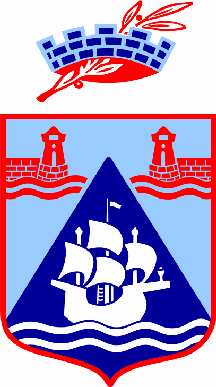 image from wikipedia
---