This page is part of © FOTW Flags Of The World website
Shiv Sena Party, India
Last modified: 2013-11-16 by ian macdonald
Keywords: shivsena |
Links: FOTW homepage | search | disclaimer and copyright | write us | mirrors

---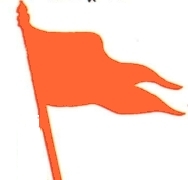 from Shivsena website, located by Dov Gutterman, 28 Aug 1999

from http://www.shivsena.org/feature.htm:
---
See also:
---
SHIVSENA is registered with the Election Commission of India as a political party. It is a recognised political party in the state of Maharashtra. Any citizen of Hindustan who loves his Motherland can become a member irrespective of his cast, creed, religion or language.
---
Shiv Sena party uses a plain orange swallow-tailed flag. Although its form varies a bit, its ratio is usually about 2:3, with the tails occupying about a half of the length. These details are well shown on two close-up photos of the flag, shot at Shivaji Park, Mumbai, on 2006-08-14, which show a young party activist holding a spread flag [1, 2]. Another photo from the same event [3] shows a flag, somewhat less oblong than the previous one, hoisted on a street pole. At a party rally in Mumbai on 2006-09-29, flags with varying shapes were photographed [4]. A good photo, made in Mumbai on 2008-10-09, shows a waving flag in the night, with the most frequent shape [5]. Lastly, numerous party flags, were photographed in Mumbai on 2009-04-05, together with numerous flags of Bharatiya Janata Party, during a joint rally of two parties [6]; these flags also generally have the most frequent shape, although some of them might be more or less oblong than that.

The party flag was probably originally chosen to commemorate the Maratha Empire founded by Shivaji in 17th century, which used a similar flag (party name means "Army of Shivaji"). As the party ideology has evolved from the original Marathi nationalism towards the Hindutuva (Hindu nationalism) [7], the same flag may now also symbolize Hinduism, just like other plain orange/saffron flags. Shivaji is respected as the hero not only by the Marathi people, but by other Hindus as well, so it was possible to keep a flag based on the one used by him regardless of the political evolution of its users.

Sources:
[1] Flickr - Flag of Shiv Sena at Shivaji Park, Mumbai, on 2006-08-14: http://www.flickr.com/photos/firozeshakir/2800007267/
[2] Flickr - Flag of Shiv Sena at Shivaji Park, Mumbai, on 2006-08-14: http://www.flickr.com/photos/firozeshakir/2800008279/
[3] Flickr - Flag of Shiv Sena at Shivaji Park, Mumbai, on 2006-08-14: http://www.flickr.com/photos/firozeshakir/2799991551/
[4] Flickr - Shiv Sena rally in Mumbai, on 2008-10-09: http://www.flickr.com/photos/firozeshakir/2927289184/
[5] Flickr - Flag of Shiv Sena in Mumbai, on 2008-10-09: http://www.flickr.com/photos/jozf/2970573937/
[6] Flickr - Rally of Bharatiya Janta Party and Shiv Sena in Mumbai, on 2009-04-05: http://www.flickr.com/photos/aljazeeraenglish/3438534890/in/set-72157616621216421/
[7] Wikipedia page about Shiv Sena: http://en.wikipedia.org/wiki/Shiv_Sena
Tomislav Todorovic, 1 August 2011