This page is part of © FOTW Flags Of The World website
India: President
Last modified: 2023-08-05 by ian macdonald
Keywords: president | elephant (yellow) | lotus | ashoka lions | scales |
Links: FOTW homepage | search | disclaimer and copyright | write us | mirrors

---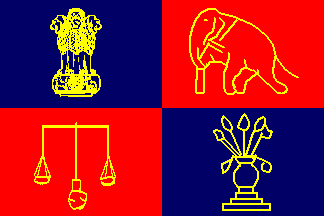 2:3, by Nitesh Dave
---
See also:
---
Das (1981) says that "when India became a republic," the flag of the President was quarterly blue and red with charges on the four quarters in "gold line." These are the Ashoka lions, elephant, scales, and lotus vase with the charges outlined in yellow in all four quarters.
Joe McMillan, 27 January 2003
Quartered first and fourth blue, second and third red (ratio = 2:3)
1st quarter: state emblem (the lions of Sarnath) = national unity
2nd quarter: elephant from Ajanta frescos = patience and strength
3rd quarter: scales from the Red Fort, Old Delhi = justice
4th quarter: lotus vase from Sarnath = prosperity
Nitesh Dave, 19 Feb 2000
Some reports of this flag show the charges outlined in white, or some in white, and some in gold. Most sources seem to show them all in gold.
Possibly counter to a statement by Das (1981) about this flag having been abandoned in 1971 is a report at http://www.indiadefence.com/ifr_report.htm about the International Fleet Review that took place at Mumbai (Bombay) on 17 February 2001, including the following: "INS Sukanya, the Tacoma-designed platform converted into the Presidential Yacht, proceeded through the lines of ships at 14 knots following [sic--presumably "flying"] the President's Standard." If I understand this correctly, it would mean that there *is* still a presidential flag, at least one used by the Indian Navy, whether it's the quarterly blue and red design or something else.
Joe McMillan, 3 February 2003
The apparent non-use of the Presidential standard shown at is supported by the fact that the President's car at the Beating Retreat ceremony on 29 January (2006) flew only the national flag, as did the cars of the Prime Minister and the Minister of Defense.
Joe McMillan, 2 February 2006
The President's Body Guard (mounted ceremonial escort) at the Beating the Retreat ceremony on 29 January (2006) was carrying its regimental standard, dark gray with what appeared to be dark blue and gold fringe, the regimental badge (PBG surmounting crossed lances ensigned by the national emblem) surrounded by the lotus and ashoka leaf wreath common to other Indian regiments, and four scrolls with battle honors on either side.
Joe McMillan, 2 February 2006
The Presidential Standard is definitely no longer in use. During the International Fleet Review 2016 (a three-hour long video of the Review can be found on https://www.youtube.com/watch?v=1Rd_RCPnpME), the Presidential car flew only the National Flag, and displayed the State Emblem of India in lieu of a number plate, while the Presidential yacht was likewise denoted by the State Emblem on the sides of its superstructure rather than by a Presidential Standard.
Miles Li, 31 July 2016
---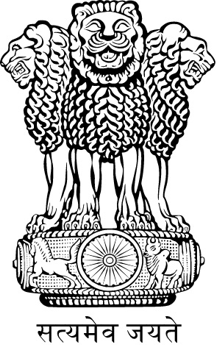 image located by Esteban Rivera, 11 July 2023
The State Emblem is an adaptation of the Lion Capital of Ashoka at Sarnath near Varanasi in Uttar Pradesh, established in IIIrd century BC to mark the place where Buddha proclaimed for the first time his gospel of peace and emancipation to the four parts of the universe. The national emblem is, therefore, a symbol of the reaffirmation of contemporary India of its ancient commitment to world peace and good will. The four lions (one unseen), which symbolize power, courage and confidence, rest on a circular abacus.

In the original, there are four lions, guardians of the four directions: the lion of the north, the horse of the west, the bull of the south and the elephant of the east, mounted back to back, on a circular abacus, which itself rests on a bell-shaped lotus in full bloom exemplifying the greatness of life and creative inspiration. The motto 'Satyameva Jayate' inscribed below the emblem in Devanagari writing means 'only the truth prevails'. The frieze of the abacus has sculptures in high relief of an elephant, a galloping horse, a bull and a lion separated by outlines of the (Buddhist) Wheel of the ("social order and the sacred") Law, dharmachakra, on the extreme right and left was adopted as the State Emblem of India on January 26, 1950.
Source: India Book 2020 - A Reference Annual (https://pmindiaun.gov.in/public_files/assets/pdf/India_2020_REFERENCEANNUAL.pdf)

Sources: https://knowindia.india.gov.in/national-identity-elements/state-emblem.php,
http://india.gov.in/knowindia/state_emblem.php and
https://hi.wikipedia.org/wiki
Esteban Rivera, 11 July 2023