This page is part of © FOTW Flags Of The World website
Extinction Rebellion
Last modified: 2019-05-23 by

zoltán horváth
Keywords: extinction rebellion | international organization |
Links: FOTW homepage | search | disclaimer and copyright | write us | mirrors

---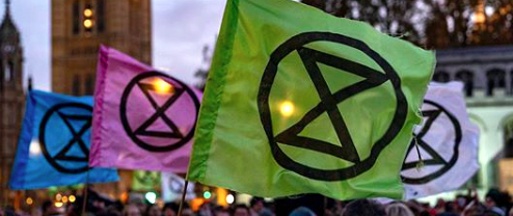 image located by Esteban Rivera, 19 April 2019
---
See also:
---
Extinction Rebellion (abbreviated as XR) is a socio-political international grassroots movement which intends to utilise nonviolent resistance to avert climate breakdown, halt biodiversity loss, and minimise the risk of human extinction and ecological collapse.

Extinction Rebellion was established in the United Kingdom in May 2018 with about one hundred academics signing a call to action in support in October 2018, and launched at the end of October by Roger Hallam, Gail Bradbrook, Simon Bramwell, and other activists from the campaign group Rising Up! (official website: https://risingup.org.uk/) in November
2018 various acts of civil disobedience were carried out in London. A large number of activists in the movement have pledged to be arrested and go to prison, similar to the mass arrest tactics of the Committee of 100 in 1961, which evolved from the Campaign for Nuclear Disarmament, since most of these types of marches and demonstrations take place during Easter time (as happened with the the first major Aldermaston march at Easter (4–7 April), 1958 for the
Campaign for Nuclear Disarmament).
Sources: https://risingup.org.uk/about-us,
https://rebellion.earth/the-truth/about-us/,
https://www.extinctionsymbol.info/ and
https://en.wikipedia.org/wiki/Extinction_Rebellion
Esteban Rivera, 19 April 2019
---
The flag is a square cloth with the extinction symbol (https://www.extinctionsymbol.info/Symbol1.jpg and https://www.flickr.com/photos/50079371@N08/15474433797/sizes/l/) in black outline in the middle over (any of the following) plain colors: white, blue, green, yellow , orange and pink colors as background.
"The Extinction Symbol was created in January 2011 by ESP, an artist from London whose identity is kept secret. It represents the Holocene or Sixth Mass Extinction. The symbol is described on the Extinction Symbol website as (follows): "The circle signifies the planet, while the hourglass inside serves as a warning that time is rapidly running out for many species". A variant symbol (https://www.extinctionsymbol.info/stencil%20thumb.jpg and https://www.flickr.com/photos/50079371@N08/26209863506/sizes/l) is also used, but it is less common (in fact: I haven't seen a flag with the stencil symbol so far).
A disclaimer is noticed on their website: "Please note: In response to people attempting to use the symbol on their clothing/giftware products, and to avoid any future requests that it be allowed to be used in this manner, the following clarification is now made: Since its inception the extinction symbol has always been a strictly anti-consumerist project. No extinction symbol merchandise exists, and it never will do. The free use of the extinction symbol by individuals in their personal artwork or other forms of expression is strongly welcomed and encouraged, but any form of commercial use of the symbol is completely against its ethos and should therefore be refrained from. To reiterate, please do not use the symbol on any items that will be sold, or for any other fundraising purposes. There are no exceptions to this policy. Thank you for your understanding in this matter."
The following pictures display the several versions of their flag:
- Blue, pink, green and white flags: https://static1.squarespace.com/static/ (source: https://xrebellion.org/donate)
- Blue, green, white and yellow flags: https://climatesafety.info/ (source: https://climateemergencydeclaration.org/the-sustainable-hour-podcasts-about-climate-emergency-action/)
- Blue, green, pink, yellow, white and orange flags: https://www.desmog.co.uk/ (source: https://www.desmog.co.uk/2018/10/31/protesters-arrested-outside-parliament-extinction-rebellion-against-climate-inaction)
- Blue, orange, yellow, pink and white flags: https://i.redd.it/z5jbsynmnaz11.jpg (source: https://www.reddit.com/r/vexillology/comments/9yh01v/radical_group_flag_extinction_rebellion/)
Source: https://www.extinctionsymbol.info/
Esteban Rivera, 19 April 2019
Images of the various colors of flags can be found at http://www.loeser.us/flags/protest2.html#ext
Pete Loeser, 20 April 2019