This page is part of © FOTW Flags Of The World website
Houseflags of Japanese shipping companies
Last modified: 2017-10-15 by zachary harden
Keywords: maritime shipping | mon | kambara kisen | kansai kisen | kashima futo | katsuda kisen kabushiki kaish | letter: k | jship |
Links: FOTW homepage | search | disclaimer and copyright | write us | mirrors

---
See also:
---
Jship

image contributed by Jan Mertens, 9 May 2007
Jship website

This Tokyo based firm, officially 'Japan Shipping Services Co., Ltd' - a ship broker - shows a modest house pennant on the company

site

(English version).

For the time being this pennant has the status of a flagoid - red bearing the name 'Jship' in white letters, the 'J' much larger than the others.

Founded in 1995 by Mr Yoshifumi Takeda, Jship is active in ship brokering (not only second hand ships but new ones as well), chartering, and shipping business consultancy.
Jan Mertens, 9 May 2007
---
Kambara Kisen K.K.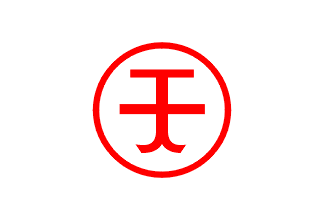 image by Jarig Bakker, 30 August 2005
Source: Brown's Flags and Funnels Shipping Companies of the World [lgr95]
Tokyo - white flag, red circle containing the firm's initials (?) in red.
Jarig Bakker, 30 August 2005
---
Pre-1949 flag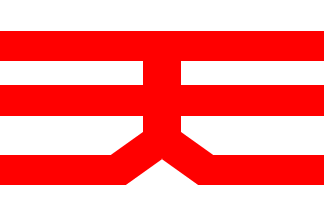 image by António Martins-Tuválkin, 19 August 2007
The current Kambara Kisen website shows a different flag, still in the national colours - English version here.
From the company history (highlights only). Founded 1903 by Katsutaro Kambara (coastal shipping: transport of coal). 1944, founding of Setonaikai Senpaku renamed Kambara Kisen (Tokyo) four years later. Ships built by Tsuneishi - operated are car, multipurpose, and bulk carriers; later, container ships. Kambara Marine KK founded in 1978. 1995, head office moves from Tokyo to Hiroshima. Various subsidiaries are established. Growing transportation business between Japan and China (inland included). 2003, Tsuneishi centenary.
Besides container transportation, Kambara (still) engages in tramp shipping, manages and trades ships, and offers other related services.
As to the relation between Kambara and Tsuneishi (the first one consistently being subtitled 'Tsuneishi Holdings Corporation'), see these links - the first in Japanese, the second one in English, concerning the company logo:
Quoting from English version, edited:
"(…) among the (first) four (Kambara) sailboats, was one called the "Tenshamaru," which was particularly lucky and generated good profits. Including the "No. 4 Tenshamaru" ordered by Kambara Kisen Co., Ltd., Tsuneishi Corporation built many "Tenshamaru" ships.

We have built a lot of medium-class steel ships crowned with the letter " (ten)" which have contributed to the development of not only the Tsuneishi Group but also Japan's shipping industry. In the hope of sharing the good fortune brought by the "Tenshamaru", we chose the letter [representation unavailable] and "V", " as our company logo.

Since we chose our present logo in 1949, many of our Group companies have adopted the [representation unavailable] mark as their company logos. This logo now symbolizes the Tsuneishi Group."
Leaving the 2003 centenary logo aside, and having to refer to the Japanese version for the character missing in the English text it is clear that the house flag shown on the site reflects this.
The Tsuneishi Group comprises an impressive list of companies (among them shipbuilding, ferry, investment, steel, etc.) found here.
Jan Mertens, 3 June 2007
---
I guess that this is "天", which reads "tiān" in pinyin.
This page also mentions a new logo, also based on "天" but looking like "x ̌" (an "x" with caron on it). It is made from sharp triangles and placed in white on a navy blue background, with lettering "Tsuneishi" in bold italic sanserif capitals.
Though this logo change surely affected corporate flags in use, I doubt that the change was reflected immediatly in the houseflag practice. Either for legal necessity of registering a shipping houseflag, or because of seamen's infamous stubbourness, houseflags seem to keep old designs and logos long after parent companies changed their visual identity on land.
The company includes two of the not many differences between the Hepburn and the Cabinet romanizations of Japanese: It is "Tuneisi" according to Cabinet rules. (Another example is Mitubisi.)
António Martins-Tuválkin, 19 August 2007
---
Pronounced (on'yomi) "ten", meaning heavens, sky.
Jonathan Dixon, 20 August 2007
---
Kanko Kisen



images contributed by Jan Mertens, 12 October 2008
Source: Kanko Kisen website.

Kanko Kisen is a Japanese ferry company, member of a group also comprising - among others - Hankyu Ferry. Website, Japanese only: http://www.kankokisen.co.jp/.
The company seat, Shimonoseki, is situated in the S.W. of Honshu, the largest island of Japan. Additional offices are located in Osaka and Tokyo.
As stated on http://www.interq.or.jp/:
Kanko Kisen is the nucleus of the SHK Line Group, which is itself a joint venture between Hankyu Ferry, Shin Nihonkai Ferry, Kampu Ferry, Orient Ferry, Nishi Nihon Kisen, Japan Cruise Line (Venus Cruise), etc.
The history of regular Japanese long distance car ferry services started with Hankyu Ferry's Ferry Hankyu (4,978 G/T) in 1968. The mixture of a growing economy and congested roads resulted in the concept of ferry-based traffic promoted by Mr. Hoshu Iriya, the president of Kanko Kisen, often referred to as the father of Japanese long distance car ferries.
The fleet page shows Hama Yuu, Seong Hee, Utopia, Utopia 2 and two more - since the liveries often differ I suppose Kanko Kisen operates but perhaps not owns them, or vice versa. In general these ferries carry passengers - at least one line links Shimonoseki to China - but some are equipped for ro/ro as well.
On a white field, a voided diamond with contour line in red enclosing a red initial 'K'.
There is also a Japanese Wikipedia page concerning this firm (founded in 1948)
Jan Mertens, 12 October 2008
---
Kansai Kisen K.K.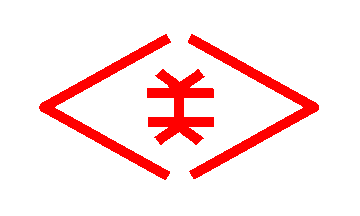 image by Phil Nelson
Source: Flags, Funnels and Hull Colours, 1963 [ste63]
Kansai Kisen K.K. formed 1942 and still operating independently.
Neale Rosanoski, 5 March 2003
---
Kashima Futo K.K.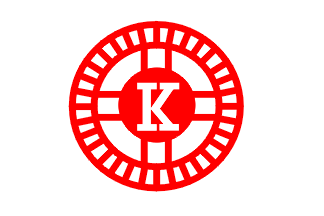 image by Jarig Bakker, 30 August 2005
Source: Brown's Flags and Funnels Shipping Companies of the World [lgr95]
Kamisu - white flag, red/white logo.
Jarig Bakker, 30 August 2005
---
Katsuda Kisen Kabushiki Kaisha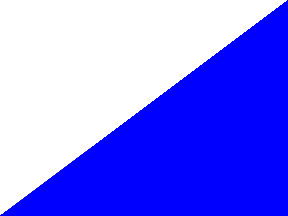 image by Jarig Bakker
Source: Brown's Flags and Funnels of British and Foreign Steamship Companies, [wed26]
Kobe - diagonally divided white over blue
Jarig Bakker, 14 February 2005
---