This page is part of © FOTW Flags Of The World website
Houseflags of Japanese shipping companies
Last modified: 2014-10-04 by Zachary Harden
Keywords: maritime shipping | mon | nissui senpaku | nittetsu kisen | nitto line | letter: n | letter: o | circle | disk: red |
Links: FOTW homepage | search | disclaimer and copyright | write us | mirrors

---
See also:
---
Nissui Senpaku K.K.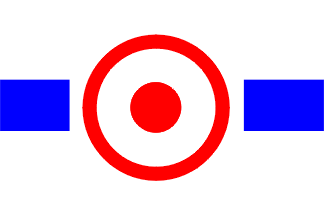 image by Jarig Bakker, 8 September 2005
Source: Brown's Flags and Funnels of Shipping Companies of the World, 1995 [lgr95]
Tokyo - white flag, a blue horizontal stripe in the center, interrupted by a red disk within a white disk within a red disk within a white space.
Jarig Bakker, 8 September 2005
---
Nittetsu Kisen K.K.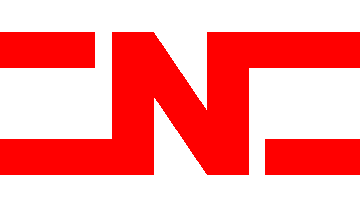 image by Phil Nelson
Source: Flags, Funnels and Hull Colours, 1963 [ste63]
Nittetsu Kisen K.K. formed 1950 merging 1962 to form Shinwa Kaiun K.K.
Neale Rosanoski, 5 March 2003
---
Nitto Line

image contributed by Jan Mertens, 6 August 2005
From Steamship China Patterns:
The house flag of the Nitto Line, Japan: red with broad white horizontal stripes along the upper and lower edges, the red field interrupted by a red ring.
This could well be the firm now called NTL (Nitto Total Logistics Ltd) established at Kobe which was founded in 1926, starting out as a shipping agent; later involved in towing and barge operations and finally container transport. Now offering services as a complete logistics provider.
During its history, this firm has been working for, and been financed by, large shipping companies such as Kawasaki and Mitsui.
Jan Mertens, 6 August 2005
---
Onomichi Dockyard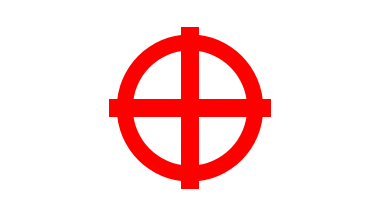 image by Eugene Ipavec, 20 August 2007
Onomichi Dockyard Co., Ltd. is a Japanese shipbuilding and ship repair company with head office in Kobe and branches at Hiroshima (yard), Tokyo, and Imabari plus factory sites being developed at Onomichi and Fukuyama. English version of the company website.
In addition to shipbuilding and related activities, Onomichi has a Plant and Machinery Div. building cranes, bridges, and the like (even cement plants); an Industrial Machinery Dept; and has developed the Auto Lashing Device, a new and labour saving device to securely fix cars installed for the first time on the ship Wakanatsu.
Among ship types built are bulk or container carriers, chemical tankers, ferry boats, etc. An associated company Saiki Heavy Industries Co., Ltd also builds ships; international expension led to the establishment of Colombo Dockyard Co., Sri Lanka.
As explained in the 'History' section (under 'Company Information'), the firm was founded in 1943 and steadily built up its construction facilities right into the nineteen seventies. In the 'eighties this was followed by diversification and involvement in Saiki Heavy Industries; Colombo Dockyard was acquired in 1992. Onomichi is still expanding and refining shipbuilding technology.
Of interest of course is the 'Onomichi Brand' page which however concentrates on the new corporate brand or "logo mark". Hopefully this brand will not come to replace the simply designed flag shown at the top of the page: in the national colours, a white field bears a red crosshair probably symbolizing correct alignment.
Jan Mertens, 19 August 2007
---
Osaka Zosensho K.K.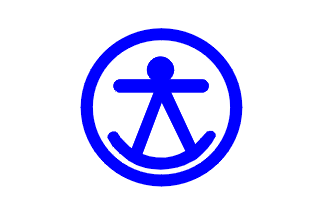 image by Jarig Bakker, 19 December 2005
Source: Brown's Flags and Funnels of Shipping Companies of the World [lgr95]
Osaka - white flag, the firm's logo. (the funnel has an elephant sitting on a yellow crescent...) Loughran (1979) has this:
This company, in business primarily as shipbuilders, went into shipowning in the early 1970s. The new moon and baby elephant were chosen to represent the fact that the firm was a new and growing one. There was also something of a pun involved. In Japanese 'Zo-zen' from the company title, and the word for elephant, are written similarly. The device on the houseflag is of like interest. The Japanese character 大, which stands for 'big', is also the first syllable of Osaka. On the houseflag it is stylised to represent an engineering tool, and is placed within its anglicised version, the letter 'O'. Around the shipyard, the symbol is modified slightly to represent a busy worker. Altogether, a very clever use of symbolism.
Jarig Bakker,
19 December 2005
---
Ryukyu Kaiun Kaisha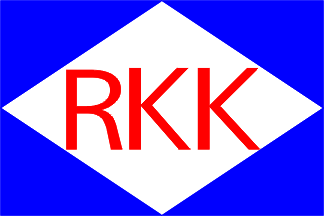 image by Jarig Bakker, 7 December 2005
Source: Brown's Flags and Funnels of Shipping Companies of the World [lgr95]
Naha - blue flag, white diamond, red "RKK".
Jarig Bakker, 7 December 2005