This page is part of © FOTW Flags Of The World website
Japanese Naval Rank Flags (1870-1945)
Last modified: 2018-08-25 by Zachary Harden
Keywords: naval rank flags: japan | sun (red) | sun (white) | anchor | rays: (red and white) | cherry blossom |
Links: FOTW homepage | search | disclaimer and copyright | write us | mirrors

---
---
See also:
---
Japanese Rank Flags, 1870-1945
These are older rank flags, I have noted that the rank flags were approved at the same time [1870] as the Naval Ensign and other naval flags. I have no source to support this note, so perhaps someone could confirm or deny this date. Of course, all were abandoned on 14 August 1945 at the end of World War II.
C. Eugene Baldwin, 01 December 1998
---
Secretary of the Navy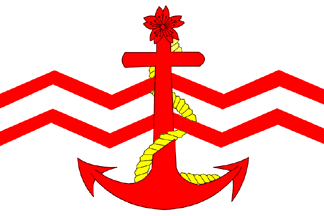 by Jaume Ollé and Zachary Harden, 26 August 2018
This flag was adopted on November 25, 1871 as Japanese Navy Ensign but did not become the flag of Secretary of the Navy until October 7, 1889 when it was replaced with the current famous Naval ensign with 16 red rays.
The cherry blossom and anchor with two lines flag was then slightly modified (thicker objects) and used as a flag of Minister of Navy ministry until end of World War II.
Nozomi Kariyasu, 6 February 2000
---
Admiral rank flag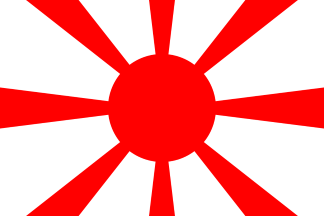 by Zachary Harden, 25 August 2018
The admiral's flag section was used by admirals, vice admirals and rear admirals between October 7, 1889 and Jan 4 1897. The flag was used only by admiral from January 4, 1897 until end of WWII. The old admiral flag was a state flag (hinomaru) with red border used between October 3, 1870 and October 7, 1889.
Nozomi Kariyasu, 11 February 2000
---
Vice Admiral rank flag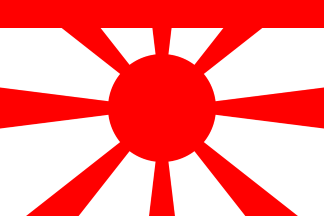 by Zachary Harden, 25 August 2018
The vice admiral flag and rear admiral flags were used from January 4, 1897 until end of World War II. The old vice admiral flag was a state flag with dark blue border used between October 3, 1870 and November 29, 1871. Between November 29, 1871 and October 7, 1889 the state flag with red border was used also for vice admiral.
Nozomi Kariyasu, 11 February 2000
---
Rear Admiral rank flag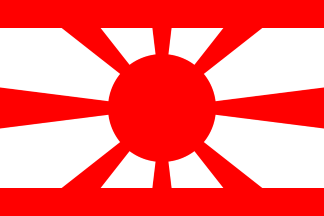 by Zachary Harden, 25 August 2018
The old rear admiral flag was a state flag with yellow border used between October 3, 1870 and Nov 29 1871. Between Nov 29 1871 and Oct 7 1889 the state flag with red border was used also for rear admiral.
Nozomi Kariyasu, 11 February 2000
---
Commodore rank flag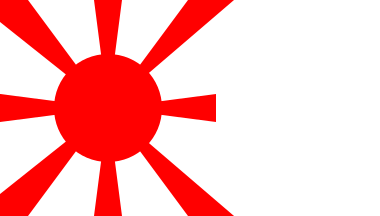 by Zachary Harden, 25 August 2018
---
Senior Officer rank flag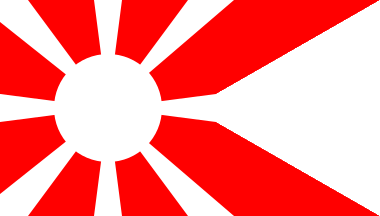 by Zachary Harden, 25 August 2018
---
Commander rank flag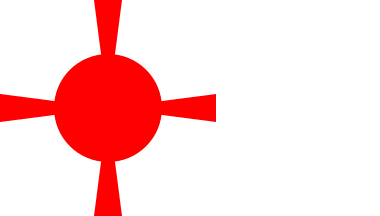 by Zachary Harden, 25 August 2018
---
Command Pennant, 1896-1932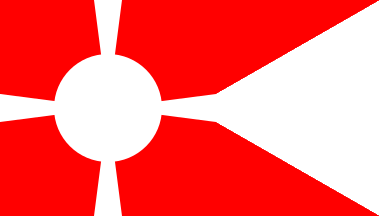 by Zachary Harden, 26 August 2018
---
Command Pennant, 1914-1945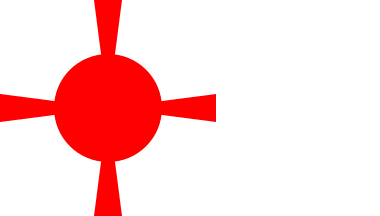 by Zachary Harden, 26 August 2018
---
Navigation Control Commander, 1942-1945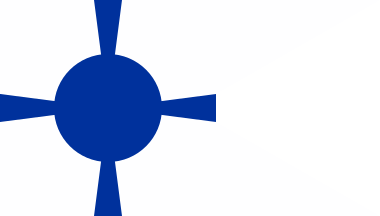 by Zachary Harden, 26 August 2018
---
Commissioning pennant


by Zachary Harden, 25 August 2018
This pennant was adopted in 1914 (Taisho 3) and was in use until 1945. It has since been readopted by the MSDF as their current commissioning pennant.
Kazutaka Nishiura and Nozomi Kariyasu, 25 August 2018


by Zachary Harden, 25 August 2018
This pennant was adopted in 1889 (Meiji 22) and was in use until 1914. It is the naval ensign on a white pennant.
Kazutaka Nishiura and Nozomi Kariyasu, 25 August 2018


by Zachary Harden, 25 August 2018
This pennant was adopted in 1870 (Meiji 3) and was in use until 1889. It is just the red sun on a white pennant.
Kazutaka Nishiura and Nozomi Kariyasu, 25 August 2018