This page is part of © FOTW Flags Of The World website
Kenya
Jamhuri ya Kenya / Republic of Kenya
Last modified: 2022-10-22 by bruce berry
Keywords: kenya | spear | shield | rooster |
Links: FOTW homepage | search | disclaimer and copyright | write us | mirrors

---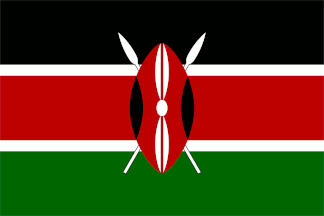 2:3~ image by Željko Heimer, 28 May 2002
See also:
---

Explanation of the flag The flag of Kenya was adopted on 12 December 1963. It is based on the black over red over green flag of KANU (Kenya African National Union), the party that led the fight for freedom and independence. The colours symbolize black majority, blood and natural wealth. On independence the white fimbriation was added, symbolizing peace. The defence of freedom is symbolized by a traditional Masai shield and two spears.
Željko Heimer, 24 Feb 1996
[smi80] designates this flag to be the state ensign too (i.e. CSW/CS-)
Željko Heimer, 15 Jan 2001
National Flag and Jack

The national flag is a black-red-green tricolor with white fimbriations and overall a Masai shield and two white spears. The shield is red with black flanks and a white disk in the middle and four white charges. The Album 2000 is the first place where I see the construction details for this flag, and it defines the ratio of three stripes as 6+1+6+1+6. I guess that there may have existed also detailed construction sheet of the central emblem too.
Source: Album 2000.
Željko Heimer, 30 Mar 2002
Kenya Flag
Flag Overall Dimensions - 3:2
Three major strips - Black , Red , and Green separated by narrow white strips. A symmetrical shield and spears superimposed centrally.
Black represents the people of Kenya.
Red represents the struggle for freedom.
Green represents Kenya's agriculture and natural resources.
White represents Unity and Peace.
The black, red and white shield symbolizes the defense of freedom.
Kenyan Flag Specifications
All Materials to conform to the appropriate B.S.S (British Standard Specifications).
All dimensions given do not necessarily represent any particular measurements and are merely proportional.
Red to be 'Post Office Red', B.S shade reference 0-006
Green to be B.S shade reference 0-010.
Source: this website.
Dov Gutterman, 27 May 2002
On 27 August 2010 the president of Kenya ratified the new constitution of the Republic of Kenya. The constitution was agreed by a referendum held earlier in August. The new constitution includes a specification sheet of the Kenyan flag, which was adopted at the time of independence. This is the first flag specification sheet which, to the best of my knowledge, has received constitutional status.

I have not yet found a copy of the newly ratified Kenyan Constitution. However, there are some examples of the Draft Constitution which was issued on 06 May 2010. Article 9 and the Second Schedule deal with the national symbols of Kenya. This draft is the one that was ratified as the new Kenyan Constitution.

For a draft of the Constitution see this website.
Jos Poels, 27 August 2010
The protocol manual for the London 2012 Olympics (Flags and Anthems Manual, London, 2012 [loc12]) provides recommendations for national flag designs. Each National Olympic Committee was sent an image of their flag, including the PMS shades, by the London Organising Committee of the Olympic Games (LOCOG) for their approval. Once this was obtained, the LOCOG produced a 60 x 90 cm version of the flag for further approval. So, while these specifications may not be the official, government, version of each flag, they are certainly what the National Olympic Committee believed their flag to be.

For Kenya : PMS 180 red, 347 green and black. The vertical flag is simply the horizontal version turned 90 degrees anti-clockwise.
Ian Sumner, 10 Oct 2012
A Ministerial Regulation dated 1965 restricts the categories of officials who can fly the national flag on their vehicles to the President, the Vice-President, the Chief Justice, the Speaker of the National Assembly, Ministers and the Attorney-General. Attorney-General Githu Muigai recently recalled that Governors cannot fly the national flag on their cars. Many governors, after they were sworn in last week, have been flying the national flag on their vehicles. Governors William Kabogo (Kiambo County) and Jackson Mandago (Uasin Gishu) have told they would continue flying the flag. Kabongo said the Transition Authority issued the flags they are flying to them immediately they were sworn in and therefore they were flying them legally.
Ivan Sache, 09 April 2013

In this article suggested that the governors fly their own regional flags rather than the Kenyan national flag.
Andy S, 11 April 2013

---
Flag construction sheet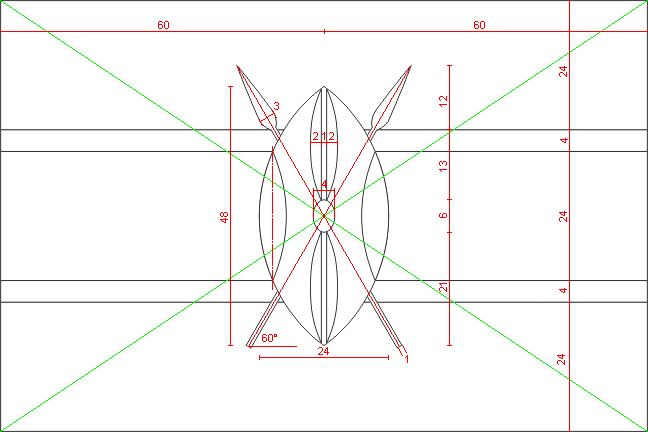 image by Željko Heimer, 30 Mar 2002

Click here for the flag construction sheet. It is based on the link provided by Dov Gutterman.
Željko Heimer, 28 May 2002

---
Kenyan coat of arms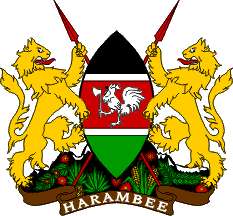 image by Željko Heimer, 30 Mar 2002

The coat of arms greatly based on the black-white one provided in Corel Clipart collection:
Željko Heimer, 30 Mar 2002

The arms were granted on October 15, 1963.
The shape of the shield and spears are those used by the Masai tribe. Harambee is the motto of the chief political party KANU (Kenya African National Union) and means "all pull together". It was used by the first President Jomo Kenyatta to try to turn 50-60 disparate tribes into one nation at independence. The chicken is the symbol of the KANU. The shield colors represent the struggle for independence - green is the earth, red is the blood of the Mau Mau warriors for independence and black the rich soils. The lions are obviously a key animal in Kenya's wildlife parks.
Info from Ralf Hartemink's website. See also: this website.
Jarig Bakker, 25 Feb 1999

---