This page is part of © FOTW Flags Of The World website
Cambodian Flag History
Last modified: 2023-06-03 by

zachary harden
Keywords: cambodia | angkor wat | map |
Links: FOTW homepage | search | disclaimer and copyright | write us | mirrors

---
See also:
---
Flag History
This presentation is mainly based on an article in Flag Bulletin [tfb] (No. 133, p. 3-15; title: "New flags - State of Cambodia"; author: presumably Whitney Smith [smi90]). Further sources: Flaggenbuch [neu39], Die Zeichen der Menschen und Völker: Unsere Welt in Fahnen und Flaggen and Lexikon Flaggen und Wappen [smi75d]. Especially difficult are, of course, the political circumstances leading to the fact, that at certain times (at least) three flags of different governments and counter-governments had been used to represent Cambodia.
M. Schmöger, 9 November, 2001
---
Flag during French Protectorate, 1863-1948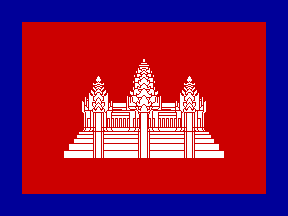 image by P. Mattew, adapted by M. Schmöger

ca. 1863-1948 (Kingdom of Cambodia under French protection): The first Cambodian flag probably came into existence around 1863 and was used, with only variations, until 1948. It was a red field with a blue border and a white representation of Angkor Wat in the center. The image is based on the image in Flaggenbuch; a different variant is shown in the Flag Bulletin article: the Angkor Wat is drawn like in the current flag.
M. Schmöger, 9 November, 2001
---
Kingdom of Cambodia, 1948-1970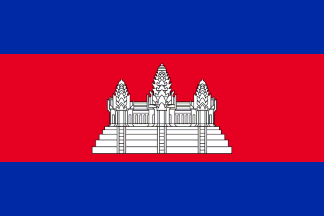 image by P. Mattew and Eugene Ipavec, 8 October 1996


On 20 October 1948 a new flag was adopted, namely a horizontal triband (1+2+1) of blue, red and blue with the Angkor Wat in white in the centre. The Angkor Wat is usually shown outlined in red (Flags Through the Ages and Across the World). This is basically the flag in use again now. This flag was used until Norodom Sihanouk was overthrown in 1970. However, it was used after that in exile and in parts of the country under the control of Sihanouk troops. According to the Flag Bulletin article it also appeared for a short time again at the UN headquarters from about April 1975 to January 1976. It was reestablished in Cambodia itself 30 June 1993.
M. Schmöger, 9 November, 2001
1958 Chief of Naval Staff
image by Antonio Martins
---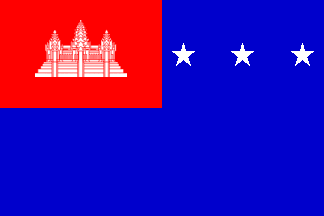 image by P. Mathew, adapted by M. Schmöger

Lon Nol overthrew Sihanouk in 1970 and on 9 October 1970 a new flag was introduced. It showed a blue field with a red canton; in the canton a white representation of Angkor Wat (three towers), in the upper fly corner three white stars. This flag was used until April 1975. Obviously this had not been used afterwards in exile or by anti-government forces.

In April 1975 the Khmer Rouge forces had established control of most of Cambodia, including the capital Phnom Penh. For a while Norodom Sihanouk acted as a puppet head-of-state of the "Democratic Kampuchea". At least at the UN the 1948-1970 flag was reestablished until January 1976. Inside the country plain red flags seem to have been used (according to Flag Bulletin article).
M. Schmöger, 9 November, 2001
---
Democratic Kampuchea, 1975-1979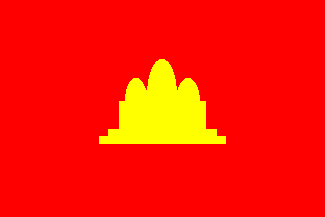 image by Željko Heimer

In January 1976 the new constitution of "Democratic Kampuchea" established a new flag. It was a red field with a three-towered yellow representation of Angkor Wat; however, this was much stylized and only called "monument", not "Angkor Wat" in the constitution. This flag was used until January 1979, when the Khmer Rouge government was deposed. However, it continued to be in use in the parts of the country, where Khmer Rouge forces waved a guerilla war against the government. Furthermore, as the "Democratic Kampuchea" government was the internationally recognized government, it was also used abroad, e.g. at UN headquarters, until 1991. It is unclear to me, however, when this flag had been used for the first time. It was definitely not a new invention in 1976, but had been used previously by the Khmer Rouge. It was used in Germany during demonstrations against the war in Vietnam and Cambodia (17 March 1973 and 29 April 1973). The demonstrators were members of the Maoist KPD, that also displayed Pathet Lao and Vietcong flags (Rote Fahne Vol. 4, iss. 12, p. 1 and vol. 4, iss. 18, p. 3).
M. Schmöger, 9 November, 2001
---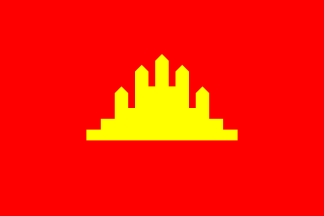 image by Zachary Harden, 5 December 2021

In December 1978 a Khmer Rouge dissident faction (under Heng Samrin and Hun Sen) invaded Cambodia together with Vietnamese troops, and deposed the Khmer Rouge government in Phnom Penh in January 1979. The new People's Republic of Kampuchea introduced a flag based on the 1976-1979 flag, but having five towers instead of three. This flag was used until 1989 in the country, but was not recognized internationally (e.g. at the UN).
M. Schmöger, 9 November, 2001

A construction sheet for this flag was published in the 1981 Constitution of the PRK.
Zachary Harden, 5 December 2021
---
State of Cambodia, 1989-1991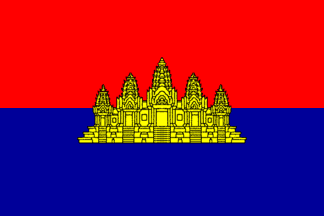 image by M. Schmöger
On 1 May 1989 a new flag was introduced, together with an alteration of the name to "State of Cambodia" and a new constitution. The new flag was a bicolour of red over blue, showing a yellow representation of Angkor Wat (five towers) in the centre; the flag Bulletin article and [heh90] show the Angkor Wat very detailed (similar to the 1948-1970 flag) and not stylized as in the 1979-1989 flag. The stylized version might have been in existence, though.
M. Schmöger, 9 November, 2001
---
1991-1993 (UN administration)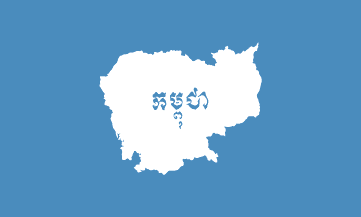 image by Mario Fabretto, 25 July 1996
Under the UN administration (UNTAC = United Nations Transitional Authority in Cambodia) Cambodia used a UN blue flag with a white map of the country in the centre (and the blue inscription of the country's name). However, I'm not sure when this flag was introduced. The claim that it was from 24 June 1991 seems a bit early to me. The most important steps to peace in Cambodia happened only in October 1991 (peace treaty in Paris; decision of UN security council to send UN peace forces).
M. Schmöger, 9 November, 2001
---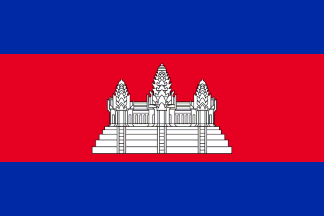 image by P. Matthew and Eugene Ipavec, 8 October 1996

On 30 June 1993 the old 1948-1970 flag has been reestablished as the flag of Cambodia. However, obviously the Angkor Wat is now usually outlined black, not red.
M. Schmöger, 9 November, 2001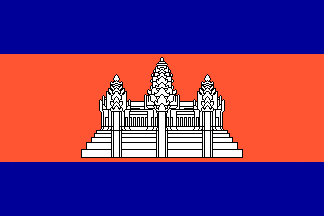 image by "BlinxCat", 24 November 2021
Info: This is a UNTAC(?)-era Cambodian flag produced by the Annin Flag company, I obtained this flag from Nick Artimovich and he says it was made around the UNTAC-era but since this flag was officially adopted in 1993, I assume it was made in the final stages of the UN Authority, the difference here is the orange-red like shade of color.
"BlinxCat", 24 November 2021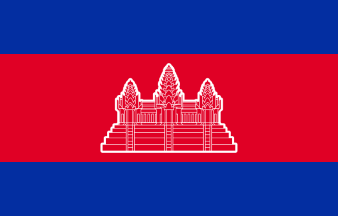 image by Zachary Harden, 26 April 2022
I've spotted a strange Cambodian flag variant before in which the Angkor Wat is a white outline on a red background. I spotted a similar variant from Nick Artimovich's collection.
"BlinxCat", 26 April 2022
---
Additional Information
I have only two comments:
1. The exile government of Democratic Kampuchea changed its flag from the Khmer Rouge one to the royal flag (Blue-Red-Blue, White Angkor Wat with 3 towers) in 1990 (spring? I'm not sure as concerns the date).
2. The flag of the State of Cambodia (Red-Blue, Yellow Angkor Vat with 5 towers) was used in 1991-1993 period as well, together with the UN administration flag. During the first visit of Norodom Sihanouk to Phnom Penh, both flags were visible.
Jan Zrzavy, 9 November 2001
---
The first protection treaty was signed on 11 August 1863. A second treaty, more drastic, was signed on 17 June 1884. There was an uprising in 1885, and administrative and financial reforms were implemented in 1904. The territory of Cambodia was enlarged in 1904 (provinces of Meloupre and Tonle-Repou) and 1907 (provinces of Siemreap, Battambang, and Sisophon). These provinces were given back by the kingdom of Siam, whose expansionism in Cambodia had given a 'legitimate' motive to France for establishing the protection regime. In the early 30's, the area of Cambodia was 175.000 sq.. km. The country was inhabited by 2.402.000 Cambodians and 1.270 French. The kingdom was divided into 14 provinces, each of them being administrated by a French resident.
Cambodia was part of Union Indochinoise, the Gouvernement Général of Indochina established by decree of 17 October 1887. The powers of the Gouverneur Général were prescribed by the decree of 20 October 1911. Other members of the Union were the colony of Cochinchina, the protectorates of Annam, Laos and Tonkin, and the territory of Kouang-tcheou-wan (Guangzhouwan).
Source: Grand Larousse Illustré du XXe siècle (1932).
The flag shown in the same source is close to the flag shown in Flaggenbuch, but with a black border and a smaller temple, whose design is more stylized (the image is small, so several details might have been simplified or deleted).
After Second World War, French Indochina was administrated by a High-Commissioner and progressively dissolved (1946-1954). Cambodia received limited independence on 8 November 1947. Its complete independence, signed on 9 July 1953, was confirmed by the Geneva agreements (July 1954), which ended the French presence in Indochina. Cambodia was member of Union Francaise but left it in 1955.
Ivan Sache, 9 November 2001
---
Jaume Ollé has written me saying this was the flag adopted by Cambodia on 1st May 1989, as a result of the new Constitution approved 29th-30th April 1989 by the National Assembly. The flag was based on that of the FUNSK (the pro-Vietnamese guerrilla) and on that of the Vietcong (identical to that of the 1973-1975 Republic of South Vietnam).
Santiago Dotor, 8 November 2001
---
Flags depicted as used in the Cambodian Civil War (1978-1982)
In December 1978 a Khmer Rouge dissident faction (under Heng Samrin After the alleys of the USA (Gen. Lon Nol) had been defeated, the effective rule of the Khmer Rouge movement began in 1975.
Meanwhile the Vietnamese neighbours tried to re-establish Indochina under their own leadership. The installed special relations with Laos and tried to do the same with Cambodia. Cambodian government under Pol Pot and his Khmer Rouge however refused and Vietnam was told, that "normal relations" would be sufficient.
This answer was considered to be an offensive and so in 1978 Cambodia suffered under a new civil war. Heng Samrin had established the "Kampuchean National United Front for National Salvation" (KNUFNS) and invaded the country, supported by Vietnamese troops. Heng was said having been a high cadre of Khmer Rouge itself and having been secretary of the XX.District. But no one knew exactly.
Playing this game, Pol was backed by the Peoples Republic of China, the KNUFNS by Soviet-Russia. Having expelled the US both communist powers tried to strengthen their own influence.
Though having committed serious crimes, the government of Pol (CM: Khieu Samphan) remained being recognized by the UN as the "official representative of the people of Cambodia". The Khmer Rouge never had been defeated totally but they joined a coalition under Prince Sihanouk on 22 June 1982.
Both factions used red flags with a yellow of the temple of Angkor in its centre The Khmer-rouge government of "Democratic Kampuchea" used a variant with three towers, the KNUFSN with five towers, both obviously inspired by the flags of Peoples Republic of China and the Soviet-Union.
Kampuchean National United Front for National Salvation (KNUFNS)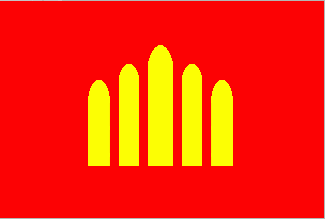 image by Klaus-Michael Schneider, 14 August 2008
A red flag with five yellow towers in its centre of different height. The central tower is the longest.
Source: Its difficult to give source here. Fischer Weltalmanach, a German annual, mentions in its 1983 edition (which is usually completed in September of the previous year) in column 377, the first time a description of the KNUFNS-flag.
The description is "a red field with a 5-towered yellow temple (Angkor)". That is not the same like "5 towers". My images point out a distinction of the 3-tower-flag with basement and the 5-tower-flag without basement. I probably redrew both flags from an image. It might be possible, that I used the depiction from Hvam? Hvar? Hvad? (is probably What? Who? When?), a Norwegian annual edited by a newspaper, which had a new flag chart every year.
Another contradiction is shown as the image was captioned "SR Kambodscha" for "socialist republic". But there has never been any "socialist republic" but only a "peoples republic" instead.
Democratic Kampuchea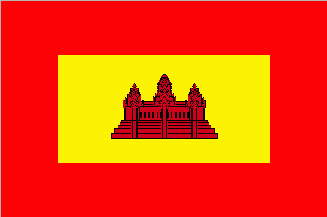 image by Klaus-Michael Schneider, 14 August 2008
A yellow flag with a surrounding red edge and a dark pinkish image of the temple of Angkor having three towers.
Source: Schlag nach!, 11th edition, Mannheim, Wien, Zürich 1976, ISBN 3-411-01198-X, flagchart II after p.384. The flag is captioned "Kambodscha". As it shows three towers and it is 1976, it should be a flag of "Democratic Kampuchea". For me however it is even more unbelievable then the flag for KNUFNS above.
Klaus-Michael Schneider, 14 August 2008