This page is part of © FOTW Flags Of The World website
Shia (Lebanon)
Last modified: 2020-07-31 by ian macdonald
Keywords: lebanon | religion | islam | text: arabic (red) | text: arabic (yellow) | supreme shiite islamic council of lebanon |
Links: FOTW homepage | search | disclaimer and copyright | write us | mirrors

---
See also:
---
Supreme Shiite Islamic Council of Lebanon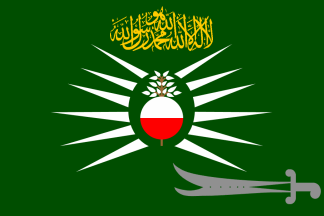 image by Eugene Ipavec, 06 May 2012

Dark green flag, with a white/red divided circle (rather resembling an upsiddedown Pókeball, oddly enough) from which a tree with white leaves is sprouting, all surrounded by a burst of white rays. Below the Shiite double-pointed sword Zulfiqar in gray (the lower hoist is not visible; it may be mirrored. Above, a golden shahada.
There are is at least one variant of the flag: it seems to move the sword(s) to the top and omit the shahada.
Eugene Ipavec, 06 May 2012
---
"Musa al-Sadr" Shia Flag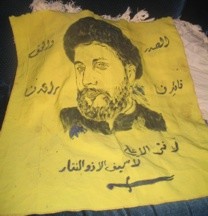 located by Bill Garrison, 08 Sep 2006

This isn't a "flag" really, but a religious-political "banner", something Arabs call a "katibeh." It is a cloth banner with a hand-painted picture of "Musa al-Sadr." His grandfather's family, being Shia Muslim, had to flee from a local Sunni Muslim warlord in Ottoman-held Lebanon in the 1880s. The family moved to Shiite-friendly Persia (Iran). Musa al Sadr, being a devout Shiite, returned to southern Lebanon to reinvigorate the demoralized Shiites. He became very influential. In his attempt to promote Shiite-Sunni harmony, in late August 1972 he and two aides visited Libya's leader Qaddafi, who supported Sunni aspirations in Lebanon. Musa al Sadr and his two aides "disappeared;" they were never seen again. The Lybian government said the three individuals boarded an airplane for Italy, but the Italian government said they never arrived. The Shiites of Lebanon believe that the Sunni government disposed of Musa al Sadr in order to quash his alleged efforts of expanding Shiite-Iranian influence with the Shiites in southern Lebanon.
Sadr is today a hero among Lebanese Shiites, and the pro-Shiite Iranian government issued a postage stamp honoring Musa al Sadr. The story behind this Sadr banner is that an Israeli officer (who was participating in the Israeli invasion on Lebanon in the 1980s to drive out the PLO) tore it down from a building as he was traveling through southern Lebanon. I don't read Arabic, so I don't know what the Arab slogans are. However, it is possible to quickly identify this banner-flag as Shia-related, as the depicted two-bladed sword is the "Zulfiqar" sword that the Prophet Mohammad supposedly gave to his nephew Ali, who became the founder of the Shiite or "Shia" ['Followers' of Ali] sect of Islam.
Bill Garrison, 08 Sep 2006
---
"al-Fadel" Shia Flag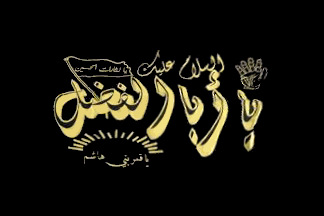 image by Eugene Ipavec, 04 May 2007

Flag of Shiites in Lebanon (Hezbollah-related?) It shows the hand of the Imam Ali family which is used by the Shiites. "Assalam Alayk ya Abu al Fadel" or "Peace Be Upon You Abu al Fadel" [Abu or Aba].

There are two possible meanings of this flag:
A: A reference to Abu al-Fadel (1273-1331 C.E.) a Syrian warlord who fought against the Christian Crusaders in Palestine.
B: A reference to Abu Al Fadel, an Arab village that was depopulated (either evacuated voluntarily or forced out by Israelis, I do not know) during the 1948 Arab-Israel War. This could be a 2006-era Palestinian flag memorializing their loss of this village.
Bill Garrison, 15 Mar 2007
---
Unknown Shia Religious Flags
images by Eugene Ipavec, 04 May 2007

Unknown Lebanese Shia/Shiite religious flags, with unknown Arabic texts. (The last flag might be used in Iran, also.)
Bill Garrison, 29 Mar 2007
---