This page is part of © FOTW Flags Of The World website
Negeri Sembilan (Malaysia)
Negeri Sembilan Darul "Khusus", State of Negeri Sembilan "the Unique"
Last modified: 2023-06-03 by

zachary harden
Keywords: negeri sembilan |
Links: FOTW homepage | search | disclaimer and copyright | write us | mirrors

---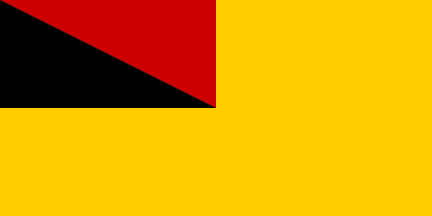 1:2

image by Zachary Harden, 4 September 2020
---
District and Municipal Flags
---
See also:
---
Presentation
The name Negeri Sembilan means nine countries (negeri = country; sembilan = nine). This name is long-believed to be derived from their traditional bound with the Minangkabau people in West Sumatra, Indonesia. As you know, the Minangkabau people (tribe) in West Sumatra is formed of nine sub-tribes or lineages, big family lines called puak. This is remembered by the Minangkabau people in their motto: "Satu ranah Minang sembilan puak"... meaning "One Minang (or Minangkabau) land (consists of) nine puak".
The Minangkabau are well known by other Indonesian tribes as the traveller people... they like to travel and settle in other part of the islands seeking for new life and prosperity... They are all good traders... or we can say they are born to trade. Indeed, Malay Peninsula is not very far from their homeland in Western Sumatra. Long time ago, some people migrated from Minangkabau homeland to the particular place in Malay Peninsula which later they named it Negeri Sembilan to commemorate their Nine-Puak heritage... beside that also to bring peace among themselves (which could be from different puak altogether).
Even today, the Malay language spoken by the people in Negeri Sembilan is slightly different (both pronounciation and vocabulary) to that of other Malay people in both Malaysia and Indonesia... Closely resembles the language of the Minangkabau (Minangkabau dialect of Malay is so distinguishable... anyone can easily guess that the person comes from Minang) if you cannot say it similar.
When the people of Minangkabau would like to re-build their heritage house shared by all of the puak [the "rumah gadang"... the big(gadang) house(rumah)] in 1980s, the whole puak were there... including the Sultan of the Negeri Sembilan... After all, the sultan of Negeri Sembilan is still a Minang with a Minangkabau heritage running in his blood and family... So, he was there as one of the representatives of Minang in foreign land.
[Not] surprisingly, the traditional colour of the Minangkabau is those three colours: black, red and yellow. These three colours of Minangkabau are still preserved in the Negeri Sembilan's flag.
Ary Prihardhyanto Keim, 3 December 1999
Ary Prihardhyanto mentioned the "sultan" — he is properly the Yang di-Pertuan Besar of Negeri Sembilan.
Andrew Yong, 3 December 1999
---
Sovereign Prince's Flag
Yang di-Pertuan Besar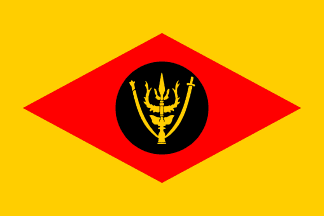 image by Zachary Harden, 4 September 2020
Negri Sembilan's leader is chosen from the nine sub-states (Negri Sembilan means state of nine) and is not known as a sultan, but as Yang di-Pertuan Besar.
Andrew Yong, 30 April 1999
According to Flaggenbuch 1939, the national flag of Negeri Sembilan was (and is still?) also used by the [Sovereign] Prince [German Fürst] i.e. the Yang di-Pertuan Besar as mentioned by Andrew Yong.
Ivan Sache, 14 January 2000
In a private message to me, the Instagram account "Veksilologi Malaysia" informed me the Yang di-Pertuan Besar has his own flag; it is a yellow flag charged with a red diamond. In the diamond, there is a black cricle with an golden emblem. This golden emblem is taken from the coat of arms of the state.
Zachary Harden, 2 September 2020
---
British Resident's Flag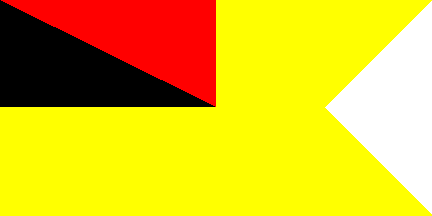 1:2 image by Ivan Sache
According to Flaggenbuch 1939, the flag of the British Resident was identical to the national flag but forked.
Ivan Sache, 14 January 2000
---
Other Flags
James [Dignan?] asked whether Sungei Ujong had a flag. Sungei Ujong plus 8 other mini-states make up present day Negri Sembilan (Negeri = States; Sembilan = nine). I have not ever in all the local (Singapore plus Malayan) history books that I have perused, seen any flag for Sungei Ujong. I have set myself the project to go on a hunt through the extensive archives of the National Library to check on State Ordnances that the British in colonial days were wont to produce for flag information. Another source would be micro-filmed newspapers of that era.
Thomas W. Koh, 14 August 1997
The Negri Sembilan are a pre-colonial confederation: they might have had flags, but probably not coats of arms. Sungei Ujong was a disputed state that was eventually forcibly resolved into the British Settlement of Malacca (it had probably once been part of Negri Sembilan but had been part of the Portuguese/Dutch colony of Malacca).
Andrew Yong, 27 August 1999
---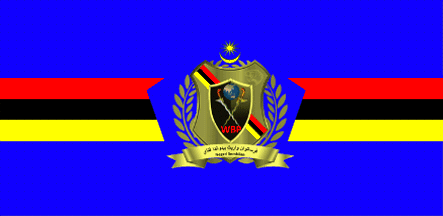 image located by Valentin Poposki, 26 November 2019
Some tribes in Malaysia are organized following the maternal line. Such is Wasir Biduanda Petai Tribe in the State of Negeri Sembilan with members mostly from the para-state of Johol.
Valentin Poposki, 26 November 2019