This page is part of © FOTW Flags Of The World website
Anloo (The Netherlands)
Aa en Hunze municipality, Drenthe province
Last modified: 2018-12-15 by rob raeside
Keywords: anloo |
Links: FOTW homepage | search | disclaimer and copyright | write us | mirrors

---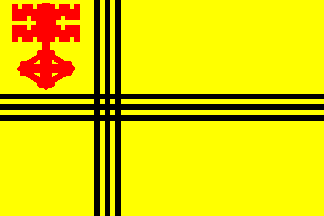 image by Shipmate Flagchart : http://www.flagchart.net
adoption date unknown See also:
---
Anloo former municipality
Flag of the former municipality of Anloo in Drenthe. It is since 1 Jan1998 part of the municipality of Aa en Hunze.
The flag (adopted ?) has been derived from the municipal Coat of Arms. The key refers to the 'spicarium' (warehouse) in Anloo, where tax 'in natura' was stored for the bishop of Utrecht. It was managed by the 'plebaan' of Anloo, who was deacon of Drenthe too. The cross accentuates the Christian/episcopal character of the municipality. Anloo was in olden days one of the three places where sessions of the 'Etstoel' (a judicial college, comparable to the Scandinavian 'thing') of Drenthe took place. 9 of the 54 'hunebeds' are found here.
Source: Kl. Sierksma, "De gemeentewapens van Nederland", 1962.
Jarig Bakker, 28 Jul 1999.
---
Anloo village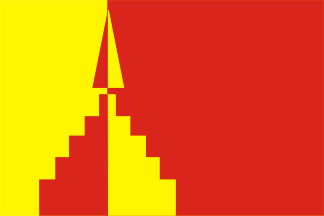 image by Jarig Bakker, 13 Aug 2007
adopted 7 Apr 2007; design: Albert Rademaker

The good Dutch province of Drenthe seems to be in the process of reflagging - anyway there was a flag for the Anloo former municipality.
It is since 1 Jan 1998 part of Aa en Hunze municipality, but it is not clear whether the old municipal flag was retained, e.g. as village flag.
Now here is a small image entitled "vlag" (flag), which I assunme is the new village flag: a yellow hoist and red fly; at separation of hoist and fly a church countercharged.
The colors actually used are marroon and dark-yellow, but I've changed that to the old municipal colors, as the "new" colors have nowhere been described. The cuurch is the old Magnus-Church, founded c. 900 A.D., rebuilt several times, last in 1895. In Mediaeval times the church played an important function as "etstoel" (civic judicial body).

Mr Bontekoe, who designed most old Drenthe municipal flags and arms, was known to scorne village flags "and that kind of nonsense" - I'm sure flags like this one, simple and pretty, render credit to him, whether he likes it or not (he died c. 20 years ago)...
Jarig Bakker, 13 Aug 2007
---
Annen village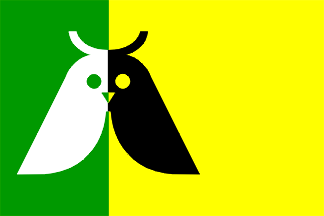 image by Jarig Bakker, 23 Nov 2004
adopted 2001; design: Albert Rademaker

Annen village (see also village website), municipality of Aa en Hunze, Drenthe province, formerly in Anloo municipality.

"In Spring 2001 I was asked by the committee for village-interests Annen (Commissie Dorpsbelangen Annen) to design a village-flag. Three designs were proposed, from which the local population chose this one during the Sports and Games week.

The colors green and yellow symbolize respectively the Hunzedowns (peat and cattlebreeding) and the "Hondsrug" hills (sand and agriculture), originally the main sources of income.

The origin of the owl is not clear. A regional rhyme mentions:
"Eexter Ossen (oxes), Anner Oelen (owls) en Gieter Heren (lords)
willen het gehele land regeren (want to reign the whole country."
It is generally assumed that "oelen" are owls, but it might be (night-) butterflies as well. Hence the owl-silhouette in the form of a stylized capital *A* might be interpreted as a butterfly.
The design was made after consultation of the Drenthe Archives."
Albert Rademaker (a graphic designer at a commercial firm in Annen; he co-operated with Redmer Alma of the Drents Archief / Drents Heraldisch College. The flag was designed and adopted in 2001)
Additional info by Rademaker: "White and black were used purely for design-purposes. The owl is split in two parts, so that it looks like two birds, confronting each other - that confrontation may have positive or negative black/white effects".

In "Groot Schimpnamenboek van Nederland", 1998, Dirk van der Heide writes:
"Anner Oelen" is a nickname for misfits, people who try and always fail. An "Oele" is also used for skinny persons, especially girls. Annenaars were also nicknamed "Mooshappers" (moss-eaters).
They are said to be responsible for digging too many ditches in the greenlands in the village of Eext:
"Anner Oelen haolt botter oet de koelen
Haolt brood oet Eexter sloot
Daor wordt d' Anner Oelen van groot."
(Anner Oelen get butter out of potholes - Get bread out of Eexter ditch - That's how Anner Oelen get rich.)

In Dutch an "uiltje" is indeed a butterfly, in English an owlmoth, a soft-haired butterfly with an owl-like head, hence the Dutch phrase: "Een uiltje knappen" (to catch an owlmoth = to take a little nap in daytime) - the "uiltje" is a night-animal, so this black-white contrast may simply be the day-nap vs. the night-animal.
The image furthermore looks like an old Greek helmet, as worne by the Greek goddess Pallas Athene. She was the Goddess of wisdom, and her symbol was the owl.
Jarig Bakker, 23 Nov 2004

Best flag I saw in years!
Hans van Heijningen, 23 Nov 2004

---
Annerveenschekanaal village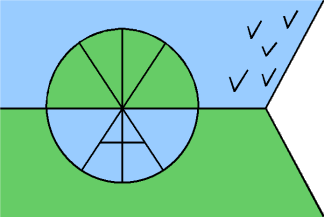 image by Shipmate Flagchart : http://www.flagchart.net
inaugurated 12 Mar 2005; design: Annefien van Eck

Gerard van der Vaart sent the villageflag of Annerveenschekanaal, in the municipality of Aa en Hunze, Drenthe province, on the Groninger border.
Description: swallowtailed blue over green; in the center a countercharged disk, charged with several black lines; in top fly
several "v"s.

Mr Gerrit Meijers, of the Society for Village Interests specified:
Green pms = 360/361 Blue pms= 2975.
Blue: tranquility
Green: rural
Birds: freedom
Central horizontal axis represents the Grevelingkanaal.
Top right to swallowtail-center represents the filled up Molenwijk; from bottom right to swallowtail-center the Kieldiep.
This converges in the Grevelingkanaal at the head of the Annerveenschekanaal.
The circle: the connections between the inhabitants, in the circle is written Avk (initials of the village).
The Grevelingkanaal cuts Avk in two.
Flag inaugurated 12 Mar 2005; design: Annefien van Eck.
Source: the village website.
Jarig Bakker, 29 Apr 2005.

---
Eext village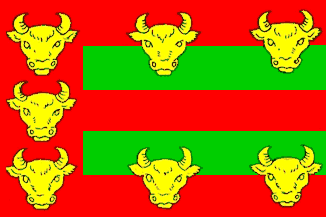 image by Gerard van der Vaart, 19 January 2002
Adopted 29 Jul 1999

The village of Eext is just outside the mighty metropole of Gieten, in the municipality of Aa en Hunze, Drenthe province, the Netherlands, and they expect to become rich by selling their "Ossevlag" - Oxen-flag, as can be seen on <http://www.eextinfo.nl/Vlag/main.htm>.
Description: five horizontal stripes RVRVR, with a red vertical stripe at the hoist, length = glaglentgh. Over all seven watching yellow ox-heads, 3 on the red hoist stripe, and the others on the red horizontal stripes, placed 2-1-2 (or something like that...)
Adopted 29 Jul 1999.
Jarig Bakker and Gerard van der Vaart, 19 January 2002

---
Gasteren village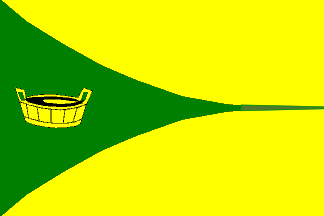 image by Jarig Bakker, 21 May 2004
adopted 1 Jan 1998; design: Drents Heraldisch College in Assen

Gasteren village, municipality of Aa en Hunze, Drenthe province.
Flag adopted 1 Jan 1998; design: Drents Heraldisch College in Assen.
Flagdescription: Yellow with a green bent hoist triangle reaching the fly, charged with a yellow butter-churn.
This flag was designed for the celebration of Wapse's 700 years of existence. Until 1 Jan 1998 Gasteren was part of the former municipality of Anloo, which on that date merged into the new municipality of Aa en Hunze. The main division of the Gasteren flag is based on the arms of Anloo and symbolizes the fact that Gasteren belonged to the Reformed parish (parochie), the bailiffship (schultambt), the Roman Catholic parish (kerspel) and the municipality of Anloo.
Yellow refers to the name "Gasteren" which is supposed to be derived from "geestgrond" - (heavy) sandy soil, which is the main soil found in this area. Yellow also symbolizes the Gasterse dunes, the former dairy-factory, and the nickname of the villagers: "botterkrammers", butter-pedlars.
Green refers to the agricultural character; the butter-churn refers to the villagers' nickname.
No coat of arms adopted (yet).
Source: Vexilla Nostra, #236, 2003
Jarig Bakker, 21 May 2004
---