This page is part of © FOTW Flags Of The World website
The Princevlag (The Netherlands)
Last modified: 2018-12-15 by rob raeside
Keywords: princevlag |
Links: FOTW homepage | search | disclaimer and copyright | write us | mirrors

---
image by Mark Sensen, 26 February 1998
See also:
---
The orange-white-blue "Princevlag"
Oranje-blanje-bleu "Prinsevlag"
In 1572 the orange-white-blue flag was first mentioned when the town of Den Briel was liberated. The red-white-blue flag was first mentioned in 1596. Around 1630 more flags with a red stripe were used, and after 1660 the version with the orange stripe became very rare. It's still unknown why the orange stripe was changed to red, but there are two main theories:
a new method of producing orange paint resulted in a darker shade, almost red.
the House of Orange became less popular.
The colours were however never laid down officially, so in the 1930s the question of red versus orange was raised again, especially by the national socialist NSB party, who used the orange version. On 19 February 1937 Queen Wilhelmina decided by Order in council that: "The colours of the flag of the Kingdom of the Netherlands are red, white and blue." In 1958 the colours were defined more precisely as bright vermilion and cobalt blue.
Mark Sensen, 26 February 1998

The prinsvlag formed the basis of the South African flag in use until 1994.
Paul Adams, 21 February 1998

---
An 11-striped "Princevlag"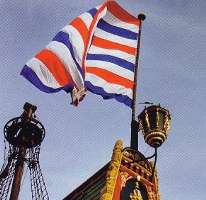 image sent by Brian Wilder, 9 Jun 2002

Can you please precisely identify this Dutch flag for me? There is also a more colourful version flown by the Dutch ship Batavia (replica of the 17th century 'retourship') when she visited Sydney for the Olympic Games in 2000.Was this the flag of the VOC (Dutch East India Company)?
Brian Wilder, 9 Jun 2002

This is a so-called "triple Princeflag". "Princeflag" is the early name for the Dutch tricolour (either orange-white-blue or red-white-blue). It was not uncommon to have the stripes twice (double Princeflag) or even three times (triple Princeflag). And sometimes an extra white stripe was added blue and red.
---
6 Stripes

image by Mark Sensen, 10 Jun 2002

The Double Princevlag.
Mark Sensen, 10 Jun 2002
---
7 Stripes

image by Mark Sensen, 10 Jun 2002

The Double Princevlag with one white stripe added.
Mark Sensen, 10 Jun 2002
---
9 Stripes

image by Mark Sensen, 10 Jun 2002

The Triple Princevlag.
Mark Sensen, 10 Jun 2002
---
9 Stripes (variant)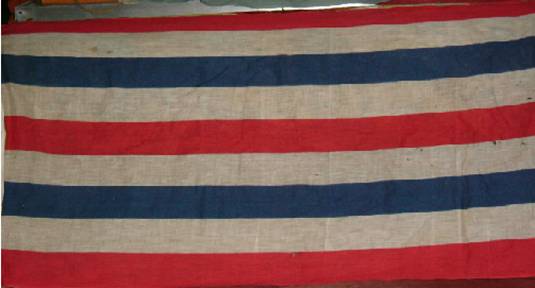 image sent by Andries Burgers, 15 Dec 2004

My friend is an inveterate collector of anything under the sun, including flags. Recently he attended the sale of a deceased estate (a former Army officer) in Cape
Town and bought a few flags, among them the strange (for us) nine bar red-white-blue-white-red-white-blue-white-red flag which I attach hereto. The heirs could
not say how or where their ancestor got it from nor what it represents. I saw a painting of the Drommedaris, one of the three ships with which Jan van Riebeeck
arrived at the Cape in 1652, where she was wearing a double Dutch tricolour at the mizzen top, but that of course had only six bars red-white-blue-red-white-blue.
The painting is however not contemporary - in fact it is very recent from a still living artist. He has the flag of Amsterdam at the fore and the VOC flag at the ensign
staff correct. From this I assume he did his research properly. Might this mystery flag be a variant?
Andries Burgers, 15 Dec 2004

As Andries mentions, in the 17th century there was frequent use of a double-tricolour version of the Dutch flag. In a picture of the Dutch East India Company Return Fleet in Batavia, triple tricolours are worn by some of the vessels. In addition there were double tricolours separated by white stripes, sometimes of the same width as the others, sometimes a good deal wider. This appears to be a flag of similar type. In the same way, the Dutch jack of triangles was seen in many variants. It appears that as long as the three colours were shown and there was a clear impression of the design, no one bothered much about specific numbers of stripes or
arrangement of triangles.
Michael Faul, 26 Jun 2006

---
11 Stripes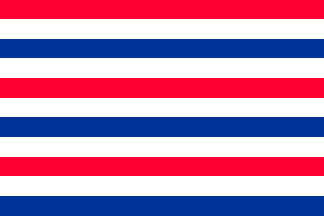 image by Mark Sensen, 10 Jun 2002

The Truple Princevlag with two white stripes added.
Mark Sensen, 10 Jun 2002
---