This page is part of © FOTW Flags Of The World website
Beach and Marina Flags (New Zealand)
Last modified: 2015-08-08 by ian macdonald
Keywords: beach | swimming | surf | no swimming | bicolour: red-yellow | bp surf rescue | diagonal: blue |
Links: FOTW homepage | search | disclaimer and copyright | write us | mirrors

---
See also:
Other sites:
---
Flags on patrolled beaches
Swimming area boundary flag


image by António Martins, 17 May 2007
Red over yellow flags are used on patrolled beaches in New Zealand and other countries such as Australia and Hong Kong. In New Zealand, the usual situation is that when lifeguards are in attendance the beachside building they use as their office/HQ flies the flag of that particular club (usually a logo, and often sponsored). Two red and yellow flags will be placed on temporary poles hammered into the sand of the beach at either end of the patrolled area, and the public are advised to "Swim between the flags".
James Dignan, 22 May 2005
Considering the other flags of this group shown in the Surf Life Saving PDF found by Jan, I'd say the ratio is 4:5 (the images in the pdf are exactly 76:93, which is even "squarer" than 4:5).
António Martins, 3 July 2007
Certainly the flags I've seen are longer than square, and a rudimentary measure of them last summer suggested 3:4, but I didn't have a ruler with me on the beach. 4:5 is equally likely (as I suggested in my last message).
James Dignan, 3 July 2007
António Martins wonders whether there are flags for New Zealand similar to the board riding, no swimming and shark alarm flags in Australia.
I don't know of any of the above - the local surf club has a shark bell which is used to get people out of the water when there are sharks around, but I don't know of any flags.
James Dignan, 17 May 2007
Danger flag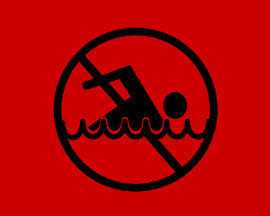 image by António Martins, 3 July 2007
This Surf Life Saving NZ PDF document includes another flag: The "danger flag" is, like in Australia, dark red, but with the «International "No Swimming" Logo» in black centered on it. Again, ratio is about 4:5.
António Martins, 3 July 2007
I first saw [this flag] a couple of days ago. Hoisted on the same staff as the red & yellow patrolled beach flag was a slightly smaller flag (below the red & yellow flag), probably about 3:5.
James Dignan, 18 December 2007
---
Flags for signalling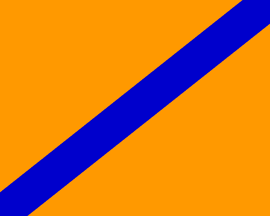 image by António Martins, 2 July 2007
Seen at the bottom of this Surf Live Saving NZ page (PDF), a "Signal flag / Used for communicating with other Surf Lifeguards through the SLSNZ signals system. Now largely replaced by rescue tubes". Shown is a square orange flag with a blue ascending diagonal.
This page from Bondi Surf Club in Australia shows some examples of messages relayed by this flag, including "attract attention" (two photos), "go to left" (one photo) and "investigate submerged object" (two photos). More examples are shown on these Danish pages (in Danish): first "animated" pictures, second a parade of similar photos.
Jan Mertens, 3 March 2007
The flag seems 4:5, rather than square, like the yellow/red safe swimming flags.
António Martins and James Dignan, 2-3 July 2007
---
BP Surf Rescue flag
From where I sit at the computer, I can see the flagpole of one of the South Island's top surf clubs. The flag most often seen from that flagpole is in the green of NZ surf lifesaving's chief sponsor (BP) with a thin orange vertical stripe at the fly, and the words "BP SURF RESCUE" and the BP logo in gold. An image of that flag is shown on the club's website.
James Dignan, 3 March 2007
---
Surf Life Saving NZ logo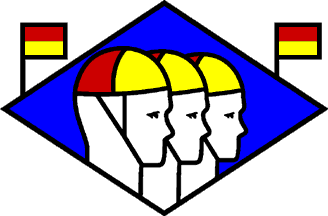 image by António Martins, 3 July 2007
The red over yellow flag, in spite of its primary semaphoric meaning, seems to be used also as an informal emblem of seaside life saving activities (not unlike the diver down flag), instead of the BP flag or any other. The logo of Surf Life Saving NZ includes the red over yellow flag.
António Martins, 3 July 2007
---
Here is an unusual use of a red flag to mean 'there is no danger':

Notice to Mariners – Hokianga River.
Master of Vessels and others navigating the Hokianga River are hereby informed that on and after 1st day of March proximo, the following will be the code of signals for taking Hokianga Bar and entering the river:-

1. Signals.—From the signal-staff on the South Head, the following signals will be made--
No 1. Blue peter—Keep to sea; bar is not fit to take.
No 2. Red flag—Take the bar; there is no danger.
No 3. Blue with white cross—Ebb tide; bar not fit.
No 4. White—First quarter flood.
When these flags are understood, they should be answered from the ship by a pendant or flag, where best seen. The pilot will be at the entrance of the Heads in his boat, but seldom outside the bar.

2. If a vessel is too far to the north for entering, a white square will be hoisted on the south yard-arm; and if too far to the south, it will be hoisted on the north yard-arm. Vessels to be particularly guided by the hoisting of the white square at the yard-arms, and that direction. No vessel shall take the bar until the flagstaff bears E 3/4 N. Superintendent's Office, Auckland, 26th January, 1863. [Victoria Government Gazette, 24th February 1863.]

David Prothero, 10 July 2015
---
Clean Marina Flag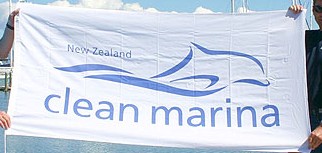 image located by Jan Mertens, 5 April 2011
Source: http://www.sunlive.co.nz/news/11734-bridge-marina-clean-marina.html
As do the US, Canada, and Australia, New Zealand has a clean marina programme as well. It is presented here, alongside an acknowledgement of Florida's pioneer role: http://www.cleanmarinas.org.nz/about.html

"The Clean Marina initiative is a voluntary programme promoted by NZMOA that encourages marina operators and recreational boaters to protect coastal water quality by engaging in environmentally sound business and operational practices."
(NZMOA is the New Zealand Marina Operators Association.)

Happily one of the fringe benefits is "a New Zealand Clean Marina flag… to fly at your facility to show your commitment to maintaining environmental standards".

Above page shows the logo, white on blue: a dolphin swimming to the right, emerging from two stylized waves, and accompanied by white name "New Zealand's" (top left) and "clean marina" (much larger, lower right). More official is this description of the present logo, introduced in 2008: http://www.cleanmarinas.org.nz/cleanmarinanews.html

"The new logo incorporating a dolphin jumping out of a boat's wake makes a clear statement of the intent of the programme. Everyone can identify with a dolphin and the requirements for a clean natural environment."

Surely the flag's dimensions recall those of the national flag i.e. 1:2?

Jan Mertens, 5 April 2011