This page is part of © FOTW Flags Of The World website
People's Party (Portugal)
Partido Popular, CDS-PP, CDS - Partido Popular
Last modified: 2014-12-12 by klaus-michael schneider
Keywords: people's party | pp | cds-pp | cds | partido popular | centro democrático social | arrow (yellow) | arrow (black) | disc (yellow) | disc (black) | arrows: 2 |
Links: FOTW homepage | search | disclaimer and copyright | write us | mirrors

---
| | | | | | |
| --- | --- | --- | --- | --- | --- |
| image by Jorge Candeias, 4 Sep 1997 | image by António Martins-Tuválkin, 18 Jan 2007 | image by Jorge Candeias and Klaus-Michael Schneider, 13 Mar 2012 |   |   |   |
---
See also:
---
History of the party
The People's Party (PP - Partido Popular) is a populist-conservative party that appeared in 1974 as Democratic and Social Center (CDS - Centro Democrático Social) with an ideology somewhat undefined (they said they represented the centre, but their voters were right-wing). Always elected members of parliament, in the first years alone and later in coalition with PPD, but before that participated in a governent in coalition with PS. The coalition PPD-CDS-PPM, called Democratic Alliance (AD - Aliança Democrática) won a few elections, and ruled the country for some years. After the breakdown of the AD coalition, the party started to make some changes. Changed the colours, changed its name, first to CDS-PP and then to PP and assumed itself as a right-wing party.
Jorge Candeias, 4 Sep 1997
---
Current flag
I saw yet another version of the flag of PP. The flag was peaking behind the party's leader, Manuel Monteiro, in a black and white recent newspaper picture. It is just like the image I sent some days ago, except that it has in (presumably) yellow lettering the folowing in the upper hoist:
"CDS" in the upper row;
"Partido Popular" underlined in the lower row.
This seems to be the most official version of the party flag now.
Jorge Candeias, 30 Sep 1997

It seems that the currently most used version of the current flag of this party has the name and sigla (full "CDS-PP") indeed on the upper hoist, but the former below the latter and both centred to a common vertical axis. The central disc seems to be larger, too, but I postpone further reGIFfing till we have exact specifications (see above central image).
António Martins-Tuválkin, 18 Jan 2007

In this variant the central disc is bigger and the yellow inscription in the upper hoist quarter is different: "Partido Popular"(1st line) "CDS-PP"(2nd line, smaller)(see above right image).
Source: I spotted this flag hoisted at branch located in Funchal, Rua Da Carreira on 22 February 2012
Klaus-Michael Schneider, 13 Mar 2012

Back in those hot revolutionary days of 1974-75 the only party that didn't have the aim «build a socialist society» in it's program was the then CDS. Everybody else claimed to wish the real socialism and each had their own ideas of what the real socialism looked like. Naturally in those days, red flags where seen everywhere. The only guys who didn't use some variation of red where the "centrists" of CDS with black and white (now with yellow and blue) and the monarchics, that used the traditional blue and white colours of pre-republican Portugal.
Jorge Candeias, 17 May 1999
---
CDS flag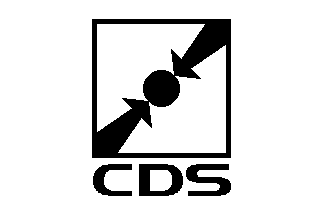 image by Jorge Candeias

The CDS had a logo-on-a-bedsheet-type flag. The logo was a white square bordered in black with a black filled circle in the center and two black arrows pointing to the circle, one coming from the lower left corner and the other from the opposite corner. The flag was white with the logo in black at the centre and "CDS" underneath the logo.
Jorge Candeias, 04 Sep 1997
---
Flags after the changes
When the party changed its name, it also changed the colours of the flag to blue field with yellow drawings. I don't know exactly what's their flag nowdays:
Jorge Candeias, 04 Sep 1997
Stretched logo w/o inscription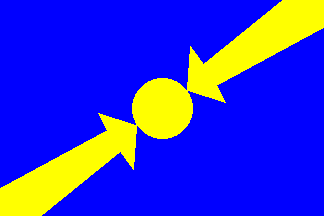 image by Jorge Candeias

I've seen the logo streched to fill a rectangular flag,…
Jorge Candeias, 04 Sep 1997
Logo and name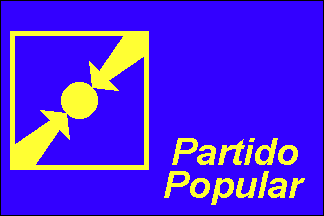 image by Jorge Candeias

… I've seen a flag with a logo near the hoist and "Partido Popular" in two rows at the fly,…
Jorge Candeias, 04 Sep 1997
Logo and acronym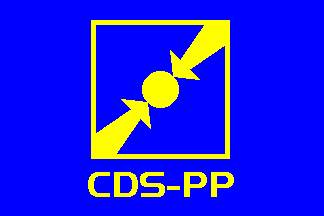 image by Jorge Candeias

… and I've seen the original design with "CDS-PP" underneath the logo (although they now changed their name just to "Partido Popular", the initials of the party are still CDS-PP, don't ask me why…).
Jorge Candeias, 04 Sep 1997
Celestial variant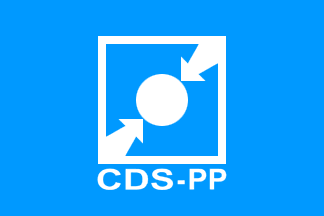 image by Klaus-Michael Schneider, 4 Dec 2014

Light celestial blue variant with white logo and caption spotted in 2013
Source: own photo shot on 9 Oct 2013 somewhere in the Alfama
Klaus-Michael Schneider, 4 Dec 2014
---