This page is part of © FOTW Flags Of The World website
Derogatory Nazi flag variations
Last modified: 2015-01-11 by randy young
Keywords: nazi | derogatory | nato | palestine |
Links: FOTW homepage | search | disclaimer and copyright | write us | mirrors

---
See also:
---
These are usually protest flags loosely based on Nazi and/or related flags, adding to its typical design or symbols the design or symbols of the flag or emblem of some other entity, usually to convey the accusation that the said entity is somehow comparable to Nazi regimes. Usually found in political cartoons, protest rallies, etc. It may be humorous.
António Martins, 1 February 2003

This is an interesting usage of the Nazi symbol, a usage of which there are two main types:

1. Following the (abusive) identification of the word "Nazi" or (more frequently) "fascist" as a general purpose synonym of "dictatorial" or "repressive" (or even as a simple insult), the German flag of 1933-1945 is widely used for mockery and protest against percieved oppressors.
2. The epithet "Nazi" (and thus the respective symbol) is often used to attack anyone opposing the interests of Israel or of Jewish people in general, based on well-known historical facts. This approach is not as often reflected on flags as #1 above (but see example).
In practice, this goes in two vexillographic directions:

a. Red field with white disc bearing the arms, logo etc of the targeted entity: I have seen a couple of these, including hammer and sickle, megan David, crescent and star, NATO logo, Microsoft logo, European Union stars, dollar sign and Euro sign.
b. Swastika(s) replacing any central item(s) of an existing flag, or overall defacing it: I can remember seeing US flags with stars replaced this way, Israel flags with blue swastika in lieu of megan David, defaced Spanish and Basque flags (used respectively by pro- and anti-ETA protesters), also Russian, Indonesian, Chinese, Palestinian etc.
It should be noted that both these vexillographic stratagies were (and are) also (though lesser) used to express allegiance to (Neo-)Nazism: Flags patterned after the german flag of 1933-1945, with different symbols or colors, or with swastikas added or replacing something on pre-existing flags, were and are quite a few.
António Martins, 11 October 2000

---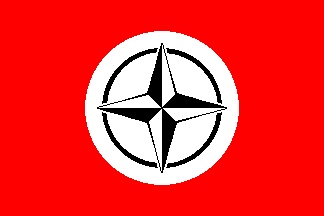 image by Željko Heimer and António Martins, 11 July 1999

The well-known cartoon flag showing the NATO symbol in black on a white disc on a red flag. This one have been frequent in the newspapers I've seen here in Russia.
António Martins, 11 July 1999

---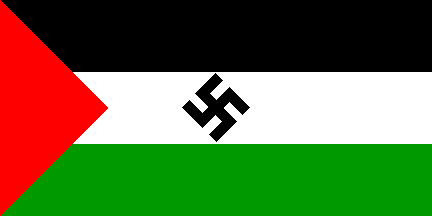 image by Theodore Leverett, 10 October 2000

In demonstrations at Duke University (US), I saw a Palestinian flag defaced with a black swastika on the white stripe waved by pro-Israel demonstrators.
Theodore Leverett, 10 October 2000

It was clearly the intention of the refered Palestinian flag with swastika waved by pro-Israel demonstrators, to identify any percieved enemy of Israel or of Jewish people with Nazis. And if anti-Israel demonstrators react waving back any of the two Nazi versions of the Israeli flag described above, the unaware outsider will see the same symbol used by both sides to attack the other: "You're Nazi because you want to exterminate Jews — here's how your flag should look like" and "You're Nazi because you sent army and police against unarmed civilians — here's how your flag should look like."
António Martins, 11 October 2000

---