This page is part of © FOTW Flags Of The World website
Ongudayskiy Rayon, Altai (Russia)
Last modified: 2020-07-11 by valentin poposki
Keywords: ongudayskiy |
Links: FOTW homepage | search | disclaimer and copyright | write us | mirrors

---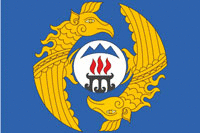 image by Valentin Poposki, 11 July 2020
See also:
---
Current flag
Description of the flag: A rectangular cloth of blue color with a ratio of width to length 2: 3, reproducing the composition of the coat of arms of the municipality in blue, yellow, white, red and black colors . The flip side of the flag is a mirror image of its front side. Adopted on 24.12.2019.
---
Current coat of arms
Description of the coat of arms: In the azure field there are two converged golden mythical griffin-like birds of Kan-Kereda (with an eagle-like head and a dragon-like neck), wings folded along the body, the bird toppled to the left and holding together a silver bezant encumbered with a black hearth ( on a tripod, with three scarlet tongues of flame) and above which - a azure triceps, with a concave bottom from the bottom, a pointed mountain with a middle peak above the rest. The composition of the coat of arms symbolizes the historical, natural and geographical features of the Ongudai region. It is based on the composition of the coat of arms, approved by the decision of the district council on June 21, 2001, and sponsored by B. Kindikov and A. Epishkin. The historical traditions and motives of the area are reflected in the image of the head of the mythological griffin-like bird Kan-Kereda, guarding peace, peace, and wealth of the homeland of the earth, homeland. The composition was based on a stylized image of mythical animals from Tuektinsky mounds of the Scythian era of the 6th – 5th centuries. BC. For many centuries, griffins have had a divine, holy significance for the peoples living in Altai. The griffins guarding the hearth are a symbol of well-being and peaceful life of the peoples of Altai. The three-headed peak of Mount Belukha ("Uch Sumer") symbolizes spirituality, eternity and continuity of generations. Three peaks also symbolize the richness of the spiritual culture of the inhabitants of the area. The hearth is a symbol of a small homeland, fortress and eternity of the home. The colors used in the coat of arms in heraldry denote: - White color (silver) - a symbol of perfection, nobility and faith. - Yellow color (gold) symbolizes wealth, justice, stability, respect, generosity. - Blue, blue (azure) symbolizes exalted aspirations, sincerity and virtue; it is also the color of water bodies (rivers) and clear skies. - Red color (scarlet) is a symbol of labor, courage, life-affirming power, beauty and celebration. - Black color (black) - in heraldry it is a symbol of prudence, wisdom, modesty, honesty and eternity of being. Adopted on 24.12.2019.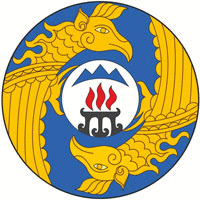 image by Valentin Poposki, 11 July 2019
---
Former flags
Former flags were horizontal tricolors grey-blue-white-ocker with emblem in the center of the white stripe. One is from 2001, and the other from 2003.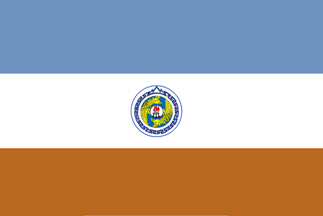 image by Valentin Poposki, 11 July 2020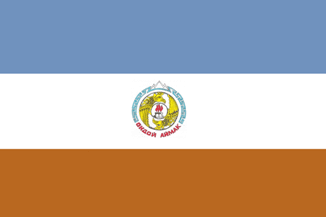 image by Valentin Poposki, 11 July 2020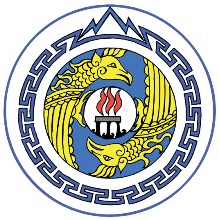 image by Valentin Poposki, 31 December 2019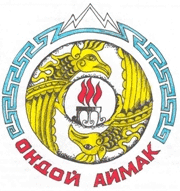 image by Valentin Poposki, 31 December 2019
---
Rural Settlements
The rayon has 10 Rural Settlements: Elinskoe, Ininskoe, Karakol'skoe, Kuladinskoe, Kupchegenskoe, Nizhne-Taldinskoe, Ongudayskoe, Ten'ginskoe, Khabarovskoe, and Shashikmanskoe rural settlement. Nizhne-Taldinskoe has a flag adopted 08.07.2013, and Ongudayskoe has an emblem.
Valentin Poposki, 31 December 2019
---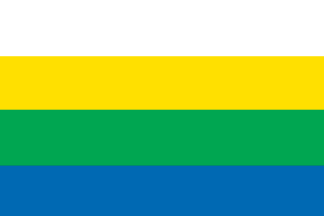 image located by Tomislav Šipek, 7 January 2020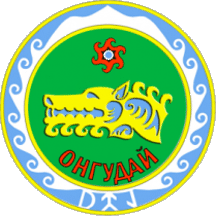 image located by Valentin Poposki, 31 December 2019