This page is part of © FOTW Flags Of The World website
The "purple" flag of Chuvashia
Last modified: 2021-08-26 by valentin poposki
Keywords: purple | error |
Links: FOTW homepage | search | disclaimer and copyright | write us | mirrors

---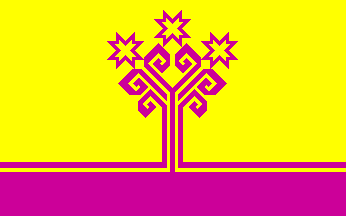 image by António Martins, 01 Dec 1998
---
See also:Other sites:
---
The "purple" flag
The Chuvashian flag is often depicted yellow with violet or brown stripes and ornaments.
António Martins, 21 Nov 1996

Znamierowski last year at the ICV at Stockholm, he plainly objected the FOTW interpretation [that the flag is, and is intended to be, dark red] and sticked to the correctness of the "violet" flag…
Marcus Schmöger, 28 Aug 2004

In the web of the President of Chuvaquia, in www.cap.ru I see the flag of Chuvaquia, and it is clearly red and yellow, not purple.
Jordi Pérez, 21 Oct 1997

I had the chance of visit Chuvashia in 1996 and I can confirm that those are the coulors used, and not brown, marroon, buff or violet, as often stated. In all Cheboksary public buildings and souvenir stores all one can see is red stripes and "Tree of Life" and 3 8-pointed stars in red, pure, normal, average "R"-red, on a yellow background. "Normal" locals — i.e., non-vexillologists, hadn't ever heard about any other color.
António Martins, 21 Nov 1996

I was in Chuvashia for the first time (first of many) in early 1996 and later even lived there for one year and a half (1998.12.26-2000.07.26). So, I know quite well how the flag of Chuvashia looks like. Discussing the etimology of Russian "пурпурний" and the true depiction of heraldic "purpure" is surely interesting. (F.i., Chuvash local coats of arms have a small canton with the flag design on it and it is hatched in Pectra Sancta for purpure, ▨ — see Marinskiĭ Posad for one; its canton do not shows on the flag, by the way.) But the Chuvash flag is red and that's that.
It is hard to believe that between 1992, when the Chuvash flag was adopted, and 1996, when I saw it for the first time in loco, red as an apple in the snowy landscape, nobody else in the international vexillological scene had even noticed the mistake. (I recieved a small handwaver from a Chuvash friend in 1994 or something and after checking flag books I humbly though that it was mismanufactored…)
António Martins, 28 Aug 2004
---
Official law and unofficial translation
Article 2 of these Regulations gives the description of the state flag as follows: «2. The National flag of the Chuvash Republic is a rectangular panel with the ratio of sides 5:8, divided horizontally with yellow above and purple below.»
Jos Poels, 21 Nov 1996
If every non-Russian vexillologist depicts the Chuvashian flag as purple, if even the Chuvash flag law state it is "purple", how come all the flags in Chuvashia are red?…
The official law was published by the republic grovernment in a nice trilingual color booklet in chuvash, russian and english [pvu95]: The National Emblem of the Chuvash Republic. The title mistake ("emblem" instead of "symbols") should warn us about the translation quality of this book, but…
Anyway, the (unofficial?) introductory text (page 4) reads:
(CVS paragraph 3, line 2)

«… тӗксӗм хӗрлӗ тӗсле …»
«… tĕksĕm qĕrlĕ tĕsle… »

(RUS paragraph 2, line 9)

«… Пурпурный (темно-красный) …»
«… Purpurnyĭ (temno-krasnyĭ)… »

(ENG paragraph 2, line 6)

«The purple (dark red) colour …»
And, on page 19, a quote from the official bilingual (chuvash and russian) text (approved 1992.04.29) along with an english version states:
(CVS paragraph 3, line 2)

«… тӗксӗм хӗрлӗ (пурпур тӗсле)…»
«… tĕksĕm qĕrlĕ (purpur tĕsle)… »

(RUS paragraph 2, line 9)

«… пурпуровое …»
«… purpurovoe… »

(ENG paragraph 2, line 6)

«… purple …»
So, there's a clear confusion here. The usual meaning of the word "purple" in english is not at all "dark red"! Of course the whole thing is highly subjective, as often refered, but "purple" (along with "fuchsia", "magenta", "violet", "pink", "lilac", "bordeaux", and God knows…) is a color "between" red and blue — never a shade of red, no matter how dark…
The booklet includes all annexes of the law, including a colour plate (page 3) of which is said that flags «must always be identical in colour and design to the patterns appended to this Statute.» (In fact, the colour used in the booklet is not the "swiss army knife red" I found at use, but a lighter shade, maybe "grenat". This could be a typographical error — not the only one in this booklet…)
António Martins, 6 Sep 1997
---
What is "purple" in Russian?
Then I decided to make an experiment. I grabed a handful of objects clearly red and other of purple ones, and then asked Russians and Chuvashs «What is this color?»…
The red ones, ranging from a Marlboro cigarrette pack to a Swiss Army knife, were imediately classified as "krasnyĭ". After some insistence, the swiss army knife could be called "temno-krasnyĭ". And then I'd ask: «Could it be "purpurnyĭ"?» and most would hesitate and concede a yes.
The purple ones, after some hesitation, were said to be "fioletovyĭ" or "malinovyĭ". Most people would confess that the differences between those words are not very definite, only maybe in the head of graphical artists. And then I'd ask: «But could any of these [the purple ones] be "purpurnyĭ"?» And every interviewed person, even already color confused, would imediately say: «No, not at all! Definitely not "purpurnyĭ"!».
The final question was «Apart from yellow, what's the colour of your flag?». Not a single person replyed spontaneasly with "purpurnyĭ"! Everybody would say "krasnyĭ", rarely "temno-krasnyĭ" (or theyr chuvash equivalents), and when I asked «Is it "purpurnyĭ"?» they would hesitatingly reply «Yes, but… that's not an often word…», and even one chuvash speaker was surprised to learn that the very word "purpur" exists in chuvash…
Careful direct observation of a large number of flags hoisted in public places and goverment buildings metal plates in Ĉeboksary | Чебоксары / Ŝupaŝkar | Шупашкар, Novoĉeboksarsk | Новочебоксарск, Alatyr | Алатыр and Kanaŝ | Канаш shown that the color used matches almost precisely with the shade of (dark) red in the handle of a so called Swiss Army knife (original Victorinox brand).
António Martins, 6 Sep 1997
---
Conclusions
The chuvash word "purpur" and the russian word "purpurnyĭ", both used in the official discription of the flag, do not mean "purple", in its usual english meaning. Correct translation of "purple" to russian would be "fioletovyĭ". The unofficial english translation of the text is therefore wrongly translated.
António Martins, 06 Sep 1997
---