This page is part of © FOTW Flags Of The World website
Three crowns of Sweden
Last modified: 2021-08-25 by

christopher oehler
Keywords: sweden | crowns: 3 (yellow) |
Links: FOTW homepage | search | disclaimer and copyright | write us | mirrors

---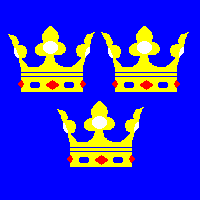 by Jan Oskar Engene
---
See also:
---
History of the charge
Three golden crowns on a blue field is the small coat of arms of Sweden. Both the crowns, and the fact that there are three of them, have led to much speculation and some quite fanciful interpretations of the significance of the arms.
Scheffer [sch53, pp 236-244], mentions three such myths (or hypotheses), all of them attempting to explain why there are three crowns in the arms.
The crowns represent the three crowned gods of the Uppsala, the seat of a holy place, before the introduction of Christianity.
The crowns represent the three areas of Uppland (the area around Uppsala) that had the right to participate in the election of the king.
The three crowns represent the Three Wise Men (or Holy Kings).
A hypothesis that the three crowns were the arms of Sweden's patron saint King Erik (died 1160) has also been presented. King Erik is sometimes depicted together with the three crowns. However, there is nothing to suggest that he used the arms [sch53, pp 236-244].
The arms with three crowns were first used in a seal of a Swedish king in 1364, when Albrecht became king of Sweden (he was originally Duke of Mecklenburg). In a short time it became the arms of Sweden, rather than the arms of the dynasty in power. However, there is evidence that the arms are older. It has been suggested that the crowns are just a symbol of the king's power, and that the number three is without significance. One, two or three crowns had been used on coins of Swedish coins before Albrecht's time. King Albrecht also used a seal with only one crown [sch53, pp 236-244]. The actual arms with three crowns are also found in a fresco in Avignon, commemorating a 1336 meeting of cardinals [nev92, p 15]. In 1336, Magnus Eriksson (1316-1374) was king of Sweden. He had inherited the crown of Norway from his grandfather Haakon V of Norway, and got the Swedish crown because his father was the brother of the king of Sweden. In the 1330s king Magnus bought Scania from Denmark, and subsequently used the title King of Sweden, Norway and Scania. It is therefore possible that the three crowns were intended to represent King Magnus' three kingdoms. This interpretation also fitted well into the union policies of later times (Denmark then replacing Scania). Even today we can find three crowns in the coat of arms of Denmark, now officially said to commemorate the Scandinavian unions (rather than territorial claims).
There are some references to the three crowns as the Swedish 'national banner' (Swedish: riksbanér). In the chronicle Ernst von Kirchberg started writing in 1378, the Reimchronik, King Albrecht is depicted with a pennant like banner that is dark blue and charged with three golden crowns [nev93, pp 44-45]. However, as far as I can see, this did not become established as the flag of Sweden. Rather, a blue and yellow flag, gradually came to represent both the king and country. This was at first striped alternating blue and yellow, later it became a cross flag patterned after the Danish flag. This cross flag Sweden became the sign of the Swedish state under the reign of Gustavus Adolphus (1594-1632) [abe74, pp 13-23].
Jan Oskar Engene, 13 June 1996
---
In the Danish COA, the three crowns are in commemoration of the Kalmar Union between the three kingdoms Sweden, Norway and Denmark. That's the official story, of course.
Ole Andersen, 03 February 1998
---
According to Erling Svane: "Det danske Rigsvåben og Kongevåben", the three crowns were adopted by Albrecht of Mecklenburg in 1364, instead of the Folkunga Lion, which is known from Birger Magnusson's seal in 1238 and 1254. Magnus Ladulås used the crowned Folkunga Lion in 1275.
Ole Andersen, 12 May 1999
---
Svane's argument that the three crowns were adopted by Albrecht of Mecklenburg - the long dominant view - has been killed, because the arms of Sweden was discovered in an Avignon palace fresco dated to 1336. This means that the three crowns, placed two over one, were probably introduced by King Magnus Eriksson (1316-1374), who styled himself King of Sweden, Norway and Scania. Hence three crowns.
Jan Oskar Engene, 21 May 1999
---
Present use of the three crowns on flags
Today the [Command Sign of the King], a special flag for use as a command flag by other members of the royal family than the king, consists of three yellow crowns on blue [nor86, pp 434-449]. The king himself has a personal banner consisting of the greater coat of arms of Sweden. This is also a command flag. The Royal Standard on the other hand is the three-tongued flag with the large coat of arms on a white field in the intersection of the arms of the cross. Both these flags were adopted in 1943. Currently, the Swedish rank and command flag system is under review (Militære kommando- og rangflagg i Norden IV: Sverige[mun96, pp 12-16]).
Jan Oskar Engene, 13 June 1996
---