This page is part of © FOTW Flags Of The World website
House flags of Swedish Shipping Companies (18)
Last modified: 2021-08-25 by

christopher oehler
Keywords: house flag | shipping: sweden |
Links: FOTW homepage | search | disclaimer and copyright | write us | mirrors

---
See also:
---
Swedish East Asia Co.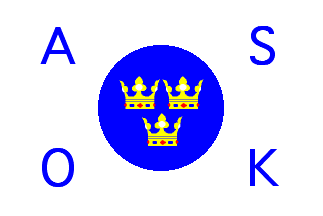 by James Dignan and Jan Oskar Engene

Aktiebolaget Svenska Ostasiatiska Kompaniet Houseflag: White, with 3 Gold Crowns on Blue Disc and ASOK in Blue.
Jarig Bakker, 18 October 2004
---
Swedish Gulf Line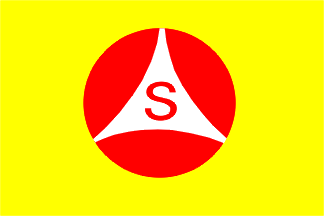 image by Jarig Bakker, 16 August 2005
Source: http://kommandobryggan.se/last/last.htm
Ship MS David Salman - yellow flag, red disk with wavy white triangle charged with red.
Jarig Bakker, 16 August 2005
---

image contributed by Neale Rosanoski, 22 September 2006
The early vessels were named after members of the Salman family [presumably the owners] such as the "David Salman" which is behind the kommandobryggan website. However the livery shown is not that worn by the vessel photo on the site. Rather it would seem that originally the flag was white with a squarish blue "S" [see above] which is shown by a Collectors Corner website cap badge as well as a second badge confirming the later flag. The company appears to have possibly been taken over by Kihlberg-Rederierna A/B around the mid 1970s or perhaps the original company folded [more likely as the "David Salman", which was their last vessel using this naming system, is given as sold 1975] and the name was applied by Kihlberg to a new company as the address is different. They stopped being shown as shipowners by Lloyds in the early 1980s becoming instead agents under the title of Swedish Gulf Line Shipping A/B but mention ceased in the early 1990s. The yellow flag shown by Jarig dates from at least 1976 when it is mentioned [by association of the colours, not a full description unfortunately] in an article in Sea Breezes.
Neale Rosanoski, 22 September 2006
---
Södra Skogsägarna
Southern Forest Owners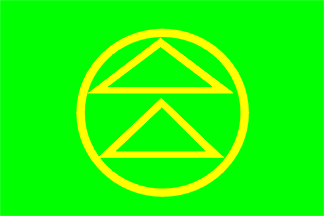 image by Jarig Bakker, 7 February 2006
Source: Brown's Flags and Funnels of Shipping Companies of the World [4]
Axjö - green flag, yellow circle, containing two superimposed yellow outlined triangles.
Jarig Bakker, 4 February 2006
---

image contributed by Neale Rosanoski, 22 September 2006
This company relates to a group of private Swedish forest owners originated in 1938 with the formation of Sydöstra Sveriges Skogsägareföreningars Förbund [Co-operative of the Southeastern Sweden's Forest Owners' Association] [SSSF]. Subsequent amalgamations led to Södra Sveriges Skogsägares Förbund in 1964 whilst the Swedish Government had a 40% interest between 1979 and 1985. Södra Shipping began as a department of the cellulose division in 1981 and then in 1989 the Transport Department was reorganized as Södra Träpulver A/B [Södra Transport A/B]. The flag as shown by Jarig would appear to be the original but the logo as currently shown on the company website [from whence comes the foregoing detail] shows the design in green on a white background and a photo of the "Timbus" 7/2004 shows it flying a white flag with the green design above the green letters "SÖDRA" [see above]. Going by funnel designs the change occurred around 1995-1996.
Effective 1.1.2005 the shipping operations were incorporated in Södra Cell International which was the new marketing organization.
Neale Rosanoski, 22 September 2006
---
Rederi A/B Söderö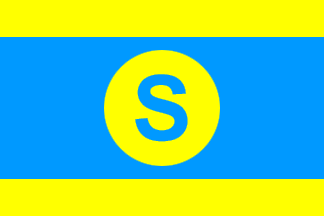 image by António Martins-Tuválkin, 18 October 2007
A Stockholm company known to be operating in the 1950s at least. A yellow flag with a very broad blue horizontal band bearing a yellow circle changed with a blue "B" from a Collectors Corner cap badge.
Neale Rosanoski, 8 June 2007
---
Sören Petterson

image contributed by Neale Rosanoski, 16 January 2007
Originally from Skarhamn operating by the early 1950s but in the 1960s shifting to Göteborg and associated with the Kihlberg group. A blue flag with a crowned anchor between the letters "SP" with all charges in yellow from Brown 1978. Ceased operations in the mid 1970s.
Neale Rosanoski, 16 January 2007