This page is part of © FOTW Flags Of The World website
House Flags of Singaporean Shipping Companies
Last modified: 2016-03-19 by ian macdonald
Keywords: singapore | house flag |
Links: FOTW homepage | search | disclaimer and copyright | write us | mirrors

---
---
See also:
---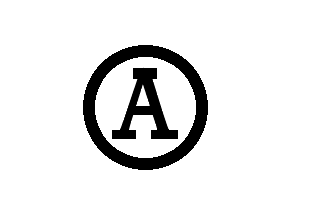 image by Ivan Sache, 31 August 2002
White swallow-tailed flag with a black A inscribed in a black ring in the middle of the flag. Source: Joseph Nüsse's website.
Ivan Sache, 31 August 2002
---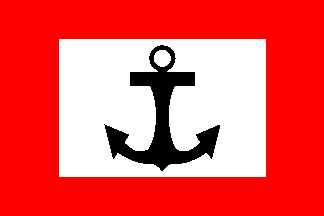 image by Jorge Candeias, 27 March 2001
Just as Ben Line Agencies (Hong Kong). If I remember correctly, these where apparently two quite unrelated shipping lines, at least in what their websites was concerned, although the connection is pretty obvious.
Jorge Candeias, 27 March 2001
---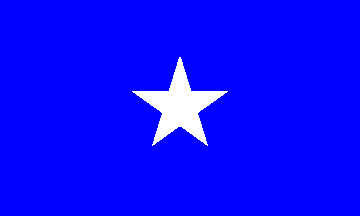 image by Peter Hans van den Muijzenberg, 26 September 2008
Another Van Nievelt, Goudriaan (NL)-related house flag is that of 'Bulan Transportation' at Singapore, operating under the name "White Star Line": a reduced version of the Dutch parent company's – a white five-pointed star on a blue field. Found in Haalmeijer & Scholten: 'Van Nievelt, Goudriaan & Co's Stoomvaart Maatschappij (Nigoco)', book, 1995.

We have encountered SHV or 'Steenkolen Handelsvereeniging' before, the company owning Van Nievelt, Goudriaan which through its subsidiary 'Bulan Investments' (Jersey) founded 'Bulan Transportation' in 1972. As 'White Star Line' – a name adopted in 1973 - freight was shipped between Singapore, Malaysia, Indonesia, Australasia and (later) Thailand. Three ships under Nigoco officers were operated, flying the Singapore flag.

Unfortunately, the oil crisis struck in 1973 which in that part of the world caused a shift towards the bigger Japanese ships. As the Bulan vessels were rather old, requiring frequent repairs and offering limited access to the hold, the company came rapidly under pressure and was wound up. The last ship was sold in 1977.

See also: http://www.sealion-online.com/history.htm
Jan Mertens, 26 September 2008
---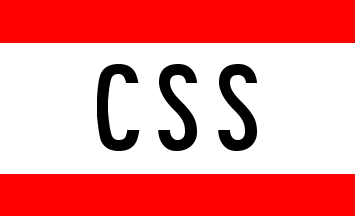 image by Eugene Ipavec, 18 February 2010
Cahaya Samudera Shipping (Pte) Ltd or CSS is a Singapore based shipping and freight forwarding company. Website (in English): http://www.cahayasamudera.com/.
We learn that the firm was founded in 1979, has a sister company named O.K. Shipping and an office in Jakarta, Indonesia, home port to five container ships. Other regional ports served are Surabaya, Semararang, Bali, etc. (Indonesia) and Bangkok (Thailand). Shown as a drawing on the website, CSS's house flag is white with two red horizontal edges and company initials "CSS" in dark blue on the white stripe. Direct link: http://www.cahayasamudera.com/images/logo_flag1.gif. A different rendition may be seen on the 'Sailing Schedule' page (left menu).
Jan Mertens, 14 February 2010
---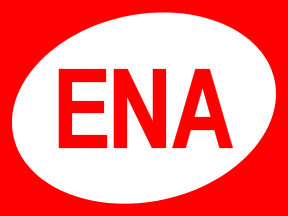 image by Eugene Ipavec, 22 January 2010
A specialized Singaporean shipping enterprise is the Eastern Navigation Group Pte Ltd. Website: http://www.easternnavigation.com/.

Edited quote from 'Corporate Profile' section (upper menu):
"The Eastern Navigation Group is a family owned company [originally] a lighterage company when in the early days cargo ships discharged their cargos into lighters which were then brought into the Singapore river and wharfs for discharge. (...) The company flourished and ventured afield into transportation of cargo from neighbo[u]ring Indonesia and Malaysia to Singapore with steel pontoons.

Today Eastern Navigation is a leader in the field of Marine transportation and towage and the Charter of Offshore supply vessels [furthermore] to further strengthen its position as an offshore leader the company acquired two shipyards in both Singapore and Batam Island, Indonesia to service its fleet of more than 45 vessels and to build new ones."

The pioneer period alluded to is the nineteen fifties. For fleet details see the upper menu: two groups of vessels are presented, tugs and barges (pontoons).
Shown on the website is a drawing of the house flag: red bearing a large white disk, or oval rather, bearing red initials "ENA" (national colours) A longish oval is shown here: http://www.mnosupplies.com/companyInfo.php?c=268. In any case most of the field is taken up by the white charge. See this Shipspotting page for the funnel (flag drawing) and possibly, very small, the actual item flown next to the national flag: http://www.shipspotting.com/modules/myalbum/photo.php?lid=791255.
Jan Mertens, 8 January 2010
---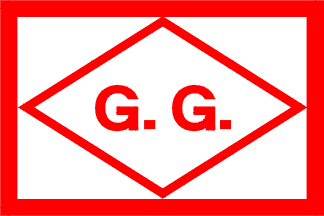 image by Jarig Bakker, 28 January 2006
Guan Guan Shipping (Pte), Ltd., Singapore - white flag bordered red; red outlined diamond, charged with red "G.G.".
Source: Brown's Flags and Funnels of Shipping Companies (Loughran, 1995)
Jarig Bakker, 28 January 2006
---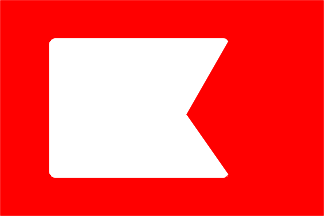 image by Jarig Bakker, 4 November 2005
Kapal Management (PTE). Ltd., Singapore - red flag, charged with rounded white swallowtail.
Source: Brown's Flags and Funnels of Shipping Companies (Loughran, 1995)
Jarig Bakker, 4 November 2005
---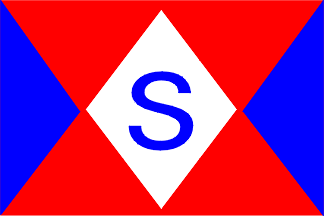 image by Jarig Bakker, 4 November 2005
Lian Soon Shipping & Trading Co. (Dolly Seah), Singapore - red flag; in center white diamond, charged with blue "S"; at hoist and fly blue triangles.
Source: Brown's Flags and Funnels of Shipping Companies (Loughran, 1995)
Jarig Bakker, 4 November 2005
---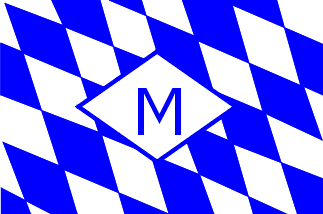 image by Jarig Bakker, 28 January 2006
Mineral Shipping Pte., Ltd., Singapore - flag chequy of Bavarian lozenges; in center white diamond outlined blue, blue "M".
Source: Brown's Flags and Funnels of Shipping Companies (Loughran, 1995)
Jarig Bakker, 28 January 2006
---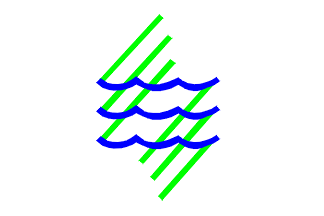 image by Jarig Bakker, 28 January 2006
Neptune Orient Lines Ltd., Singapore - white flag, three wavy horizontal lines, green rain out of the fly.
Source: Brown's Flags and Funnels of Shipping Companies (Loughran, 1995)
Jarig Bakker, 28 January 2006
---
image by Ivan Sache, 31 August 2002
Flag horizontally divided red-white-red (1:2:1) with PIL in blue in the white stripe. Source: Joseph Nüsse's website.
Ivan Sache, 31 August 2002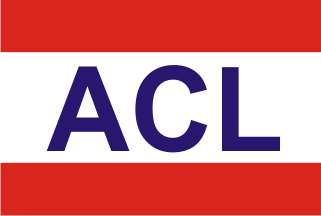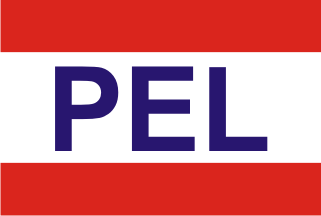 images by Ian MacDonald, 31 July 2006
Pacific International Lines (Pte) Ltd. as it was renamed 3.6.1971 having been formed in 1967, has used the same flag format for some of its subsidiaries/joint ventures by changing the lettering. Thus Advance Container Line of Singapore has "ACL", Pacific Eagle Lines Pte Ltd. of Singapore "PEL". See also P.T. Pilindo Megah Selatan "PMS" of Indonesia.
Neale Rosanoski, 24 January 2006
---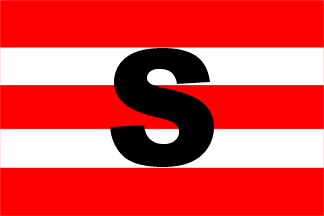 by Jarig Bakker, 31 January 2006

Company founded in 1993, mainly involved in container shipping.
Flag: five horizontal stripes red-white-red-white-red with black central letter S covering the middle three stripes. As can be seen on the home page, the black S may partly overlap the top and bottom stripe when painted on a funnel. But a funnel may show a painting of the flag as well.
Jan Mertens, 5 April 2005

Company website: Samudera Indonesia Group
---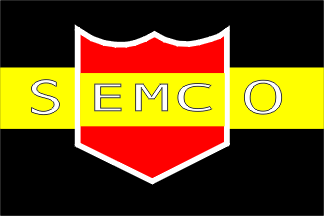 image by Jarig Bakker, 4 November 2005
SEMCO Salvage Pte Ltd., Singapore - black-yellow-black flag; on yellow "SO" in white; in center red-yellow-red shield bordered white; on yellow "EMC" in white.
Source: Brown's Flags and Funnels of Shipping Companies (Loughran, 1995)
Jarig Bakker, 4 November 2005
---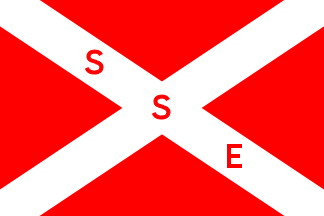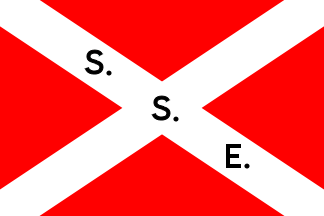 images by Eugene Ipavec, 18 December 2009
'Singapore Salvage Engineers Pte Ltd' or SSE, in the words of the company website, "provides ship surveys, marine salvage and marine engineering consultancy services to the maritime industry. The company is based in Singapore and was established in 1968 by Mr Francis Danakody, a diver and salvage master." See: http://www.singaporesalvage.com/.

The photos on this page present, in a nutshell, SSE's various activities: http://www.singaporesalvage.com/operations, each picture leading to a number of others. Vessels of many kinds, with specifications, may be seen on the 'Fleet' page – sea-borne cranes, barges, pontoons, tugs, etc.: http://www.singaporesalvage.com/fleet_list.

Shown as a drawing on the website's header, the house flag is red bearing a white saltire with red initials "SSE" in the descending arm. Interestingly, not only do flag images (i.e. painted on equipment) with black initials and supplementary dots occur but they exist in the cloth as well. This could be a simple variant or might be related to a subsidiary company such as SSE Offshore or SSE Marine.
Jan Mertens, 11 December 2009
---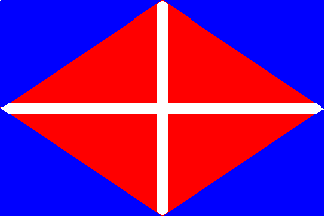 image by Jarig Bakker, 6 July 2001

The old Straits Steamship Company operated out of Singapore. The Company was associated with the Blue Funnel Line (Alfred Holt & Co.) Liverpool. It was operating for around 100 yrs up to the late 1950's when it was bought out by Kepal.
John Bax, 6 July 2001

Flag is blue ground; white cross on red diamond, according to Lloyd's Calendar (1957). Grote Elsevier Atlas (1951) has an image for Straits Lines (Gr. Br.), which I have used to make this image. The funnel in Elsevier's has a thin white line between the black and blue (as on the Blue Funnel funnel).
Jarig Bakker, 6 July 2001

Talbot-Booth (c1934) shows a large diamond with the corners almost touching the edges of the flag, but Stewart (1953), revised by Styring (1963), shows a small diamond with the corners well back from the edges of the flag.
David Prothero, 7 July 2001

Straits Steamship Co. Ltd. is a Singapore company formed in 1890. It was shifted briefly to England after the Japanese invasion in WW2 where it was re registered as the Singapore Straits Steamship Co. Ltd, returning to Singapore in 1945 and reverting to its original name. Alfred Holt & Co. had acquired an interest in 1926 which subsequently was held by Ocean Trading & Transport plc who sold their 58% interest in 6/1983 to Keppel Shipyard. In 1993 the company changed its name to Steamers Maritime Holdings Ltd. and it still operates under the control of the Keppel Corporation Ltd. Most sources show the flag diamond as being either completely throughout or nearly so with a company ad in the Singapore Times in 3/1990 supporting the former. I do not know whether the flag was retained on the last name change. The source showing the funnel having a narrow white line dividing the blue from the black would appear to be incorrect. All regular sources show a white funnel with a black top separated by a very broad blue band. It sounds like the authors may have shown the Blue Funnel flag (blue with a black top) with the white line occurring because of the colouring alignments not being quite right.
Neale Rosanoski, 24 May 2004
Variant flag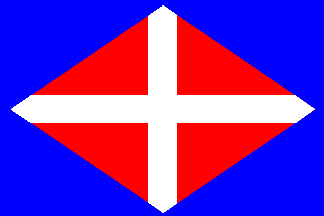 image by Jarig Bakker, 31 August 2005
From the link provided by Barbara Tomlinson of The National Maritime Museum: http://collections.rmg.co.uk/collections.html/
"The house flag of the Straits Steamship Co. Ltd, Singapore. A rectangular blue flag with a red diamond bearing a white cross. The flag is made of a wool and synthetic fibre bunting. It has a cotton hoist and is machine sewn. A rope is attached."
Jarig Bakker, 31 August 2005
---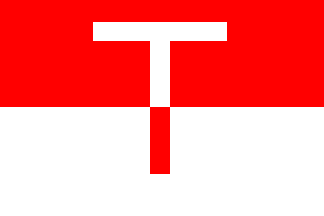 image by Ivan Sache, 31 August 2002
Flag horizontally divided red-white with a countercoloured T. Source: Joseph Nüsse's website.
The same flag, with a V instead of the T, is/was used by the Valles Steamship Co. Lt. (Hong Kong). Both companies are/were most probably related.
Ivan Sache, 31 August 2002
---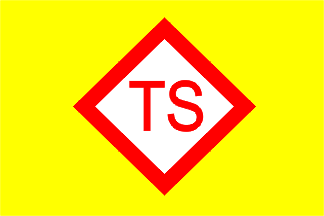 image by Jarig Bakker, 4 November 2005
Thong Soon Shipping (Pte.), Ltd., Singapore - yellow flag, white diamond bordered red, red "TS".
Source: Brown's Flags and Funnels of Shipping Companies (Loughran, 1995)
Jarig Bakker, 4 November 2005