This page is part of © FOTW Flags Of The World website
Modern Centre Party (Political party, Slovenia)
Stranka modernega centr
Last modified: 2023-03-18 by rob raeside
Keywords: modern centre party | stranka modernega centr |
Links: FOTW homepage | search | disclaimer and copyright | write us | mirrors

---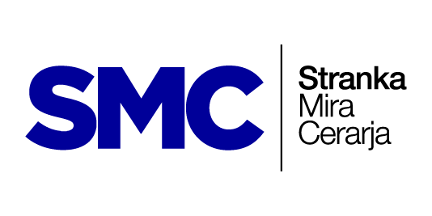 image by Tomislav Todorovic, 19 January 2022
---
See also:
---
Presentation of the Modern Centre Party
Modern Centre Party (Stranka modernega centra, SMC) was founded on 2014-06-02 as the Miro Cerar's Party (Stranka Mira Cerarja) and renamed on 2015-03-07. A liberal political party, it was initially named after its founder and first president, Miroslav "Miro" Cerar, a law professor and legal advisor to Slovenian parliament. With a rapidly rising popularity, SMC emerged as the strongest contestant in the parliamentary election on 2014-07-13, only six weeks after it was founded, eventually forming a coalition government with Cerar as the Prime Minister. On 2014-11-21, the SMC was admitted as a full member of the Alliance of Liberals and Democrats for Europe (ALDE). At the parliamentary elections on 2018-06-03, the party had much worse results, still remaining in the coalition government, with Cerar as the deputy Prime Minister and Minister of Foreign Affairs this time. Poor results of the SMC in the May 2019 European Parliament election prompted Cerar to step down from the position of party president, but was elected the honorary president, which he remained until 2020, when he left the party due to its decision to join a new coalition led by the right-wing populist Slovenian Democratic Party, instead of co-operating with the centrist and moderate left parties as before; his call to other party members to do the same was followed by several members of parliament, who continued as the group of independents. On 2021-12-04, SMC merged with a non-parliamentary Economic Active Party (Gospodarsko aktivna stranka) to form a new party, named Concretely (Konkretno), thus automatically terminating its membership in the ALDE.

Sources:
[1] Modern Centre Party at Wikipedia: https://en.wikipedia.org/wiki/Modern_Centre_Party
[2] Miro Cerar at Wikipedia: https://en.wikipedia.org/wiki/Miro_Cerar
Tomislav Todorovic, 19 January 2022
---
Flag of the Modern Centre Party
The original flag of Miro Cerar's Party was white, with the abbreviation SMC in dark blue at the hoist and the full party name in black at the fly, inscribed in three rows and separated from the abbreviation by a black vertical line; the shade of blue was the same as in the flags of Slovenia and European Union [1, 2]. The design was also used as the party logo. According to a description of the logo which could be found at the party website (no longer online), the typeface used for the party name was Helvetica Neue 55 Roman for the word 'Stranka' and Helvetica Neue 45 Light for other two words. Currently, only a photo of the flag with an incomplete view remains available online [1], but its design is revealed by the photo of a table flag [2], which used the same design rotated for 90 degrees and hung vertically.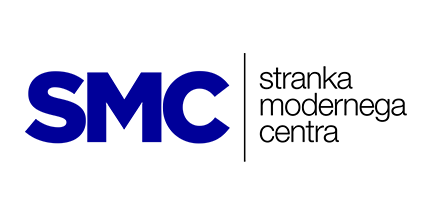 image by Tomislav Todorovic, 19 January 2022
The flag and logo used by Modern Centre Party after the renaming were essentially the same, only with the new name in the fly, all words being lowercase and in Helvetica Neue 45 Light now [3, 4]. This was also used for the table flags in the same way as before [5, 6].

Sources:
[1] Dnevnik newspaper website: https://www.dnevnik.si/1042672654
[2] Dolenjski list magazine website: https://www.dolenjskilist.si/2014/09/10/120651/novice/dolenjska/SMC_v_zupanski_boj_s_Spec_Potocarjevo (large image: https://www.dolenjskilist.si/media/objave/slike/v/novice/2014/09/10/smc_spec_potocar_004.jpg)
[3] Nezavisne novine newspaper website: https://www.nezavisne.com/novosti/ex-yu/Cerar-odlazi-s-cela-stranke-ali-ostaje-ministar/541986
[4] Demokracija magazine website: https://demokracija.si/fokus/uzaljeni-cerar-zapustil-smc-ker-mu-ni-uspelo-zanetiti-upora-proti-pocivalsku/
[5] Maribor Info website: https://mariborinfo.com/novica/lokalno/meljska-in-cesta-xiv-divizije-v-obcinsko-last-obnovo-malecniskega-mostu-bo
[6] Pigac.si website: https://pigac.si/photo/39796
Tomislav Todorovic, 19 January 2022