This page is part of © FOTW Flags Of The World website
São Tomé and Príncipe political flags
Last modified: 2022-10-22 by ian macdonald
Keywords: adi | ação democrática independente | rings: 2 | ring (yellow) | mlstp | movimento de libertação de são tomé e príncipe | costa (manuel pinto da) |
Links: FOTW homepage | search | disclaimer and copyright | write us | mirrors

---
See also:Other sites:
---
ADI (1992-)
Ação Democrática Independente / Independent Democratic Action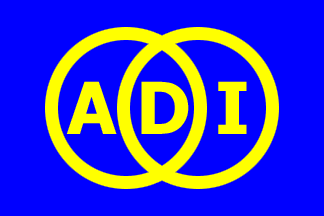 image by António Martins, 02 August 2010
ADI — Ação Democrática Independente (Independent Democratic Action) is a political party in St. Thomas and Prince (São Tomé e Príncipe), created in 1992, arguably #3 in the country's politics. See more information in the English Wikipedia article.
Its flag, at least currently as seen by me last week on TV, is blue with the party emblem in yellow centered on it. The emblem is two interlocking rings set horizontally, along with the initials "ADI". These are located inside the gaps of the rings, in a sans-serif face, in the apparently official version, shown in an indoor pole behind the party leader in a recent interview.
António Martins, 02 August 2010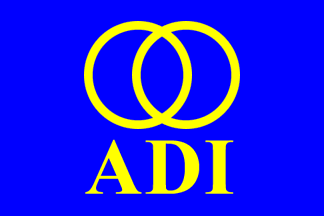 image by António Martins, 02 August 2010
There is another version, with the letters in a serif face under smaller rings, used as a hand-waver.
António Martins, 02 August 2010
---
M.L.S.T.P.-P.S.D. (1990-)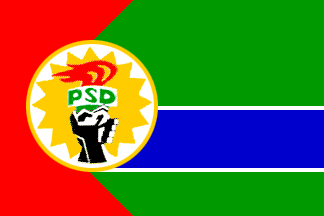 image by António Martins, 01 October 2005
M.L.S.T.P. still exists — in fact it is the governing party. Its full designation is now MLSTP-PSD (PSD standing for «Social Democratic Party»). In 1990 Sao Tome & Principe became one of the first African nations to embrace political change; the MLSTP was the sole legal party until that time, but lost the 1991 election following the transition to multi-party democracy. They regained power in 1994.
Jorge Candeias
It is a green flag with a large dark blue horizontal stripe, fimbriated white, located at the lower middle of the flag; at the hoist a red area (overlapping the stripe) with a chevron-shaped line (pointing to the hoist) dividing from the green area; the party logo on a white yellow-fimbriated disc, its diameter apparently 3/5ths (or 11/18ths) the flag's height, so located that its edge touches both the chevron's (invisible) apex and the point where red, (bottom) white and (bottom) green meets.
António Martins, 01 Oct 2005
Other sites:
---
M.L.S.T.P. (1972-1990)
Movimento de Libertação de São Tomé e Príncipe / Liberation Movement of Saint Thomas and Prince Islands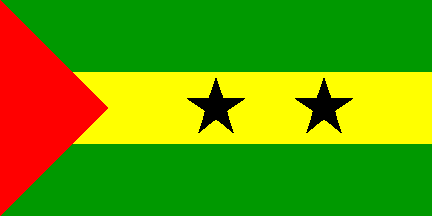 image by Željko Heimer, 27 November 2000
According to Flaggenmitteilung 96 (March 1984), the flag of the MLSTP (said to be designed by its leader Manuel Pinto da Costa) was modified a little to create the new national flag (in 1974).
Mark Sensen, 26 May 1997
In Crampton's Complete Guide to Flags [cra90f], The section about São Tomé and Príncipe begins like this:
The flag of the republic, although in the pan-African colours, is derived from that of the Liberation Movement, whose flag was adopted in 1972. The only difference is that the Liberation Movement flag had equal horizontal stripes.
It leaves a slight insecurity regarding the stars, but one would guess that maybe they were not so strictly defined during the struggle time.
Željko Heimer, 27 November 2000
As far I know the triangle in the MLSTP flag was longer, perhaps until center of the flag, or a triangle of three equal sides, I believe. If I don't remember wrong Don Healey searched this topic for a communication to an vexillology international congress.
Jaume Ollé, 09 December 2000