This page is part of © FOTW Flags Of The World website
São Tomé and Príncipe subnational flags
Last modified: 2022-10-22 by ian macdonald
Keywords: são tomé | thomas island | príncipe | prince island | coat of arms: 2+1+2 | coat of arms: bordure |
Links: FOTW homepage | search | disclaimer and copyright | write us | mirrors

---
See also:
---
Príncipe Island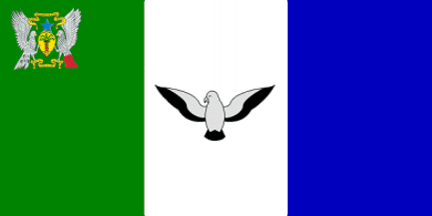 image by Ben Cahoon, July 2011
---
At last! 16 years after Principe became an autonomous region adopted its flag. From local news sites I understand it was first flown in late April this year (Apr 29, 1995, being the date of autonomy). It's a vertical triband of green-white-blue with the national coat of arms in the canton and in the middle in the white stripe I believe its the parrot from the national coat of arms.
Paraskevas Renesis, 11 June 2011
The flag is real. Here is one of the news articles.
Valentin Poposki, 12 June 2011
This news story dated 2011.05.03 says that «Príncipe entoou pela primeira vez no último fim-de-semana, o seu hino e hasteou a sua nova bandeira. Símbolos de uma região autónoma, que se confirmou no ano passado com a aprovação do estatuto político e administrativo.» (= «Príncipe sung for the first time this weekend its anthem and hoisted its new flag. Symbols of an autonomous region which got confirmed last year by the approval of its political and administrative status.»)
António Martins, 19 June 2011
Here's a photo of the Legislative Assembly building and 2 flags flying in front. It seems to me that they are the national and the new regional flag.
Paraskevas Renesis, 12 June 2011
First reports online at http://www.egov.st/ were met with distrust: The domain name is egov.st, not something.gov.st. Anyone can register almost any domain under the tld .st (from a German company…) — the government of the country reserves for itself only a few domains, and principe.st is where I'd expect to see the flag.
António Martins, 30 June 2011
The controversial site with the flag has "resurfaced": http://www.universalec.com.tw/downpicList.aspx?Dept=home&lang=pt&Cata=downpic. Same contents nothing new!
On a site at http://ribtonimages.com/gallery.html with photos of Peter Ribton we get a photo: http://www.ribtonimages.com/gallery.html?func=viewcategory&catid=32&startpage=5#category of the region's president Cassandra and in the background, out of focus unfortunately, part of (what it seems to be) the regional flag. Obviously the photographer is not very interested in flags. Very nice photo of the president though!
From the same portfolio we get another photo (2nd row 3rd photo) titled Saint Laurent festival: http://www.ribtonimages.com/gallery.html?func=viewcategory&catid=32&startpage=6#category where we can spot the regional flag in front of the regional assembly and the (pink) government building. I have little doubt that the green-white-blue vertical triband is the regional flag but we still need to see the whole "thing"!
Paraskevas Renesis, 5 December 2011
Flag also reported at http://www.telanon.info/sem-categoria/2012/02/10/9701/a-historia-comeca-agora-notas-sobre-historia-e-as-perspectivas-de-futuro-da-ilha-do-principe/ and http://www.telanon.info/wp-content/uploads/2011/05/Sundy.jpg from http://www.telanon.info/sociedade/2011/05/31/7251/principe-celebrou-92-anos-sobre-a-comprovacao-da-teoria-da-relatividade/
Paraskevas Renesis, 26 February 2012
---
Pre-2011 flaglessness
I know no reports on a flag of Principe Island.
António Martins, 08 August 1999
I have met today the brother of the Sao Tome defense minister. I obtain from him first hand information on flag use in his country. The man was, 17 years ago, the leader of the Youth organization of Sao Tome, but in this era this organization didn't have flag of their own. He was president of the delegation of Youth people that traveled to Principe Island but no flags different from the national one were hoisted then.
Jaume Ollé, 03 July 2000
Michel Sicard, former Secretary general of the Societé Française de Vexillologie, said to me that in April of 1995, the Island of Principe acquired an autonomous government. No reports on flag.
Jordi Pérez, 01 October 1997.
1981 rebel flag
In the 1981 revolt of the island against the Sao Tome power, a rebel flag was hoisted, but is unknown to me.
Jaume Ollé, 09 November 1996
---
São Tomé city
Municipal flag in the colonial era
Durán [drn95] reports the following for the pre-1975 flag of the municipality headed by the city of São Tomé (not for the whole island!): Flag gyronny (city rank) of blue and white (in the usual variants of 2:3 and 1:1), the arms over all. This is gules, five open cacao nuts set in saltire (Durán says «in palo», «per pale», but the illustration shows per saltire, which is much more logical…), shells or, seeds argent lined sable; bordure argent with seven eschuteons azure, each with five bezants argent per saltire. Mural crown or (overseas province capital rank) of five towers (city rank), white scroll reading in black capitals CIDADE DE SÃO TOMÉ.
António Martins-Tuválkin, 08 August 1999
---
On pre-independence local flags
As for subnational flags in São Tomé and Príncipe, before independence at least some of the local municipalities had coats of arms and flags.
António Martins-Tuválkin, 08 August 1999