This page is part of © FOTW Flags Of The World website
Alaşehir (District Municipality, Turkey)
Last modified: 2019-11-16 by ivan sache
Keywords: alaşehir |
Links: FOTW homepage | search | disclaimer and copyright | write us | mirrors

---
Flag of Alaşehir, two versions - Images by Jens Pattke, 25 October 2017
---
See also:
---
Presentation of Alaşehir
The municipality of Alaşehir (101,313 inhabitants in 2016) is located 110 km east of Manisa.
Ivan Sache, 27 October 2017
---
Flag of Alaşehir
The flag of Alaşehir is white with the municipality's emblem, either a seal (photo) or a logo. "Belediyesi" means "Municipality".
laşehir is a main center of production and export of dried Sultana raisins. The foundation of Tariş Raisins Union started with Bağcılar (Grape Grower) Cooperative, which was established in Alaşehir first in 1931 and then in Manisa, Turgutlu, and Salihli. Its foundation purpose was to stop the decrease in grape prices occurred with the effect of World Economic Depression. Bağcılar Cooperative which had begun to implement its activities as a manufacturer cooperative united with Üzüm Kurumu (Grape Organization) (Tariş Ltd.Şti.), which was jointly founded by Turkey İş and Ziraat Banks for organizing grape market in 1938 and continued its activities as Tariş Raisins Union. Today it has more than 19.000 producer shareholders in 14 grape agriculture sales cooperative as connected to Union.
By means of experts assigned in 14 cooperatives, it provides employment opportunity to 57.000 families in Aegean Region and gathers and processes the finest quality seedless raisins.
[Tarpaz corporate website]
The emblem refers to the ancient town of Philadelphia.
The most interesting remains of Christian Philadelphia are in the Beş Eylül area of the city. They consist of part of a Byzantine basilica built of brick, with a bit of high arch and some eleventh century frescoes in poor condition and exposed to the elements. From what is left it is difficult to judge the value of the original or the importance of trying to preserve it.
[Ephesus Tours Guide, 7 July 2001]
The city was founded by Philadelphus, King of Pergamon (159-38 B. C.), in the vicinity of Callatebus on the left bank of the Cogamus (Kouzou Tchai); its location was most favorable for commercial and strategical purposes. In 133 B. C. it became a Roman possession. It was subject to earthquakes, and at the time of Augustus was almost in ruins; but, quickly restored, was of commercial importance as late as the Byzantine period. Its wines were famous; its coins bore the image of Bacchus or a bacchante. On the coins of the first century the city is called Neocæsarea, under Vespasian it received the cognomen of Flavia. During the eleventh and succeeding centuries it was repeatedly captured by and retaken from the Turks until it was definitively conquered by Bajazet in 1390. In the seventeenth century it had 8000 inhabitants, of whom 2000 were Christians. It possesses numerous ruins, a theater, stadium, two walls, many Byzantine churches, etc. and has mineral springs.
Christianity was introduced into Philadelphia in Apostolic times. According to the Apostolic Constitutions (VII, xlvi), its first bishop Demetrius must have been appointed by St. John. The apologist St. Miltiades mentions a prophetess Ammia who must have belonged to the primitive Church of Philadelphia (Eusebius, Hist. Eccl., V, xvii). One of the seven letters of the Apocalypse is addressed to the Bishop of Philadelphia (Apoc., i, ii, iii, 7-13). This bishop was highly commended, and while the writer recognizes that the community is small, he tells us that the Jews who tried to disturb it were valiantly resisted by its faithful pastors. St. Ignatius of Antioch later sent to the Christians of Philadelphia an interesting letter warning them against the Jews (Funk, Die apostolischen Vätter, Tübingen, 1901 pp 98-102).
The ancient Notitiæ place Philadelphia among the most important suffragans of Sardes. Under Andronicus Palæologus it was raised to metropolitan rank, and has continued such among the Greeks, its jurisdiction, since the fourteenth century, extending over many neighboring sees, later obliterated by the Turkish conquest. Among its bishops or metropolitans, of whom Le Quien (Oriens christ., I, 867 sq.) gives a very incomplete list, may be mentioned: Hetimasius, present at the Council of Nicæa (325); Cyriacus, at the Council of Philippopolis (344); Theodosius, deposed at the Council of Seleucia (359); Theophanes, present at the Council of Ephesus (431); Asianus (458); Eustathius (518); John, present at the Council of Constantinople (680); Stephanus at Nicæa (787); Michael under Leo the Armenian; Theoleptus at the end of the thirteenth and in the fourteenth century, hymn writer, orator, and master of the famous Barlaam (P. G., CXLIII, 381 sq.); Macarius Chrysocephalas (1345) wrote homilies (ibid., CL, 227 sq.); Gabriel Severus (1577) wrote works against the Latins and resided, as did his six successors, at Venice; Gerasimus Blachus (1679), author of numerous works; Meletius Typaldus (1685), deposed for becoming a Catholic.
[Catholic Encyclopedia]
Tomislav Šipek & Ivan Sache, 27 October 2017
---
Former flag of Alaşehir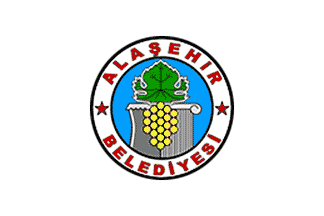 Former flag of Alaşehir - Image by Jens Pattke, 30 April 2013
The former flag of Alaşehir (photo) was white with the municipality's former emblem. "Belediyesi" means "Municipality".>
Tomislav Šipek, 30 April 2013
---
Professional boards
Alaşehir Chamber of Commerce and Industry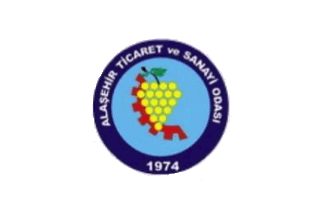 Flag of the Alaşehir Chamber of Commerce and Industry - Image by Ivan Sache, 30 October 2017
The Alaşehir Chamber of Commerce and Industry was established in 2002, succeeding the Alaşehir Chamber of Commerce established in 1974.
The flag of the Alaşehir Chamber of Commerce and Industry (photo) is white with the organization's emblem.
Ivan Sache, 30 October 2017
---
Alaşehir Commodity Exchange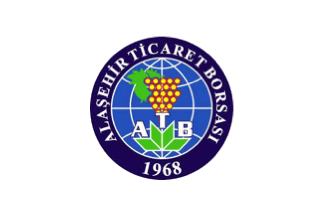 Flag of ATB - Image by Ivan Sache, 4 September 2019
The flag of ATB (photo, photo) is white with the organization's emblem.
Ivan Sache, 4 September 2019