This page is part of © FOTW Flags Of The World website
Ukraine - Political Flags - 2004 Elections
Last modified: 2018-12-15 by rob raeside
Keywords: ukraine |
Links: FOTW homepage | search | disclaimer and copyright | write us | mirrors

---
---
See also:
---
At Yahoo! News (under 'World', slideshow 'Ukraine Elections') there is a photo of orange flag. Accompanying text: "Ukrainians take part in a mass rally in the center of Kiev, October 23, 2004. Up to 100,000 Ukrainians rallied in the capital on Saturday in support of opposition leader and presidential candidate Viktor Yushchenko, on the threshold of the country's October 31 presidential election. (REUTERS/Gleb Garanich)"
Jan Mertens, 1 November 2004
Now there is an other slideshow at this link, showing a photo. Has anybody seen news reports showing this opposition flag?
Martin Karner, 1 November 2004
Electoral bloc of Victor Yushchenko (opposition) uses the orange flags with a red word "Tak!" (Yes!), grey horseshoe and red motto "Viryu Znayu Mozhemo" (I beliewe, I know, We can).
Andriy Grechylo, 26 November 2004
I saw also a couple of blue-yellow-red flags.
António Martins, 26 November 2004
Perhaps you saw a blue-yellow-crimsom (MALYNOVYI) flag of political party "Batkivshchyna". These flags are present in all meetings of opposition. I didn't saw any Russian flag during these actions. It is clear, because Russia supports other candidate - Yanukovych.
Andriy Grechylo, 26 November 2004
At <www.freerepublic.com>, there are some pictures showing flags used by the Ukrainian protesters, mostly the orange flags with the "Yushchenko Yes" inscription.
On the "personal website of Viktor Yushchenko" thte ia a photo (with numerous other [flag] photos) with a variant of the opposition flag, showing a photo of Viktor Yushchenko:
Martin Karner, 26 November 2004
People in Ukraine use various kinds of the Yushchenko's block flags (light or dark orange, with texts, portrait or without images).
Andriy Grechylo, 2 December 2004
I saw one flag on the news on TV, which was white and black horizontal with a red cross in the middle. What could that have been?
Elias Granqvist, 2 December 2004
At a demonstration for Victor Yushchenko, presidential candidate in Ukraine, there is, amid the national bicolor and orange party flags, a Blue-Yellow-Red horizontal tricolor flying in a photo I saw in The Economist. Any clue what it is?
Albert S. Kirsch, 4 December 2004
It is a flag of the party of "Batkivshchyna" (= Motherland; leader - Mrs. Yuliya Tymoshenko). The orange flag isn't a symbol of separate party, but of political block.
Andriy Grechylo, 4 December 2004
I saw flags at the Kiev protest:
1) Orange over black, A cross with pointed bottom in center with Ukrainian trident. See my photo. Orange is Yushchenko's color, the color of protest. Black is the typical winter color of a Ukrainian's clothes.
2) Tak! flag means yes in Ukrainian. Flag of Yushchenko.
Interesting PORA flag. Usually those flags are yellow and black but this one has a European Union theme. See my photo.
Raul Herrera, 7 December 2004
I remember to have seen in a TV report of the last days a flag among the opposition's crowd in Kiev which is at least for me an unknown: two equal stripes horizontally divided, black over blue or blue over black. What flag could this be?
Martin Karner, 12 December 2004
The miner's organisations (generally - trade union) in Ukraine used a blue (upper) and black flag.
Andriy Grechylo, 12 December 2004
Two days ago (11.12.2004) I saw in TV-reportage many flags of Yanukovich supporters in Odessa: blue-white horizontal bicolors without any inscriptions and emblems.
Victor Lomantsov, 14 December 2004
One of the best heavyweight boxers in the world is currently the Ukrainian Vitali Klitschko, world champion for the WBC (World Boxing Council).
In the beginning of December, Klitschko defeated his challenger, the British boxer Dany Williams, by TKO (technical knock-out) in the 8th round. A TKO means that Klitschko was prevented to knock out definitively his opponent by the referee, who stopped the fight. During the fight, Klitschko knocked down Williams in the 1st, 3rd, 7th and 8th rounds. Klitschko hit his challenger so hard that he had to have his hands checked at the hospital after the fight.
Klitschko's trunks have an orange flag attached, as a sign of support to Viktor Yushenko. After the fight, the Ukrainian boxer said: "This is a victory not only for myself, but also for democracy in Ukraine".
Source: Article by Chris Bronte, 12 December 2004, available on the NetBoxe website <www.netboxe.com> (in French).
Ivan Sache, 28 December 2004
The Público newspaper published in 27 December 2004 an article about the repetition of the presidential elections that happened in Ukraine the day before that. The article was illustrated by a large photo showing lots of flags, and its label mentioned celebrations of Yushenko's supporters in the Independence Square in Kiev.
By far, the most common flags seen in the photo are normal Ukrainian flags. I count 6, one of which folded. There are also some flags from the Yushenko field already known to us: a couple of "Pora" flags (those yellow flags with the clock logo - see Opposition Flag no. 5) and a few "Tak Yushenko" flags - I don't really know how many because some seem to be simply plain, although they could very well be a plain reverse of a "Tak Yushenko" flag, or a "Tak Yushenko" flag too folded to see the design.
There are other flags, though. The strangest is what seems to be a canadian flag. What is a canadian flag doing in the middle of an Ukrainian political celebration?!
Then, there's a flag that seems to be composed of four stripes of blue and yellow. This could be the result of stitching together two normal ukrainian flags, but I don't think it is because the flag seems to be way too long for that. So, I believe it was made originally like this. Perhaps a football fan flag?
You may have noticed that there's also a Georgian flag in sight. Also a bit weird, but not too weird, given the fact that also in Georgia there was a mass movement similar to the one that put Yushenko in power in Ukraine. This flag is quite visible (mirrored), behind a Ukrainian flag with a hand-drawn inscription I can't understand. The two first letters are "VI", and I thought that it could be the beginning of "Viktor", but the third one is no K, so I'm stumped.
Lastly, there's a total unidentified flag, which may even be a sign and not a flag. It shows what look like numbers along the top and some sort of flower-like logo below. Any ideas as to what this might be?
Jorge Candeias, 23 August 2005
It was recently reported here that a national flag of Georgia was displayed in December 2004 during the "Orange Revolution" in Ukraine. It was also said that the students' movement Pora was supported by the similar Georgian movement Kmara!
In a paper dated 11 February 2005 and published on the Café Babel website, the free-lance journalist Sébastien Daycard-Heid explains that there is an important Georgian community in Ukraine, mostly made of students. The Georgian flag was hoisted on a tent neighbouring the tent commemorating the Georgian journalist Georgiy Gongadze. The journalist worked in Ukraine, where he was murdered in 2000. The affair was never elucidated but video tapes implicating the former President Kutschma and the former Prime Minister Yanukovitch circulated in the country and contributed to the uprising. Daycard-Heid reports also that some demonstrators hold an orange rose, as a symbol of Georgian solidarity (the Georgian revolution was nicknamed the "Roses' Revolution") with the Ukrainian revolution.
Ivan Sache, 6 September 2005
I cannot prove with absolute certainty where the orange color originated, but since yesterday I'm quite confident that it must be like this:
In February 1970 the Amsterdam Provos (short for provocators) invented the "Kabouters" (gnomes, little dwarfs), who lived in "Oranjevrijstaat" (Orangefreestate), that is: a state coinciding with the Kingdom of the Netherlands, but Orange-free: without authority! It was another playful action, but a few months later the "Kabouters" achieved 5 seats in the municipal council. The movement was disbanded in 1974.
A few years later the Labour Union "Solidarity" was founded in Poland, and the authorities didn't like it. It seemed that it was going down, so comic artists in Cracow invented the Orange Dwarf. It was mainly used in graffitti, but occasionally it popped up in official presentations. A colorblind general spotted one and instantly prohibited all red flags and uniforms...
Cracow isn't far from Ukraine, and in the Republic of Georgia the Prime Minister's wife is Dutch - after that it takes little imagination that elsewhere in the Eastern European world the Orange color might be the apt symbol for change - after all it worked in 1688 in Britain, isn't it?
Source: A TV-documentary entitled "Hammer and Tickle" of the (Dutch) VPRO broadcasting society, as well as a lot of Dutch links.
Jarig Bakker, 23 January 2007
It is a "second-choice" color, usually "not taken" in most poslitical arenas
António Martins, 24 January 2007
---
1)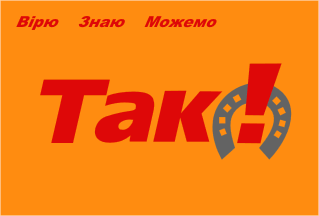 image by Victor Lomantsov, 2 December 2004
Flag with slogan "Tak!" (Yes) and motto "I believe, I know, we can" near the upper hoist.
Victor Lomantsov, 2 December 2004
2)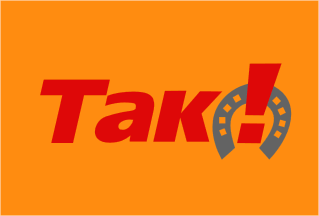 image by Victor Lomantsov, 2 December 2004
Flag with slogan "Tak!" (Yes).
Victor Lomantsov, 2 December 2004
3)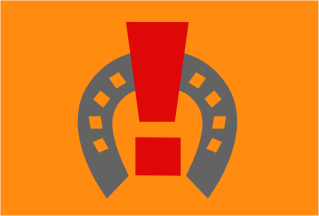 image by Victor Lomantsov, 2 December 2004
Flag with logo (I saw it one time in reportage from Kiev).
Victor Lomantsov, 2 December 2004
4)


image by Victor Lomantsov, 2 December 2004
Orange flag without images.
Victor Lomantsov, 2 December 2004
5)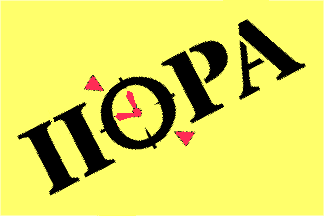 image by Andriy Grechylo, 2 December 2004
Flag of youth movement "Pora". Ligth yellow with logo (seen in hands of Yushchenko supporters, election 2004).
Victor Lomantsov, 2 December 2004
Official name of this organisation is "Hromadyanska kampaniya Pora" (= Civic Campaign "Pora" (Time)). Text is in other side and includes red details.
Andriy Grechylo, 2 December 2004
6)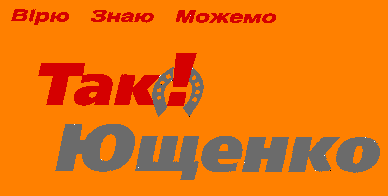 by Andriy Grechylo, 2 December 2004
Very popular variant (used as small and large flags) with motto "I believe, I know, We Can" and text "Tak! Yushchenko".
Andriy Grechylo, 2 December 2004
7)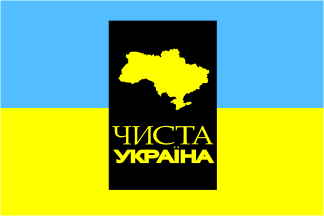 image by Victor Lomantsov, 2 December 2004
Movement "Clean Ukraine" (Chysta Ukrayina) - national bicolor, black recktangle with country map and name of movement in the centre.
Victor Lomantsov, 2 December 2004
Logo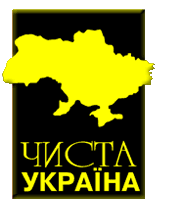 image by Andriy Grechylo, 2 December 2004
Here is the logo of the "Hromadyanska kampaniya Chysta Ukrayina" (= Civic Campaign "Clean Ukraine"). This organisation was founded in April, 2004 - against Victor Yanukovych.

8)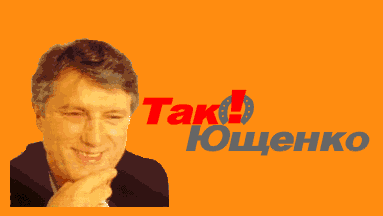 image by Victor Lomantsov, 2 December 2004
Flag with photo of Yushchenko.
Victor Lomantsov, 2 December 2004
9)


image by Jorge Candeias, 23 August 2005
Based on photo at The Público newspaper published in 27 December 2004 (see above).
Jorge Candeias, 23 August 2005
Photos of flags
At <ak-berdyansk.narod.ru> there is a very large list of photos taken in the Ukrainian city of Bedryansk during the "orange revolution" in Ukraine in the Yushenko side. Many of these photos show flags as follows:
6-12-2004
2 - Flag of Ukraine and folded orange flag.
12 - A plain orange flag.
13 - Ukraine and one "Tak Yushenko" flag.
15 - This is a "rich" photo. It shows 5 different flags:
- Ukraine
- "Tak Yushenko" flag with a large horseshoe
- White flag with a blue and yellow logo
- Normal "Tak Yushenko" flag
- Plain orange flag.
18 - Anothr "rich" photo, shows the same flags as the previous one.
22 - Ukraine and normal "Tak Yushenko" (TY from now on) flag.
23 - Plain orange flag.
24 - This is what I call "normal TY" flag. It shows, however, some major differences to the images above.
29 - The white flag with yellow and blue logo. The start of the inscription is visible: "VIKTO".
30 - A very folded TY flag. part of the slogan is readable at the top (... AIU MOZHEM...).
1-12-2004
1 - Normal TY flag.
2 - Another "rich" photo, it shows:
- Part of the white flag with blue-yellow logo
- An orange flag with large inscription (probably home-made)
- Plain orange flag
- A flag showing Yushenko's face (also different from the equivalent image above)
- Ukraine.
3 - The flag with inscription.
5 - A great view of the flag with large horseshoe.
10 - A small handheld plain orange flag.
11 - Ukraine and normal TY flag.
13 - Flag with inscription and flag with big horseshoe.
14 - Ukraine, white flag with a bit more of the inscription visible and orange flag with inscription.
16 - All of the flags above, unfortunately quite small.
17 - Plain orange flag.
19 - Big horseshoe and inscription.
23 - Big horseshoe.
24 - Ukraine.
25 - Ukraine and orange with inscription.
27 - The best view yet of the white flag with blue-yellow logo. The inscription includes "Ukraina" and "Viktora Yushenka".
30 - Big horseshoe and orange with inscription.
32 - Couple flags barely visible and Ukraine and flag with Yushenko's face on.
33 - Parts of the orange flag with inscription and of the white flag.
29-11-2004
3 - Normal TY flag.
4 - Plain orange flag.
7 - Two big horseshoe flags and a sign that is apparently of the same design as the flag with Yushenko's face seen previously.
8 - One big horseshoe and one normal TY flag.
10 - Big horseshoe and white flag with logo.
12 - A great view of two big horseshoe flags.
14 - Same as above plus sign with Yushenko's face.
16 - Normal TY, big horseshoe and plain orange flags.
18 - Great view of the orange flag with inscription. It reads, in russian, "Blazhen narod u kotorovo gospod - est' bog", which means in english something like "lucky is the people whose lord is God".
21 - Big horseshoe.
29 - A small handheld flag vertically divided in blue and white reading something in the canton and "VIBIR 2004".
27-11-2004
1 - Plenty of flags, all pretty far. The ones better seen are two Ukrainian flags and the white flag with logo.
2 - Same as before, a little closer.
3 - Plain orange flag and a good view of the Yushenko poster.
4 - Same as #1 and #2, but the better view yet of the white flag with logo.
10 - Plain orange flags.
13 - Another good view of the white flag with logo. The logo consists of a stylized rising sun over two lines mimicking the Ukrainian flag and the full inscription seems to read "Nasha Ukraina za Viktora Yushenka", i.e., "Our Ukraine for Victor Yushenko".
15 - Close-up of the big horseshoe, plus a few other interesting objects.
20 - Apparently, a yellow version of the big horseshoe flag.
26-11-2004
3 - Normal TY flags that look more yellow than orange.
4 - Normal TY flags and, to the far right, what looks like a Coat of Arms on blue. A flag?
30 - People holding blue and white Yanukovitch skarfs, which explains the handeld flag mentioned above.
25-11-2004
5 - Polish flags with eagle. A bizarre sighting in this context.
11 - One of the Ukrainian flag seen in these photos includes the trident in the canton.
12 - The inscription in the white flag is in italic. And the flag with Yushenko's face does not seem to have the same photo as the poster after all...
20 - Great view of a normal TY flag.
22 - A better view of the Coat of Arms mentioned above. It is the Coat of Arms of Berdiansk. Its background, however, does not seem to be a flag.
Jorge Candeas, 22 and 24 April 2005
---
1)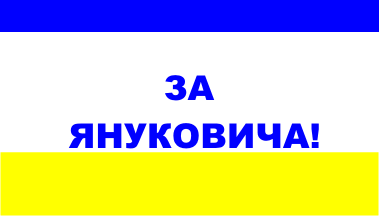 image by Victor Lomantsov, 2 December 2004
Flag of supporters of V.Yanukovich - blue-white-yellow.
Victor Lomantsov, 2 December 2004
2)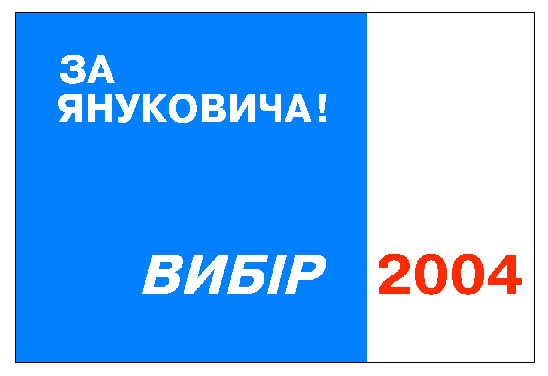 image by Andriy Grechylo, 6 December 2004
Here is the main flag of Victor Yanukovych's electoral block. Text in Ukrainian: "ZA YANUKOVYCHA!" (= for Yanukovych!) and bottom - "VYBIR 2004" (= choice 2004).
Andriy Grechylo, 6 December 2004
---