This page is part of © FOTW Flags Of The World website
Patriot of Ukraine (Ukraine)
Last modified: 2023-01-28 by martin karner
Keywords: patriot of ukraine |
Links: FOTW homepage | search | disclaimer and copyright | write us | mirrors

---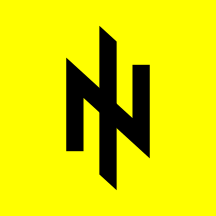 image by Tomislav Todorovic, 27 March 2022
---
See also:
---
Patriot of Ukraine (Patriot Ukrayiny) was founded in 1999 as the paramilitary youth wing of the Social-National Party of Ukraine, which dissolved it in 2004 during the transformation into the All-Ukrainian Union "Svoboda":

In 2005, the Patriot of Ukraine was refounded as a separate organization, although the complete breakup with "Svoboda" was announced only in 2007. Seeking to rebuild the Social-Nationalist movement, it took part in founding the coalitions of like-minded groups, first the Social-National Assembly (Sotsial-Natsional'na Asambleya) in 2008 and then the Right Sector (Pravyy Sektor) in 2014, although it departed from the latter shortly afterwards, focusing on military activities, most notably the foundation of Azov Battalion which originally gathered Ukrainian far-rightist volunteers, as well as the like-minded foreign citizens, but was transformed into a regular unit of the National Guard later the same year. Regardless of the unit's transformation, the Patriot of Ukraine still identified itself with it so much that it eventually dissolved itself in order to found a Civilian Corps "Azov" (Tsivil'nyy Korpus "Azov"), which was completed in early 2015. [1, 2]

The main flag of the Patriot of Ukraine was square, with black wolf-hook/monogram IN on a yellow field [3-13]. This was derived from the flag of the Social-National Party by repainting the emblem. The flag was used along with the party flag until 2004 [3] and without it after the 2005 refounding [4-13]. It was also frequently used by the Azov Battalion, along with its own flags or without them [10-13].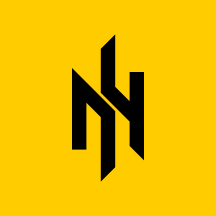 image by Tomislav Todorovic, 27 March 2022
A rarely used flag depicted the initials U+041F U+0423 (PU), also in black on yellow square field; the letters were designed so as to resemble the shape of monogram IN [14]. The shade of yellow was generally darker on this flag [14, 15]. The design was also used for the pulldowns [16].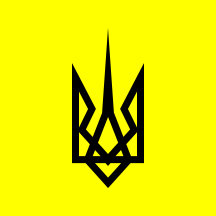 image by Tomislav Todorovic, 27 March 2022
A flag used almost as frequently as the main one was charged with the "runic trident", a derivation of the charge from national arms, again in black on yellow square field; the precise shape of the symbol varied somewhat, but the variant with pointed prongs was the most frequent one; the shade of yellow also varied between the one from the flag with the IN monogram and the one from the flag with the initials PU, but the first of these prevailed [4, 5, 6, 8, 15, 17].


Sources:

[1] Patriot of Ukraine at Wikipedia (in English):
https://en.wikipedia.org/wiki/Patriot_of_Ukraine

[2] Patriot of Ukraine at Wikipedia (in Ukrainian):
https://uk.wikipedia.org/wiki

[3] Les Crises website:
https://www.les-crises.fr/un-ex-neo-nazi-nouveau-president-du-parlement-ukrainien/

[4] Olena Bilozerska's blog - Report from rally in Kyiv on 2009-06-05:
https://bilozerska.livejournal.com/143862.html

[5] Svoboda.fm website - Report from Chernihiv on 2010-05-30:
http://svoboda.fm/politics/chernigov/205465.html

[6] Olena Bilozerska's blog - Report from rally in Kyiv on 2010-07-01:
https://bilozerska.livejournal.com/279447.html

[7] Volyn News website - News report from Lutsk on 2011-08-28:
https://www.volynnews.com/news/policy/koly_u_lutsku_buv_hlava_sbutut_zatrymaly_terorystiv/

[8] Zhivoy Zhurnal website - news report from Kodnya on 2012-04-12:
http://zhzh.info/publ/4-1-0-4776

[9] Wikimedia Commons - Photo from rally by Right Sector, Kyiv, on 2014-04-20:
https://commons.wikimedia.org/wiki/File:Right_Sector2.JPG

[10] iDNES.cz website - Photo from Kyiv on 2014-06-03:
https://www.idnes.cz/zpravy/zahranicni/zahranicni-bojovnici-v-ukrajinskych-batalionech.A151029_143740_zahranicni_ert/foto/AHA5425e5_profimedia_0197134886.jpg

[11] LiveInternet website - News report on 2014-08-04:
https://www.liveinternet.ru/tags

[12] Deutsche Welle website (in Ukrainian) - Report on 2014-11-20:
https://www.dw.com/uk

[13] BBC News in Ukrainian - Report from Kyiv on 2014-12-15:
https://www.bbc.com/ukrainian/politics/2014/12/141215_ukraine_far_right_im

[14] Vexillographia.ru website - Political flags of Ukraine (Part 2):
http://www.vexillographia.ru/ukraine/party1.htm (image: http://www.vexillographia.ru/ukraine/images/nu3.jpg)

[15] Social Nationalist Journal blog - Photos from rally in Simferopol on 2007-10-14:
https://spoloh-pu.livejournal.com/26691.html

[16] Wikimedia Commons - Photo from Second Congress of the Patriot of Ukraine, Kharkiv, 2008-04-12:
https://commons.wikimedia.org/wiki/File:Second_Congress_of_the_Patriots_of_Ukraine,_Kharkov,_April_12,_2008.jpg

[17] Kostyantyn Suskyy Information Service website - News report from Zhitomir on 2012-03-30:
https://kbalkon.ucoz.ru/news/v_zhitomiri_vshanuvali_pamjat_mikoli_sciborskogo/2012-03-30-306

Tomislav Todorovic, 27 March 2022