This page is part of © FOTW Flags Of The World website
39 Star Flag -unofficial- (U.S.)
Last modified: 2015-09-19 by rick wyatt
Keywords: thirty-nine | united states | unofficial |
Links: FOTW homepage | search | disclaimer and copyright | write us | mirrors

---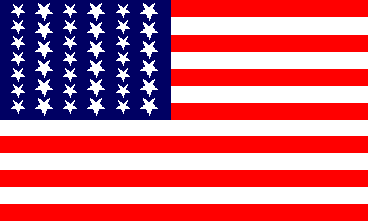 image by Steven M. Schroeder, 18 November 2000
---
---
See also:
---
Q: When did the U.S. flag have 39 stars?
There never was an "official" 39 star U.S. flag. However, flag manufacturers betting on early sales misjudged in 1889 by believing the two Dakotas would be admitted as one state and the others would be delayed until after the 4th of July. Both Dakotas, Montana and Washington were made into states in November, 1889 and Idaho was admitted July 3, 1890! So any 39 star flags in existence were probably made in the fall of 1889 (see below).

At any rate, as collectors know, there are a few 39 star flags around and they are real collectors items. I have been searching for one for years! Also there are unofficial 42 star flags in existence, made before July 3rd 1890, betting Congress would wait until after the 4th to admit Idaho.

There is a photograph (of a photograph) of a 39 star flag in the July, 1959 National Geographic, pg 119. The caption reads,
"This 39-star Banner Legally Never Existed. The maker of this 1889 flag gambled on the possibility of Dakota Territory entering the Union without companions. He lost: Congress divided the Territory and admitted Montana, Washington, and Idaho as well. Senator Frank Case of South Dakota views a picture of the flag and its owner, Harold L. Rutland, a Union, New Jersey, teacher (page 117)."
The article, "New Stars for Old Glory," on page 117 gives a more complete version of the story mentioned in the caption.The flag with the thirteen stars and stripes represented the thirteen original colonies.
Dave Martucci, 12 November 1996

This is only a part of the 39-Star flag story, and a minor one at that since in 1889 more than one state was certainly expected. Few (if any) 39-star flags were made in 1889. I am not convinced there were any.

The real story is 1876. During the US Centennial, Colorado's star was added to the flag (4 July 1877) but it was not the only State requesting admission. Utah had applied and had adopted a constitution in expectation of admission. Congress voted against Statehood for Utah based on its constitution being silent on polygamy, which of course was the big thing in Utah at the time. Tens of thousands of 39-star flags were made for the Centennial celebrations in anticipation but only 38 stars appeared on the official flag. The flag in this auction is almost certainly a relic of the Centennial.
Dave Martucci, 4 January 2011
---
Variant flag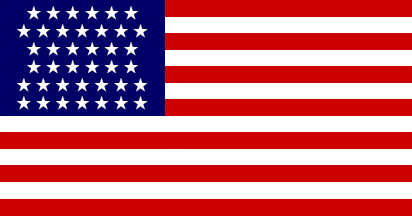 image by Clay Moss, 15 March 2007
This design was featured on e-bay as a 38 star flag, but apparently, someone miscounted the stars.
Clay Moss, 15 March 2007
---
"International Flag"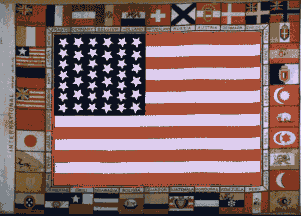 image by John Ayer, 23 April 1999
A thirty-nine-star United States flag with small flags of thirty-eight nations (labeled) around the border. Boleslaw and Marie-Louise d'Otrange Mastai's book _The Stars and the Stripes_ shows an example on page 162. The caption says, "The 'International Flag,' patented in 1875 with an unofficial total of thirty-nine stars in its constellation, is notable not only for its canton--which contains six vertical 'rows,' three with small stars and three with large stars--but also for its border of small flags of the nations that were to attend the United States' hundredth birthday party." The header (but there are no grommets) bears the inscription, "PATENTED DEC 28, 1875." Colorado was admitted to the Union as the thirty-eighth state in August 1876, becoming the "Centennial State," and apparently the designer of this item guessed that Dakota Territory would become a state at about the same time. In fact no more states were admitted for more than a dozen years. Evidently not all thirty-nine star flags date from around 1889!
John Ayer, 23 April 1999
---
"McNamara Flag"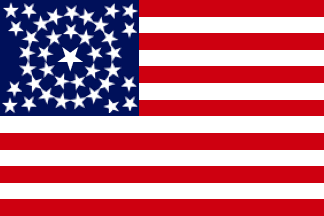 image by Blas Delgado Ortiz, 29 August 2001
The McNamara Flag - so-called from the name of its original owner, Matthew McNamara - is notable for the triads of stars in each corner of the canton. It also boasts an unofficial count of stars: thirty-nine.
Blas Delgado Ortiz, 29 August 2001